Food Truck Feasts
07 Sep 2019
A roundup of the city's best meals on wheels

By Jenna Ley-Jamison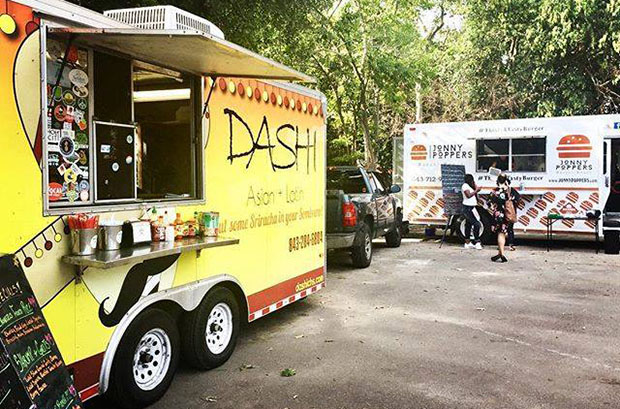 Next time hunger hits you, skip the typical dine-in restaurant experience and opt for a more casual chow time--sitting curbside--with cuisine no less flavorful or memorable. We're talking about food trucks! There's no shortage of award-winning kitchens on wheels traveling the Lowcountry, many with a loyal following, and we're confident there's one that will satisfy your deepest craving for Mexican, Asian, Italian or more.
Salivating for seafood, tacos, pizza, a breakfast pastry, wings or mac 'n cheese? There's a food truck menu waiting for you.
The Immortal Lobster
Introducing Southerners to one of Northerners' favorite marine dwellers was the goal of Christopher York's culinary mission when he started The Immortal Lobster in summer 2015. Two years later, York sold the business to close friends Jared and Katie Maus; but the "main face" of the truck, and whom patrons will most often see, is Operations Manager Greg Barro.
"We're the most exclusive (food) truck in Charleston," Jared Maus said. "We bring a seafood that really didn't exist here…to an already-existing seafood-loving city.
The family-owned venture is also all about promoting other local businesses and protecting the environment. That means utilizing local businesses for products and ingredients, recycling and encouraging the community to do the same.
From toasted, split-top buns—stemming from Lowcountry-area bakeries—to lobster pulled straight from Maine, the truck's kitchen uses many fresh, locally-sourced and sustainable products to concoct menu items. Try three different lobster roll types—the traditional "Maine" style served chilled with mayo; the most popular "Connecticut" style served poached in butter; and a heated twist on the traditional style, made with spicy aioli.
Don't forget to save room for dessert—the decadent, New England-based whoopie pies just $5 apiece. Other top menu items include the lobster grilled cheese and lobster mac 'n cheese. All entrée items come with a side of potato chips and Cole slaw—or mac 'n cheese for an added charge.
It's not hard to see why the truck has a host of awards for best food truck, getting both local and national recognition.
Regardless of whether your appetite is hangry or full, when this lobster truck comes around, its bright, red hue and succulent seafood scents will provoke taste buds to salivate. The truck travels mainly Wednesdays through Sundays, throughout the Lowcountry stopping at apartment complexes, wedding parties, breweries and private events.
Find them by following them on Facebook at theimmortallobster or visit theimmortallobster.com.
Scram (breakfast)
Whether it's a weekday crunch time with a full workday on the horizon or a weekend refresher on the agenda, roll out of bed and get your morning started with a puff-pastry breakfast from this Folly Road-based food truck in the Food Lion parking lot on James Island.
Open 8 a.m. to noon Thursdays through Sundays, there's plenty of time to try out a sugary treat made fresh daily—coffee cake, cruller donut, Danish or custard-filled milk bun anyone? Or if you're hankering for a protein-filled breakfast, select one of the truck's staple sandwiches or gougères—basically a baked cheese puff—stuffed with any number of items. From sausage and eggs—raised locally at Storey Farms in John's Island—to jalapenos, chili mayo, chives and pineapple jam, you won't find a Lowcountry-area breakfast quite as unique as Scram's selection.
Don't forget to wash each breakfast bite down with a cup of heavyweight roast coffee—French press or cold brew style—sourced locally from the Holy City's Second State Coffee shops. Choose a bright blue seat from several bistro tables set up by the truck to munch on your meal or order a to-go bag of goodies for the office or a Sunday brunch trip to the beach. Counting calories? Opt for a boxed water, to stay hydrated in the summer heat, or a refreshing fruit cooler topped with seltzer.
If you're looking for something a bit more unique to quench your thirst, the truck's Turmeric Tonic is where it's at. A twist on the classic OJ staple, the drink is blended with turmeric, ginger, cardamom honey and also topped with seltzer. It's a definite eye-opener.
Regardless of what menu item catches your eye you can be sure it'll quickly satisfy those early-bird stomach rumblings.
Follow the truck on Instagram at @ScramCHS
Rebel Taqueria
Based inside Charleston's food-court-style culinary concept dubbed "Workshop,"—a King Street facility coveted by local startups—this West Coast-inspired menu, which started in 2017, is pumping out tacos, beer, burritos and tequila shots every day, not just Taco Tuesdays.
Feast on menu items, served with locally-crafted organic tortillas reminiscent of street snacks you might find in the Golden State—where the operation's owners said they have several ties.
Just like the name states, this award-winning operation is thinking outside the box to bring the Charleston community tastes as bold as the skeleton-faced dog that dons its black food truck.
"We're not scared to take some risks and do things our own way," said Lewis Kesaris, the operation's co-owner and chef. Paul Nettles is his counterpart.
In addition to working at Workshop, this noticeable vehicle is often spotted wheeling around town to feed festival crowds and other event-goers, along with small-scale foodie parties in the privacy of home, a workspace or other "intimate" locale.
A private chef is just one reservation away from turning your next low-key dining venture with family or friends into a memorable taste fest that'll make you feel as amped up as the global flavors Rebel's cuisine provides.
Regardless of dietary restrictions, this menu has something for carnivores, seafood-lovers and vegans. Feast on common Mexican eats like chips and salsa or unique creations like deep-fried corn on the cob smothered in guacaioli and salsa verde-infused hushpuppies dubbed "yoda balls." Try a chalupa or burrito bowl packed with braised chicken, beef chorizo or poached shrimp as your protein. If spicy is your thing, choose from an array of homemade hot sauces to pump up the heat factor.
And wash it all down with an ice cold margarita—the "Nitro margarita" a "smooth and velvety" choice, Kesaris said—freshly-squeezed lime juice or Mexican coke; and be sure to take to-go a special ice cream taco—based off the owners' childhood love for the Good Humor-Breyers "choco-taco" treat.
For more information, visit rebeltaqueria.com
Dashi
Find a unique fusion of Asian and Latin cuisine when dining with this North Charleston-based, disco-themed food hub that Dashi's food truck owners Stephen Thompson and Oscar Hines recently opened.
Their new brick and mortar site at 1262 Remount Road allows them a larger location to continue serving the community Dashi's good eats Wednesdays through Sundays, including weekend brunch—does your mouth water over the thought sipping a bloody Mary or mimosa while dining on a plate of curry shrimp and grits, huevos rancheros or a breakfast burger? The truck will again hit the road in October.
Gather the squad friend group or round up the kiddos for a family-friendly hangout with a laid-back environment. Maybe kickstart your Dashi experience with a small plate of tomato bread, share a duck confit quesadilla, feast on finger foods like Thai wings doused in Asian barbecue sauce or munch on a plate of crispy "patatas bravas"—heirloom potatoes made with smoked paprika, cotija, sriracha and a special brava sauce.
For your main course, choose among an array of menu items, from tacos (just 3 for $12), burritos, pad Thai, duck ramen or perhaps a Thai hotdog for the little ones. Don't forget to save room for a decadent heaping of fried rice and beans or warm potato salad.
You can be confident that any item you choose to feast on will be fresh and locally-grown—a majority of items harvested on a five-acre farm in small-town St. George, just 45 minutes from the Holy City. That's because Dashi's head chef, an Art Institute of Charleston graduate and executive chef at King Street eatery Prohibition—is good friends with the farm's owner.
For more information, visit dashichs.com
Mac Daddy:
This award-winning food truck is a Lowcountry staple for devouring countless bites of your favorite childhood staple. There's no reason to be shy here when feasting on the cheesy-noodle combination that inspired this business's menu.
Birthed out of Charleston restaurant Crave Kitchen and Cocktails—headed by Chef Landen Ganstrom and sidekick Chef Ben Culp—this food truck and its tasty reputation have made Ganstrom a local legend—his name nearly a household staple among Charlestonians. With multiple awards under his apron—victories that his culinary skills have secured him at the annual Charleston Mac Off—he and his food truck venture have been highlighted in countless nationally-known publications, including Esquire Magazine.
But ask him what goes into his most popular menu item—the mac 'n cheese dish that keeps him winning year-to-year—and he'll never tell. (Well, at least a few ingredients he'll keep mum about.) The rest include cavatappi pasta and sharp cheddar cheese that's been aged a decade!
Find this truck rolling to festivals and private events around town, filling bellies with hearty heapings—the traditional "babby mac" portion or the "oversized mac" portion for the bold, bottomless stomach. Looking to share? Opt for "the mac daddy" 1-pounder.
But don't stop there! Cover that mac 'n cheese with an array of delectable toppings—from proteins like pulled pork, bacon, ribs and fried chicken to diced tomatoes and black bean salsa. Add Buffalo chicken or jalapenos for some punch. The menu is additionally filled with sandwich and salad options—short-rib and pulled-pork tacos and half-pound curly fries, also popular among patrons.
For more information, visit cravekitchenandcocktails.com/mac-n-cheese
Damiano's Wood Fired Pizza:
Named after its Naples-born chef Ciro Damiano, this traveling truck with a wood-fired oven was born almost three years ago, after he said he couldn't find a suitable place locally to eat pizza. It is now one of the most popular pizza pie food trucks around—flavors reminiscent of the boot-shaped, Mediterranean country. That's also because many of the kitchen's main ingredients stem from Damiano's overseas birthplace.
"We are a food truck specializing in Neapolitan pizza style," Damiano said.
But don't just order, sit back and wait—gaze through the mobile pizzeria's large windows and marvel at the authentic pizza-making process, from the hand-tossing of the crust to the layering on of tasty toppings. Or, immerse yourself in flour, sauce and dough. Part of the Damiano's experience allows customers to join kitchen hands in creating their own perfect pizza combinations.
Pizzas range from 7-inch diameter pies—for lunchtime only—to 12-inch ones. Feast on a classic meat-less "Margherita" with fresh mozzarella, olive oil and basil or a white sauce "Mimosa" topped with ham and mozzarella. Swap the mozzarella for pimento and you have the unique "Carolina."
But don't devour your entire entrée in one sitting so you can later satisfy your sweet tooth with one of the menu's $5 cannolis or rich tiramisu desserts.
Because of Damiano's popularity among Lowcountry residents and tourists alike, a brick and mortar operation recently opened in Summerville—Antica Napoli Pizzeria on Ladson Road. From corporate and private events to local festivals or family celebrations, choose this mobile pizzeria for your next casual meal.
For more information, or to book, call 843-310-1901.