Football Fever
07 Sep 2019
South Carolina college coaches, players ready for kickoff
By Willie T. Smith III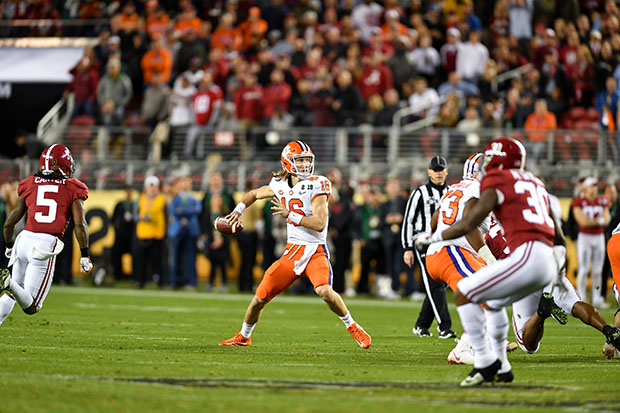 Life couldn't be better for Dabo Swinney and the Clemson football program.
The Tigers enter the season after earning their second national championship in the last three seasons following a dominant performance against Alabama.
After earning the title, Swinney was rewarded with a 10-year contract worth $93 million, the highest in college football.
In Columbia things didn't go as well for Will Muschamp and the South Carolina Gamecocks.
Despite ending the season with a disappointing Belk Bowl loss to Virginia, the Gamecocks finished with a 7-6 record which made the USC coach the winningest in school history after his first three seasons.
Thanks to an incredible run, Clemson sits at the top of the college football world. While Alabama, under Nick Saban, has held that moniker throughout the decade, Swinney and company have wrestled it away.
Not only have the Tigers topped the Crimson Tide in the title game two of the last three seasons, it was accomplished in dominating fashion in January with a 44-16 victory.
They enter the 2019 campaign ranked number one nationally in the USA Today Pre-Season Coaches Poll for the first time.
Swinney and his coaching staff have put last year behind them, however, and are approaching the new campaign the same way since he took over the program in 2009.
Swinney entered his career as Clemson's head coach with a plan and hasn't deviated.
"I think I've got 19 former players on my staff in different roles," said Swinney. "It's very connected. It's very relationship-driven.
"It just kind of keeps going on and on and on. I work with a group of people I love. We have great relationships. Clemson is a special place. There is a quality of life, simplicity of life, in Clemson that is really special. It is kind of a natural resource you really don't understand unless you've lived it. That's part of it."
Despite the disappointing end to the 2018 season, there is a sense of optimism at USC.
In addition to harvesting his most talented roster, Muschamp is excited about several substantial changes with the biggest being the new Cyndi and Kenneth Long Family Football Operations Center.
The facilities upgrade has translated into a more intense dedication from the team.
"What it has really helped is the culture of our team," Muschamp said. "You go in there at midnight on Friday and there are 30 guys weightlifting. They're not supposed to be in there. They want to be in the building. They want to be around you.
"The dynamics of the building are much different than before. The facilities are nice, but I never saw the players. Now I have lunch and breakfast with the players all the time. I talk to them, find out how they're families are doing.
"It's a different situation for us. It's been a huge boost to the program. We're going to have a $22 million investment into Williams-Brice Stadium after the season to create a better game day atmosphere for our fans. It's going to be a real nice situation for everyone that's a Gamecock. We're moving in the right direction."
Senior offensive lineman Donell Stanley, beginning his sixth season with the squad, marvels at the transformation.
"When I was getting recruited, this was all talk," said Stanley while standing inside the massive Jerri and Steve Spurrier Indoor Practice Facility. "Just to watch it be built and see how it turned out, it's special. This is such a great place and you've got that facility over there. It has everything you need. I take pride in it. I clean it up and make sure everyone is cleaning their lockers because there is a lot of money invested in this…just keep it clean, keep it respectful. Everyone can't have this."
Clemson is riding a 15-game winning streak and owns a 55-4 record over the last four seasons.
Despite that dominance, Swinney's goal is not to win a national championship. It's simpler than that.
"I think our team can compete for the league (ACC) championship," said Swinney. "That's what we shoot for every year. It's never a goal to win a National Championship. I say that many times. All those things happen through staying focused and obtaining the goals we have in our program.
"But I think this is a team that can compete for the league and, if you can compete for the league, that leads to several other opportunities. But that's always our focus and it won't be any different this year."
Swinney and company understand that with the elevated national reputation of the program, new challenges await.
"We understand how big the target is on our back, but he we embrace it," said co-offensive coordinator Tony Elliott. "We understand that with the rankings this time of year, everyone is going to be talking. We know what the formula is for success. It goes back to starting over. We haven't done anything in 2019. We've got to start over to get what we want. To get that, we have to earn it.
"We don't worry about pressure. We're just worried about being the best version of ourselves. If that translates into a national championship, then so be it."
There are many reasons the Tigers enter the season with confidence. The biggest reason is Trevor Lawrence.
After replacing veteran starter Kelly Bryant as Clemson's starter in the fifth game, Lawrence quickly proved to be the top quarterback in the country, putting up numbers normally seen only in video games.
He completed 65.2 percent of his passes for 3,280 yards and 30 touchdowns while suffering only four interceptions.
Almost as famous for his long golden locks as his passing ability, his 6-6 frame now carries 220 pounds.
He has not only been lauded as the country's top collegiate quarterback but, potentially, one of the greatest in years.
"Trevor Lawrence is one of the best quarterbacks I've ever seen," SEC Network talk show host Paul Finebaum said after watching his performance against Alabama. "Once he got going, he just took over the game. By the end, in the final game of the year, he dominated in a way I've never seen before."
Despite the accolades, Lawrence has been working in anticipation of having a better sophomore campaign.
"They say (I'm) the only freshman (quarterback) to win a national championship, but I didn't do that by myself," said Lawrence. "It's the whole team working. All those other guys are getting up at 5:30. That gets you going, having the whole team there. Just wanting to get better. I always want to get better."
Tigers quarterback coach Brandon Streeter gave Lawrence distinct directions as to what was needed this season.
"Fundamentally, his footwork in the pocket could be better," said Streeter. "Sometimes he drifts to the left or to the right and didn't need to. So (he) just needs to be consistent.
"The poise he has is incredible considering the situations he's been put in at a young age. To maintain that poise is very difficult to do. It's his God given talent that is very special. (Former Clemson All-American quarterback) Deshaun Watson had the same thing, that poise. That's very important to have as a quarterback."
For USC, the biggest improvement appears to be up front.
A massive offensive line, led by Stanley and junior Sadarius Hutcherson should give quarterback Jake Bentley, entering his fourth year as a starter, the time needed to pass to a talented core of receivers.
The offensive backfield, thanks to the addition of former Clemson performer and five-star high school recruit Tavien Feaster, is also braced to fulfill its share of the load. Feaster joined the team for fall practice as a graduate transfer.
The improvement up front will give USC an opportunity to feature what should be the most talented portion of the team, the offensive skill performers.
Bryan Edwards leads the receiving corps which, despite the loss of Deebo Samuel to the National Football League, is deep. He caught 55 passes and scored seven touchdowns a year ago. If healthy, he'll leave Columbia the holder of several career receiving records.
Junior Shi Smith caught 45 passes and scored four touchdowns last season.
OrTre Smith missed most of the 2018 season with a knee injury after catching 30 passes and scoring three touchdowns as a freshman. His return gives Bentley a big, physical target.
Dropped passes was a problem for the unit which is something the group is anxious to fix.
"It motivates us to do what we need to do to be the best we can for that first game," said Edwards. "Dropped passes make you work harder, make you reevaluate what you're doing. Just go out there and focus.
"I'm as motivated as I've ever been. I'm confident in my abilities. I'm excited more than anything just to see where I land and what the future holds. I'm so excited and ready to get the season rolling."
Bentley is the offensive leader. Beginning his fourth season as a starter, barring injury, will leave USC as the career leader in many team passing categories.
The biggest problem has been turnovers as, despite passing for 3,171 yards and 21 touchdowns as a junior, he suffered 14 interceptions.
"The biggest thing is just being more consistent with the football," Muschamp said of Bentley. "It all boils down to that. We've got to do a better job taking care of the ball.
"All 14 interceptions were not on Jake. But we've got to do a better job in the red zone. We also had 20 drops, game changing drops, that could have changed the complexion of a game with a struggling defense. He's worked extremely hard in the offseason. I'm looking forward to seeing him play his senior year."
Bentley has been impressed with the senior leadership on the team, which he says wants to deliver on a goal they're still looking to achieve in their tenure.
"For me it is beat the (SEC) East and win the state," he said. "That's something we've wanted to accomplish each and every year and we haven't yet. That's the main reason most of us came back – to accomplish that."
The defensive line, which took a beating due to injuries last season, has an opportunity to be competitive.
Senior Javon Kinlaw leads the way at defensive tackle. Playing through injury, he managed to lead the team in tackles with 10, which includes 6.5 sacks. Senior D.J. Wonnum also had an injury-plagued season, competing in only five games at defensive end.
Freshman end Zacch Pickens, Muschamp's first five-star high school recruit, was plucked out of Anderson. He is expected to make an immediate impact.
While Lawrence is the focus of the Clemson offense, there are many more weapons in the arsenal.
After rushing for 1,658 yards and 24 touchdowns, while catching 12 passes for 78 yards and two scores, running back Travis Etienne returns as the nation's top performer at the position.
While Lawrence enters the season as the favorite to win the Heisman Trophy, Etienne is in the top five.
The team's three leading pass receivers also return. Tee Higgins, Amari Rogers and Justyn Ross give the team a lethal trio of game breakers.
Rogers suffered a torn ACL four months ago, but the coaching staff hopes he returns before the end of September.
Depth at the position should help the Tigers.
"One of the exciting things about football is your roster changes each year…That's normal for us," said co-offensive coordinator Jeff Scott. "We're blessed we have a big group of guys who played come back, guys waiting for their opportunity.
"We play seven guys a game. (That's) one of the reasons for our success because we've played 59 games in four years. The last two games last year our guys were fresh and made plays. A big reason for that is they had a lot of tread left on their tires because of the way we split up the reps during the rest of the year."
The question mark for the Tigers comes on the defense where five defensive linemen were lost due to graduation. Three were drafted in the first 17 picks.
"We have some strong pieces you feel good about, but there is a lot of unknown," said Clemson defensive coordinator Brent Venables. "We've got a lot to prove along the way to continue to build our defense. We're solid, not spectacular. We're pleased in regard to the investment that has been made. I really believe in toughness and building at a strong, consistent level. We've just got a long way to go to look anything like the last time we played.
"I think we have good leadership. Our strength is in our back seven, a bunch of great leaders back there. They play winning football. They understand the standard. They helped sustain the standard. I'm not sure if we've got an alpha dog in our front seven. I don't know if you necessarily need it, but it has got to be second nature.
"We've got a lot to prove up front. But, with the guys we've got, we've got a little bit more at defensive end. Some of the young guys are going to have to play a lot."
While the Gamecocks are improved, they will have to play their best to improve last year's record as they face what has been rated the nation's most difficult schedule.
They play the top three ranked teams in the Coaches Poll (Clemson, Alabama and Georgia). They also face eighth-ranked Florida and 11th-ranked Texas A&M.
Muschamp embraces the challenge.
"We have a great opportunity to step forward as a program to be in the limelight on Saturdays in the Southeastern Conference and take advantage of the opportunities we have in front of us," said Muschamp. "In my opinion, we have our best team coming back in South Carolina since I have been there, and we're looking forward to that opportunity."
While USC faces an uphill challenge, Clemson is predicted to be at least a 14-point favorite against every team it plays in the regular season.
Despite his team's current status and his new contract, nothing will change in the Upstate as Swinney will continue running things his way.
"We haven't changed anything since 2009 when I got the job," said Swinney. "Same deal. We stayed the course and stayed committed to the vision of the program even when sometimes it didn't make sense to other people."
"God has blessed us with an amazing journey, a great group of people with young men that have chosen to come in, buy in and believe. I can be the greatest coach in the world, but if the players don't buy in and don't believe, it's not going to work. We've had a bunch of selfless players that have bought in to the philosophy of the program and how we do things.
"It's been a great journey. We're just getting going."