Strawberry Fields
05 Mar 2022
Boone Hall's Lowcountry Strawberry Festival offers family fun and U-pick goodness
By Brian Sherman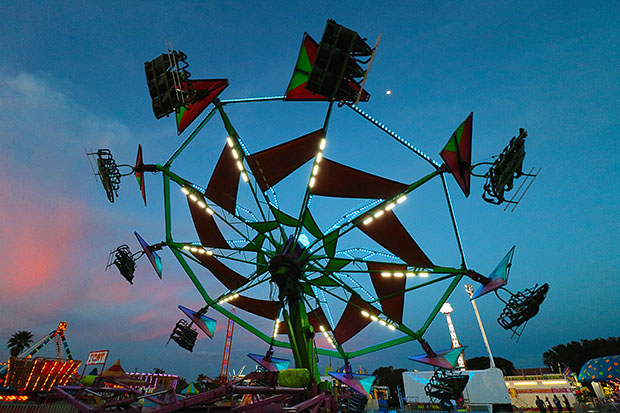 What could possibly be more invigorating than spending an entire weekend paying tribute to a Lowcountry icon, the versatile, rosy red juicy queen of the berries? How about two consecutive weekends of adoration for a coastal Carolina favorite?
For the first time since its inception in 1997, the Lowcountry Strawberry Festival will be a six-day affair at Boone Hall Plantation & Gardens in Mt. Pleasant. The festivities are slated for Friday, April 8 through Sunday, April 10 and Thursday, April 14 through Saturday, April 16.
"We thought this was a good time to expand the number of days we host this event to more easily accommodate the crowd," said Rick Benthall, director of marketing at Boone Hall. "We get people from all over the eastern part of the state, some from as far away as Columbia. It's a signature event for this area," said Benthall.
Now in its 25th event, the Strawberry Festival will offer the traditional family-oriented fun and entertainment that has made it such a popular South Carolina event: live music; nearly two dozen fair rides, including a giant Ferris wheel; the Miss Berry Princess and Mr. John Deere pageants and pie eating contests; pig races, a petting zoo and the four-legged, high-flying stars of K9s in Flight; and, of course, the opportunity to purchase fresh-from-the-field strawberries—you can even pick them right off the plants and pay for them by the pound if you want to immerse yourself in the complete Strawberry Festival experience.
New events coming to the festival this year include The Magic of John Tudor and Lew-E's Comedy Circus.
In short, there will be lots to do at the festival, but a Lowcountry festival is not a festival without food – and there promises to be lots of that as well. Attendees will be able to partake in strawberry lemonade, strawberry shortcake and kettle corn, and plenty of festival favorite like funnel cakes and snow cones from Charleston Festival Foods. There will also be a variety of Mexican specialties from Cachita's Kitchen for a heartier meal.
Benthall said the Miss Berry Princess contest, scheduled for April 10 at 2 p.m., has become a Festival favorite. The event is open to girls between the ages of 3 and 6.
"It's great to have the moms and dads, grandparents and aunts and uncles watch the girls go across the stage," Benthall said. "This is not a steppingstone to Miss America. It's just fun for the families."
Miss Berry Princess was such a successful idea that the Mr. John Deere contest was added for 3-to-6-year-old boys. They'll have their opportunity to shine on April 9 at 1 p.m.
Each of these two events will be limited to 25 kids, so interested parents are encouraged to register online prior to the Strawberry Festival at boonehallplantation.com under Special Events. The entry fee is $25.
If you're interested in turning your voracious appetite into eternal fame and a $100 Boone Hall prize package, you can sign up for one of four pie eating contests–two each weekend–at the festival. It's free to enter.
Tickets for the Lowcountry Strawberry Festival are $10 for children ages 3 through 11 and $15 for older kids and adults. Tickets are available online. A limited number of tickets will be available for each of the six days of the festival at the gate, but advanced tickets are recommended. Attendees should enter at 2434 N. Highway 17 rather than at Boone Hall's main entrance on Long Point Road.
A legacy of the late Willie McRae, whose family purchased the Boone Hall property in the 1950s, the Lowcountry Strawberry Festival started out as "a two-acre strawberry u-pick patch," according to Benthall.
"Now it's one of the largest festivals in the state of South Carolina," he said. "It's the family fun on the farm community event Willie always envisioned."