Getaways for Fall Travel
09 Sep 2015
While you're still a bit relaxed from summer, but not yet completely stressed about the holidays, a fall vacation can be just what you need to gear up for cold weather ahead.
By KATIE MCELVEEN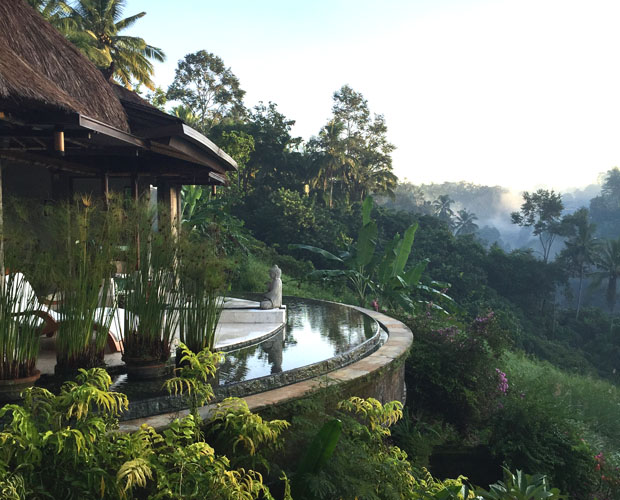 Asheville
Fifteen years ago, dining in Asheville was an adventure, and not always a good one. But these days, the city's culinary explosion has reached such epic proportion that it's nearly impossible to find a bad meal. It's creative, too: the city is home to the first wild food market in the country, two craft saki breweries, an underground supper club with wild themes and secret locations and more than 20 breweries.
It's worth extending the weekend an extra night to attend the family-style Sunday Suppers at Rhubarb, three-time James Beard "Best Chef in the Southeast" finalist John Fleer's farm-to-table restaurant. Dishes like wood-roasted veggies with eggplant ganoush are sourced from what's available at the market and a guest farmer is invited every week to share stories with diners. One of the newest entries into the city's food scene is Gan Shan Station, chef Patrick O'Cain's Asian hot spot, which is located in an old gas station. Just try to say no to the tempura-fried okra.
Art is also expanding in Asheville; located just southwest of downtown, the River Arts District is filled with painters, glass artists, ceramicists, jewelry designers and other artists working in converted lofts and warehouses. As a bonus, the original location of cult-favorite White Duck Taco shop is located in the neighborhood.
There are lots of reasons to stay at the Omni Grove Park Inn, but here are two. Thanks to a second seating area, the iconic Sunset Terrace is now more accessible, making it even easier to take in the glorious view. At the spa, schedule an end-of-the-day treatment so you can watch the sun go down with a glass of champagne, warmed by the glow from an outdoor fire pit. omnihotels.com/asheville
Bali
There's a reason Bali is often called the Isle of the Gods: On the coast, startlingly white beaches glow against shimmering turquoise water while the interior is filled with centuries-old terraced rice fields, serene temples and moody jungles. Wherever you look, tiny banana-leaf baskets filled with flowers and other offerings to the gods are a quiet reminder of the kind, gentle spirit of the Balinese.
It's too hard to decide between beachfront lodging and the boutique inns that surround the art-filled city of Ubud, so choose both: Soak up the sun at the elegant AYANA Resort and Spa in Jimbaran, where the beautifully appointed villas are set amid lavish private gardens complete with oversized pools, covered Bali beds and chaise lounges. AYANA sprawls over a 210-acre clifftop perch set with tropical gardens, 11 pools, a private beach, 15 restaurants, shops galore, a clifftop spa and other amenities. Notably, there's a cultural center where guests explore Bali's unique folkways through cooking classes, guided excursions to temples and markets, demonstrations of traditional Balinese art forms and tastings of organic "kopi luwak," Bali's famous coffee, which uses beans that have been eaten by palm civets.
Spend the rest of the week awakening in one of the thatched-roof villas at Viceroy Bali, where you can watch the sun rise over the deep green Valley of the Kings from your infinity pool, then take in a facial or real Balinese massage at the stunning outdoor spa. Ubud's bustling, shop-lined streets smell of coffee, frangipani and exotic spices; beyond the typical souvenirs—carved wood, brightly patterned sarongs—you'll find finely turned ceramic bowls, silk dresses and blouses in rich jewel tones, handcrafted batik shawls, paintings and intricately beaded jewelry. ayanaresort.com; viceroybali.com
Baltimore
Washington, DC's neighbor to the north may be best-known for crabs, the Preakness Stakes and Babe Ruth, but that's just the tip of the iceberg. Charm City is filled with interesting museums, great restaurants and loads of history. There are professional sports, too: both the Baltimore Orioles and the Baltimore Ravens stadiums are located downtown.
Get your bearings with a 50-minute tour of the harbor area with Seadog Tours, which uses speedboats instead of the typical slo-mo tour boats and peppers the cruise past Ft. McHenry and other waterfront sites with fun factoids and historical details about the area. (Who knew the first umbrella was produced in Baltimore?) Afterwards, stroll over to the National Aquarium, where kids can check out jellyfish-filled touch-tanks and Immersion Tours let you see what goes on behind the scenes with the aquariums trainers and vets.
Museums are equally interactive: both the world-class Baltimore Art Museum, which houses the world's largest collection of works by Matisse, and the Walters Art Museum, famed for its Egyptian and medieval collections, offer drop-in classes, workshops and free admission. A trip to Baltimore doesn't count unless you've eaten crabs; Canton Dockside serves the Old Bay-dusted crustaceans up right, with wooden mallets and lots of cold beer on a brown paper-covered table.
Stay at the Ivy, a 19th-century turreted mansion in the Mount Vernon neighborhood that was reimagined as a luxury boutique hotel earlier this year by the team responsible for Lake Placid Lodge in Lake Placid, New York and Barnard, Vermont's Twin Farms Inn. Most of the rooms have fireplaces; beyond the usual amenities, room rates include all cocktails, limousine service anywhere in the city, valet parking and breakfast. baltimore.org; theivybaltimore.com
New York
The Big Apple is at its peak during the fall, when it's warm enough to take in a view from one of the city's rooftop bars, but not so hot that walking is uncomfortable. Try 230 Fifth, in the Flatiron District, and the Garment District's Refinery Rooftop, for drinks with the Empire State building as your backdrop; for a 360 degree view of the city from the midtown's skyscrapers to the Brooklyn Bridge, head to Jimmy, which is located in the James Hotel in SoHo.
Rather walk than sit? Join guides with the Central Park Conservancy for walks through the 843-acre park that uncover war sites from the American Revolution and the War of 1812, tromp through the rustic North Woods or showcase some of the park's iconic features. Music lovers can get their groove on with former music executives who showcase New York's rock & roll history, sites where videos and movies were shot and residences of rock legends on expeditions through the Lower East Side, Union Square and Greenwich Village with Rock Junket. If it's raining, join the guides from Museum Hack, who lead unconventional – and highly efficient – tours through the Metropolitan Museum of Art and the Museum of Natural History or volunteers with the Municipal Arts Society of New York for tours of Grand Central Terminal.
In New York, a hotel can be more than just a place to sleep; stay at the right one, and you'll feel like a local. The Ritz-Carlton on Central Park South is such a place. In addition to taking guests across the street to feed carrots to Central Park's carriage horses, the hotel staff excels at delivering hard-to-find tickets and reservations and can recommend activities that will thrill both first-timers and New York insiders. centralparknyc.org; rockjunket.com; museumhack.com; mas.org; ritzcarlton.com
San Francisco
It's easy to see how Tony Bennett left his heart in San Francisco. The stunning city by the bay is an eclectic mix of ethnic neighborhoods, elegant museums, creative restaurants and incredible views. Cable cars may seem touristy, but there's no better way to summit the city's "hills." For the best experience, hit the cables first thing in the morning, before they're overwhelmed with other tourists (buy $7 tickets from the operator), and grab breakfast.
If it's Saturday, head toward the Embarcadero, where dozens of farmers and artisanal food producers are cooking up a storm at the Ferry Plaza Farmer's Market. Any other day, make your destination the Buena Vista Café near Fisherman's Wharf. Not only was Irish coffee invented here, but the old-school menu items—eggs Benedict, Dungeness crab omelet—are as delicious as they are comforting. Plus, you'll be long gone before the mob arrives. Spend the rest of the day wandering through the country's oldest Chinatown, checking out the newly-restored murals (and the view) inside Coit Tower or riding bikes through Golden Gate Park to the ocean beach at Land's End.
Restaurants abound; perched on the top of Nob Hill, Venticello serves wood-fired specialties and homemade pastas to neighborhood locals; two blocks from Fisherman's Wharf, award-winning Gary Danko lets diners create their own 3, 4 or 5 course meal from a menu of sophisticated California dishes. Bed down at the Ritz-Carlton, which is located in a grand 1909 life insurance building and is walking distance to Union Square for shopping and dining. Club-level rooms are on higher floors and have views of the city as well as a dedicated concierge and complimentary food and drinks throughout the day.
Amelia Island
Amelia Island is famous for its 13 miles of flat, broad, sun-drenched beach, but the island has also become a go-to destination for outdoorsy types who don't want to give up creature comforts to get their adrenaline – or endorphin – fix.
Fernandina Beach's manageable waves make it a safe place to try surfing; if you've never put your toes on the nose, or if your children are begging to try it, consider lessons with David Montgomery and Betsy Harris, surf professionals who run the exceedingly careful (instructors are First Aid and CPR-certified) Surf Asylum. To the south, at Peter's Point State Park, Debbie Manser, who owns Amelia Horseback Riding, trailers in her own horses each day for small-group—2-4 person—rides along the beach. If you've got experience, she'll even let you canter in the surf.
Away from the beach, Amelia Island's network of creeks and rivers draw kayakers, canoeists and boaters, who come to see dolphin, turtles, birds, alligators and the occasional manatee in the estuaries and marshes. There's also biking through the live oak-lined pathways at Fort Clinch State Park (pack a picnic or a fishing pole) and motor-powered hang gliding over the watery landscape with Hang Glide USA.
On-property golf, tennis and beach rentals (stand-up paddleboards, kayaks, surf boards) are all available at the Ritz-Carlton Amelia Island; there's also tennis, an indoor pool and, through a partnership with BMW, free test drives of up to three hours in brand-new 2015 BMW models. Recharge at the resort's spa, which offers several unique treatments including a spine-elongating hammock massage and several therapies utilizing mineral-rich Himalayan salt. surfasylum.com; ameliahorsebackriding.com; hangglidenow.com