Chef Nico Romo of Fish digresses on his French heritage and creative cooking style
By DENISE K. JAMES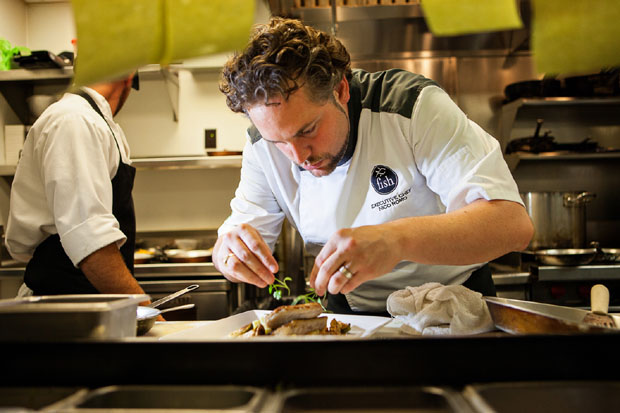 Fish is quiet and empty when I walk inside at 3 p.m. to meet with Nico Romo, the executive chef of the restaurant and of Patrick Properties. But in my mind, I can picture all the occasions I've had hanging out here – my sister's birthday dinner in the balmy courtyard, noon lunches with people I hoped to do business with, and evening cocktails with friends who were visiting Charleston for long weekends. In most cities, Charleston included, there are places that tend to be "hot trends" for a short time and then fizzle shortly thereafter; Fish is not one of these places. Rather, this local favorite keeps the creative cuisine and laid-back atmosphere at the top of our list of great places to eat and drink in the Holy City.
Since taking the reins at Fish back in 2006, Chef Nico Romo has graced the restaurant with his Western European background and his passion for keeping the menu fresh, both literally and figuratively. Born and raised in France, Romo learned from his family members how to cook with the flavors of different countries.
"As a child, we would have homemade gnocchi one week and then paella the next," he says to me. "With an Italian mother and Hispanic father, the family menu stayed pretty eclectic."
Romo sought the expertise of well-known French chefs after realizing that food was his lifelong passion. He accepted a position at the Peabody Hotel in Memphis, Tennessee, with Jose Gutierrez, the French master chef.
"I sent my resume to 55 French chefs in America," he remembers. "At the time, I didn't speak any English – I went from France to Memphis."
"Talk about culture shock," I reply. "Did you eat any barbecue?"
"I was disgusted by barbecue until I realized how delicious it was," he admits with a laugh.
Fortunately for Charleston's food scene, Romo is now the culinary expert of Patrick Properties, a hospitality group that includes Fish, the American Theater, Lowndes Grove Plantation, the River House and the William Aiken House. He is also a master chef himself, an honor given to select chefs who have proven their ingenuity in the kitchen.
"Patrick Properties hosts about nine weddings a weekend, between all of our venues," remarks Romo. "We can do as many as four weddings in one day."
Romo's true creativity is unleashed on Fish fans, with four seasonal menus that change according to "what is fresh and available," he says.
"Fish is French-based, but I also incorporate Asian influences and local ingredients," he says. "I enjoy bringing Asian spices and flavors to French cuisine in order to give it a savory twist. French foods are inherently simple, so the Asian touch brings the pizazz."
"What about seafood?" I ask. "With a name like Fish, one would expect a lot of seafood on the menu."
"There is seafood, but we prefer to concentrate on local seafood in particular, which can be difficult," Romo responds. "Local seafood has a tendency to be limited since local fishermen are not in abundance."
Then he tells me something I didn't know – Fish was always named Fish, even before Romo became the chef. And when the restaurant was completely renovated four years ago, Romo and the rest of the team briefly considered a new name.
"Eventually, we decided against it," he says. "We could have changed it, but we were wary of it."
The renovations to the restaurant included a much larger dining room, an extended bar – perfect for entertaining visitors at cocktail hour – and a modified kitchen.
"I've noticed how happening this place is at night," I remark.
"Yes, we have a large bar crowd, on Saturday nights especially," Romo agrees. "The custom-mixed cocktails are popular. They're dreamed up by my bar manager, Craig Bente, as well as our general manager, Jodie Battles."
Looking at the Fish menu in the warmer months can make one quite uncertain as to what to choose for dinner; there are the "large plates," including entrees such as lobster tail and scallops; medium and petite plates for sharing, including Pad Thai and curry crab soup; and dim sum, including duck hash, lamb spring rolls and clam creme brulee. The Asian influence that Romo speaks of is unmistakable.
"Changing the origins of the cuisine keeps me feeling challenged as a chef," he says. "It's fun to try different things."
Of course, if you're a loyal Fish patron, there are certain dishes that are almost always on the menu. The bouillabaisse, which is served with local seafood and coconut lemon grass broth, is a standby – and is a traditional dish in the South of France.
"Our main dishes always depend on what we can get locally," says Romo. "We always have the staples – a chicken dish, short ribs – but the way it is presented changes according to what that season offers."
"What about you? What do you personally love most on the menu?" I ask. (I love to ask chefs this question.)
"Oh, of course it depends on my mood," he says, chuckling. "Some days I want fish; some days I want beef."
"What sorts of things do you cook at home?"
"My wife and I are expecting our first baby this year," he says, "so right now, I'm preparing a lot of meals that she can freeze and take to work, to make it easier on her. But before she got pregnant, she did most of the cooking at home!"
Though Romo sometimes wishes he were in a larger city – "I love New York," he says – he appreciates the culinary environment of Charleston and enjoys the challenge.
"We have terrific chefs here in Charleston, and we all push each other to grow," he comments. "As far as the city's culinary future, I believe that it may get more difficult to open a restaurant in this area without careful consideration; Charleston's expectations are higher than ever."
According to Romo, a combination of locals and visitors dine at Fish on a regular basis.
"We don't offer the typical fried shrimp platter – we aren't what you would call a 'touristy' spot – yet I think a lot of visitors come here looking for something different and fun," he says. "Of course, locals just come here to hang out."
"Has the face of King Street changed much in the years you've been living in the Lowcountry?" I ask.
"Absolutely," he says. "The growth of King Street and the progress of this area amaze me all the time. We have so much more traffic now – so many more restaurants and plenty of people searching for a real dining experience."