The Whimsical Way
01 Jan 2012
Steven Jordan's lifelong dream of being an artist pays off with a strong following for his brilliant oil paintings of the Lowcountry life
By JASON A. ZWIKER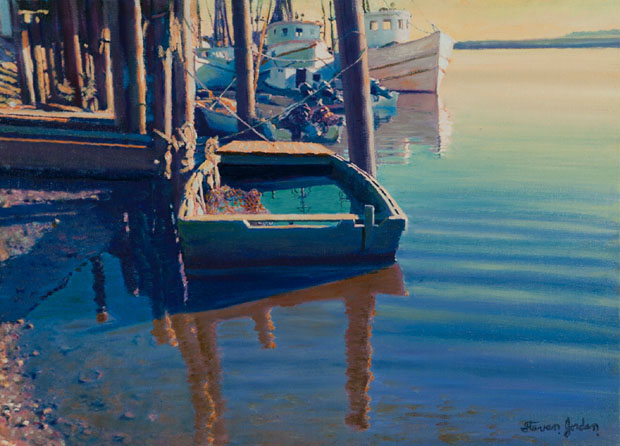 It was a good day for Steven Jordan. He passed the afternoon teaching a class of aspiring painters with the Mt. Pleasant based social art program Fear No Easel. Afterwards, just for fun, he set up his own easel near the docks of Shem Creek while sunset scattered the colors of the sky.
"It's a nice place to paint," he says. "There's marsh on one side, harbor on the other. And it's a social place. People walk by, stop to chat."
Bright colors and dashes of whimsy, brushed on canvas with a slow, Southern style: maybe that's why his paintings stay so popular with Lowcountry visitors and locals alike year after year. It's easy on the eyes and every scene reminds you that there's warm water, a friendly dog, and a cold drink somewhere.
Jordan was born in the South Carolina upstate - Anderson, to be exact - but his high school did not begin to offer art classes until the year after he graduated.
"I was the first person in my family to make an attempt at being an artist," he says. "I wasn't surrounded by people who bought paintings or went into art galleries when I was growing up. But there was something about the life of an artist that really appealed to me."
Ask Jordan about the kinds of early impressions that may have nudged him toward a career in painting and he'll speak of his father, who worked with his hands; his mother, who decorated multi-tiered wedding cakes for the sheer enjoyment of the process; his best friends, twin brothers who took the initiative to study art at home, via the Famous Artists mail-order art instruction program, despite the lack of a dedicated curriculum at their school.
And finally, there was his 11th grade English teacher. "He was taking a Life Drawing class at Clemson University," he recalls. "He would bring the charcoals he was working on with him to English class." Something in the simple beauty of those sketches stirred ambition in Jordan. "I thought, wow, this would really be a neat way to spend my life."
That's exactly what he set out to do. First, by majoring in art at the University of South Carolina, and then, after receiving his Bachelor of Fine Arts degree at USC, by studying with the Art Students League in New York.
It was during a sketching trip to Charleston, with his friends, that he discovered the place where his art would truly blossom. "As soon as I saw Shem Creek, I knew this was where I wanted to be."
It takes time to build both a portfolio and a following, so, along the way, he framed pictures, worked in graphic design, and taught art. But the dream of being a full-time artist was always the goal. "I guess I just never liked the idea of shift work, of going to work when someone tells you to go," he says. "But then, I didn't have a child until much later in life. I figured if it was just me by myself, and I was starving once in a while, that wasn't so bad. Once you have a family it's a lot different."
Jordan made a way for himself as an artist by painting light and shadow playing across downtown Charleston and by painting beaches, with their perennial crop of colorful blankets and umbrellas. As the easy, gracious feel of the Lowcountry began to show through in his paintings, visitors began to ask specifically for his work.
"Ironically," he adds, "I also really enjoy painting snow."
In fact, among his personal favorites from his paintings is one from 1973, the year in which 7 inches of snow fell on Charleston. He rode his bicycle out to Shem Creek, found a vantage point from which to work, and began to paint. "It was magical to see the shrimp boats in the snow."
At least once a year he vacations in places like Colorado just to get his fill of winter beauty to wash across canvas. "I taught myself to ski just because I loved being in that terrain."
Jordan's work has appeared in major exhibitions throughout the country and he is an elected member of the Rocky Mountain Watermedia Society, Watercolor West, Pastel Society of America, and the American Watercolor Society.
Despite his accolades, he remains an easygoing person with a healthy sense of humor that often flows directly into his art. "I'm in the process of gathering old fishing reels," he says. "I plan to use them in a 'Reel Art' piece." He's also used old food strainers and wall-mounted telephones in similar arrangements with titles like "Strainers in the Night" and "Don't Talk to Strainers". While he'll grant you that there's not much of a market for novelty art, it's something he enjoys. And the enjoyment of it is really the main point for him.
"A few years back at the Southeastern Wildlife Exposition, I was looking at the paintings and thinking that they were all so serious. I wanted to do something whimsical."
That thought eventually led to a wonderful series of paintings in which lions, gorillas, and rhinos are playfully imagined to be wandering through, and interacting with the iconic tourist sites of Charleston (this also led to Wildlife in Charleston: A Children's Book for Grownups, with author Will Moredock).
His latest ongoing project, Mirror Days, continues that sense of whimsy, with a touch of bittersweet added in. "I had the idea to do a series of paintings featuring the colleges of South Carolina in rearview mirrors, sort of like that last look back right after graduation."
"That's a moment that really makes you feel something, when you're looking back at where you've been, and moving on to something new. That's the kind of memory I want to share."