Go with the Flow
04 May 2020
Serenity Tree Yoga brings shavasana to the sea
By Holly Fisher
Photos by Kailee DiMeglio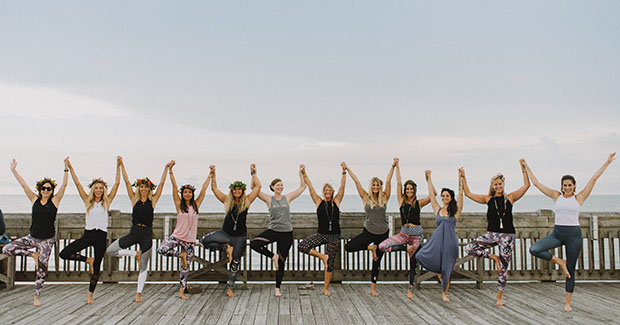 Growing up in the 1970s and 1980s, Melora Morgan's mom was a "closet yogi" in Florence, S.C. At that time, yoga wasn't exactly mainstream. Yoga studios weren't readily accessible. No one wore yoga pants to the grocery store.
"Yoga wasn't cool back then," Morgan said. "But we would often practice together, and on evenings when I could not sleep, she would talk me through shavasana, helping both my body and mind to relax and let go."
In her youth, Morgan was a gymnast and played sports. Moving her body and being physically strong have been lifelong pursuits. In adulthood, Morgan incorporated the study of the mind into her interests, pursuing a degree in psychology from Francis Marion University.
After a move to West Palm Beach, Fla., Morgan worked as a crisis intervention specialist with a nonprofit organization. By then, yoga was gaining in popularity – particularly in a more urban area. She met some women who were teaching yoga and making it work as a job.
"It was a way to combine body and movement and health and wellness with the mind, with psychology," she said.
It wasn't until Morgan and her husband moved to Charleston that she turned her childhood yoga practice into a career. In 2003, she signed up for a three-month certification course at Holy Cow Yoga. She still says that course was "one of the coolest things I've done."
A certified yoga teacher, Morgan led classes around Charleston, working mostly at Gold's Gym. For 10 years she taught everyone from muscled men to older women. Introducing a blend of people to yoga was really beautiful, Morgan said.
Outdoor Spaces for Zen
As her second child headed off to kindergarten, Morgan faced a crossroads. She was working part-time at a vet clinic and teaching yoga classes here and there. It was time to get a full-time job or "make this yoga thing work," she said.
By now, Charleston was flooded with yoga teachers. Morgan didn't want to open a traditional yoga studio. She wanted to find her own unique niche.
"I was trying to figure out what to do to make this work…how to make it a business in a way that would support my family as well as be something I really loved," she said.
Morgan was pondering her next steps while leading one of her classes in shavasana – the practice of gradually relaxing one body part, one muscle and one thought at a time.
"I'm thinking to myself, 'I need some guidance here.' I want to do what I love and still be an equal partner and provide for my family."
After class, a student asked Morgan if she'd thought about doing a yoga class for a wedding party. In that moment, Morgan had the answer she'd been seeking only moments earlier.
In 2013, Morgan started Serenity Tree Yoga. She doesn't have a physical studio, opting instead to use the beauty of Charleston's beaches and city parks for her classes that are donation-based. Regular classes are held on Folly Beach, Sullivan's Island and downtown Charleston.
In addition to her yoga classes on the beach, Morgan specializes in yoga sessions for bachelorette parties, wedding parties and groups looking to relax and de-stress.
Morgan's idea and her timing were spot on. Charleston was gaining in popularity as both a wedding destination and a hot spot for bachelorette parties.
"It just kept growing," Morgan said of her business. "It's been incredible. I'm so fortunate to have people in my life who have been really supportive. I couldn't do it without the community."
Beach Yoga For All
Serenity Tree Yoga has about a dozen teachers who stay busy from spring to fall. Morgan said they customize the classes, working with large bachelorette parties, a wedding party of aunts, uncles and cousins, or a more intimate yoga session for a bride-to-be and her mom.
But one theme flows through all of Morgan's classes: accessibility. Her goal with Serenity Tree Yoga is to help every student experience the benefits of yoga.
"It's all about me wanting to teach to everybody – whatever space they're in," Morgan said. "A lot of groups come in tired and they giggle through the whole session. I encourage them to laugh, talk to each other and be playful. If they show up and take a nap on the beach, that's OK. I try to give brides and groups some space. It's about whatever they need that morning."
Morgan's personal philosophy that yoga should be easily accessible is largely why she's avoided opening a brick-and-mortar studio. For her, the beach is a better classroom. Her beach classes follow a pay-what-you-can model. She sets out a box, and people pay if they can.
"Maybe you can pay, or you can't," Morgan said. "I want everybody to have that space."
Even her husband, 12-year-old daughter and 15-year-old son will jump into beach classes, especially Glow Yoga, in which participants bring their mats and glow sticks for a colorful evening experience.
Morgan has settled into her yoga niche, working almost year-round on morning sessions and full moon yoga classes. It's not just brides who appreciate her approach. Locals, too, value Morgan's unique perspective. Awards include The Post and Courier Charleston's Choice Best Yoga Teacher in 2017 and 2018 and Best Yoga Studio in 2018.
Freedom to Move
Even though people occasionally ask if she plans to open a traditional studio, Morgan said she has no interest in moving from outdoor classrooms. It gives her the opportunity to be free and flexible.
"If somebody shows up 30 minutes into class, I'm excited they made it," she said. "I'll greet them with a smile and hug. Yoga, to me, is something that should be a celebration of the body and the space you're in now. It's letting your body move in ways it needs to and finding that freedom to be yourself."
The beach setting fosters that freedom. The ocean air, the sand, the sound of the waves and the birds allow students to connect with nature. "Nature is one of the No. 1 ways to get back to your true self," Morgan said. "It clears away all the stuff – the to-do list, expectations of other people. You can take a moment to lift those things off and plop them in the sand."
It's not only the mental clarity yoga provides, but the physical strength. Key aspects of yoga are stretching and strengthening, Morgan said. Describing it as such takes away some of the mystique and makes it less intimidating to newcomers. Everyone is hunched over their laptops and stressed, and yoga is a way to open the chest, build a strong core and even stabilize the hips.
"The more you practice yoga, the more in tune you are with your body, the more aware you are of your emotions, and the better you are at handling whatever life throws at you," Morgan said.
Bio box:

Melora Morgan
Hometown: Florence, S.C.
Education: Psychology degree from Francis Marion University
Family: Husband and two children
Hobbies: Working out, reading, puzzles, bike riding
Visit www.serenitytreeyoga.com and Serenity Tree Yoga on Facebook for a full schedule and tips for how to improve the yoga experience.