Lowcountry nonprofit gives children the gift of two wheels
By Holly Fisher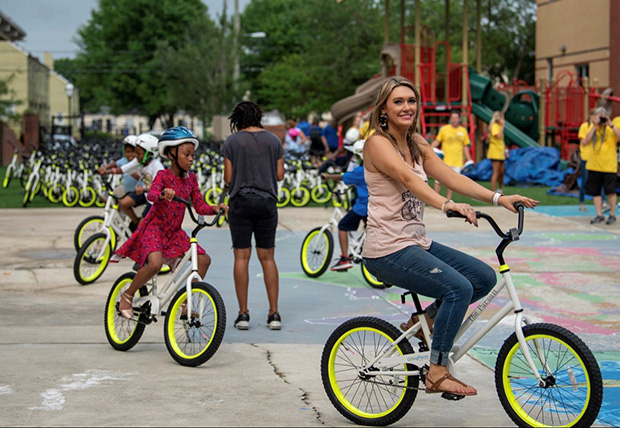 Sitting in her donated office space in Mount Pleasant, Katie Blomquist points to oversized donation checks hanging on the wall. She talks about being featured on Steve Harvey's daytime talk show, NBC Nightly News with Lester Holt and ABC World News Tonight.
It's been quite the ride for the elementary school teacher turned nonprofit founder. Her organization, Going Places, is little more than 2 years old, but already Blomquist runs it full time with help from a board of directors and a couple of interns.
It's a simple concept – giving underprivileged children bicycles – and yet that simple idea is having a big impact on children in the Charleston region.
An idea sparks
Blomquist was a first-grade teacher at Pepperhill Elementary, a Title 1 school filled with low-income students in North Charleston. Being a teacher is no small undertaking, but teachers at low-income schools face an extra set of challenges. Children often come to school burdened by a difficult home life or lacking in basic needs.
Blomquist did her best to engage with her students, spending time talking with them at recess. She took a special interest in 6-year-old Jawan. He was unmotivated, and Blomquist said she knew he needed to bond with her to better understand the importance of school and its impact on his future. So, she took extra time getting to know Jawan, even spending time with him outside of school hours. On his birthday, she took Jawan to Walmart to pick out a small gift. What Jawan really wanted was a bike – a bigger gift than Blomquist could afford on a teacher's salary.
With Jawan's request, she realized so many children living in poverty had never owned a bike and probably never would.
The idea nagged at Blomquist. Having a bike is such a basic childhood joy, she said. It's a childhood memory that most everyone in society connects to or, in Jawan's case, wanted so badly to experience.
Blomquist decided to launch a GoFundMe campaign to raise money not only so she could get a bike for Jawan, but bikes for the rest of the 650 students at Pepperhill Elementary. She partnered with Affordabike, a downtown Charleston custom bicycle shop, so each child could receive a new bike that was high quality and could grow with them.
She emailed magazines and radio stations and followed cycling publications on social media. Blomquist's fundraising campaign took off, and on March 30, 2017, she surprised every student at Pepperhill Elementary School with a brand-new bike. The feel-good story made national news and, within less than four months, Blomquist had raised more than $80,000.
The power of a bike
What was it about this generous gesture that captured people's hearts – and their wallets? Blomquist credits the universal power of a childhood bicycle. "It's something people can connect with," she said.
For those who had a bike, it's a fond memory or maybe it was a way for them to escape a hard situation at home, she said. People who didn't have a bike know they missed out on a special experience and will donate even $5 to Going Places.
At Going Places, bikes are more than a "toy," they are a true symbol of childhood joy. They provide freedom and escape, restore innocence, build confidence and offer a sense of ownership. It quickly became clear that Blomquist could help more children experience joy.
Before the first bike reveal at Pepperhill, Blomquist had registered Going Places as a nonprofit and set up a simple website. Thanks to all the national exposure and donations, the money raised not only funded bikes, but seed money so Blomquist could run the nonprofit full time starting in June 2017.
Right now, she raises money for two bike reveals each year, working with Affordabike to purchase the bikes. To outfit one child with a bike, a helmet and a bike lock is about $123, although Blomquist said raising tariffs could increase the cost of the bikes.
She's beginning to look for businesses that want to sponsor bikes for a school in their community. Currently, Going Places works only with the 31 Title 1 schools in Charleston County, but a business might want to fund bikes for a school in Summerville or Goose Creek. Blomquist also hopes to expand Going Places nationally.
Other joyful initiatives are under way. Within three to five years, she wants to incorporate swimming lessons into the organization. And last fall, she started "give a costume," collecting 600 donated Halloween costumes for children who otherwise wouldn't have one. Donation bins will be put out around town starting in September.
Going Places is also partnering with businesses to surprise teachers and staff at low-income elementary schools with a gift – coffee, event tickets, breakfast, clothing or a candle. So far, 650 staff members have been surprised with a gift.
A new path to joy
The potential to add joy to the lives of so many children is huge. Blomquist said this year they will begin conducting formal surveys to track the impact of the bikes, but anecdotally, she knows joy is spreading. At a bike reveal, children will drop to the ground in excitement over getting their first bike. Families are spending time together. And after the children at Pepperhill Elementary received bikes, neighbors said children played outdoors that summer for the first time ever.
Blomquist spent six years as a teacher, with four at Pepperhill Elementary. Working as a teacher in a low-income school was incredibly difficult, she said.
Before she came up the idea for the bike giveaway, Blomquist considered leaving the teaching professional all together. She wondered if she was really making a difference. She points to two framed papers sitting on the bookshelf in her office. Her students were asked to fill in the blank "Love is ____." Her student Jawan – who started the whole bike idea – wrote Blomquist's name in the blank. Another student wrote "When my teacher sits next to me at recess."
Even today, Blomquist tears up looking at those papers. Her question, "Am I making a difference?" had been answered in those simple school worksheets.
She misses those one-on-one relationships with the students, but she recognizes her work with Going Places allows her to reach so many more children and leave a lasting – and positive – impact.
"Joy is a piece of social and emotional health," she said. "It determines the kind of adult you'll be."
These children will grow up to be contributing members of society. And, thanks to experiencing the joy of riding a bike, just maybe they will treat the community differently, she said.
And that can make all the difference.
To volunteer or donate with Going Places, visit www.goingplacesnonprofit.org.