The Truth in Beef
By WENDY SWAT SNYDER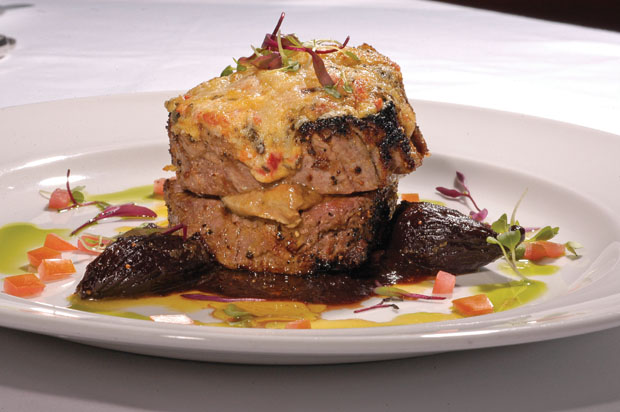 When strangers in an elevator gush about the dinner they just enjoyed—"Steak, it was amazing! And we live in Paris!"—you can believe you're in Charleston's best place for beef. It's all prime at Grill 225, from the hand-cut filets to the top shelf service that starts at the restaurant's front door. Located within the Market Pavilion Hotel at the center of the city's busy Market district, polished brass and welcoming valets set the tone for a one-of-a-kind experience.
"We come here for steak" is the comment Nick Palassis, president and managing director of the luxury property, says he hears most often from his patrons. "You don't have a shot at a quality experience if you don't put the best product on the plate," he notes. "We're very passionate about that."
That passion for food and hospitality runs in the family. Nick's father, Jim Palassis, is an industry veteran with several regional hotels in his portfolio, among them, the newly renovated Town & Country Inn in West Ashley. Owning a high-end property in downtown Charleston was a lifelong dream he realized when, with the help of his wife Cookie, daughter Elaina, and Nick, he opened Market Pavilion Hotel and Grill 225 in 2002.
It took two attempts to secure the building site at 225 East Bay Street, and over three years to complete the project. With local roots three generations strong—Jim remembers shopping trips to the nearby City Market when vendors there sold fruits and vegetables—the Palassis family went beyond Board of Architectural Review guidelines and replicated in their plan elements such as the granite exterior of the 160 year old Customs House across East Bay Street.
"This property reflects our commitment to Charleston," says Nick. "We wanted it to blend in with the historic buildings around it, and be complimentary to the city."
In the ten years since its opening, the restaurant has garnered multiple accolades for style as much as steak, and is favored by locals and visitors for a fine dining experience in a setting that reflects the best of Southern hospitality.
Rich hardwoods, lofty ceilings, velvety banquettes, and window seating for guests who like to see-and-be-seen set the stage for the AAA Four Diamond Award winning menu. Executive chef Demetre Castanas joined the family endeavor during the early planning stages of the restaurant, bringing to the table several years of experience, including a stint at The Palm Restaurant in New York.
"I grew up in the restaurant business," explains Castanas, a first cousin of Nick's. "My grandfather and father operated a prime steak house in Charlotte, N.C. I spent afternoons there after school, and just started picking things up—cleaning shrimp, watching my grandfather cut meat—I was like a sponge."
Castanas had been with The Palm for over three years and was considering a transfer to Los Angeles when the Palassis family offered him an opportunity to come to South Carolina.
"Uncle Jim and Nick asked me if I was interested in opening a steakhouse in Charleston," he recalls. "It was the next step in my career—I was 26 years old, and already had 11 years of experience under my belt."
Grill 225's fare is classic steakhouse—a nod to the South given with dishes such as Lowcountry blue crab chowder served with a cornbread muffin, and an elevated shrimp and grits.
"Demetre and I work together on a day-to-day basis," notes Nick. "He creates dishes, and I taste.
Salads include an organic mesclun from Yonges Island dressed with pecans, tomatoes, and ginger soy vinaigrette. A beefsteak tomato dish showcases a Johns Island tomato atop a wedge of buffalo mozzarella drizzled with balsamic vinaigrette.
Castanas sets an upscale tone with appetizers such as a tower of tuna tartare and lump crab, and a selection of caviar served with traditional garnishes and crème fraiche.
Entrees offer standards such as a selection of pork and veal chops. Seafood choices feature lump crab cakes and fresh fish dishes such as pan seared black grouper. Whole Maine lobster is removed from the shell and elegantly served table side. The prime filet mignon is the restaurant's top-seller; a dressed-up version features foie gras, truffled Bearnaise sauce, and fig demi-glace.
The restaurant sources all of its beef from an exclusive Midwest supplier identified for its consistency. The meat is wet aged for 42 days—except the denser New York strip, which ages a little longer.
"I was raised on wet aged meat and prefer the taste" says Castanas. "Dry aged tastes a little gamey to me. I do all the hand-cutting in house."
An abundant list of New and Old World wines represents the restaurant's classic steakhouse ethic well, with a good showing of California cabernets and big pinot noirs.
"My favorite steak is ribeye," says Castanas. "It reacts very well to a rich, flavorful cab."
Executive pastry chef Gerry Elliot creates all the establishment's breads, pastries, and desserts in-house. Not-to-be-missed decadence includes banana bread pudding topped with caramel ice cream and warm caramel sauce, and a walnut-y baklava "purse" served with cinnamon ice cream and local honey. Elliot gives a Carolina twist to the traditional baked Alaska by layering strawberry ice cream and raspberry sorbet onto a candied peanut cake. The meringue crust is flambéed tableside.
Another must-have: the patented Nitrotini – an exotic martini that arrives super-chilled in a cloud of liquid nitrogen.
"Nick brought it on board—it's trademarked," notes Castanas. The bar produces over 30 different Nitrotinis featuring a variety of fruits, liqueurs, and other specialty ingredients. Ice crystals pumped into the glass by the nitrogen maintain optimal frostiness right down to the last sip.
"Our goal was, and is, to be one of the top steakhouses in the country," muses Nick.
Professional, caring service. 100% prime beef. Stellar views of Charleston harbor from a rooftop bar. Perhaps one of the top steakhouses—in the world? (843) 266-4222, grill225.com