Worth Framing
01 May 2013
Donovan's Custom Framing displays your treasures in style
By JASON A. ZWIKER » Photos by ASHLEY WALKER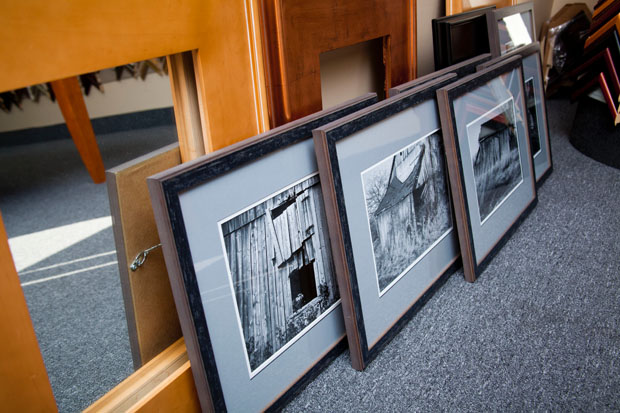 For Dennis Donovan, framing is a double delight. There's the quiet joy of the work itself – selecting exactly the right mat and frame to bring out the colors and style of a work of art. And then there's the joy of seeing the "wow!" on the faces of his clients when they pick up their treasures.
A work of art, an award-winning photograph, a diploma, a sports jersey, or the priceless picture your child drew for you in crayon on his or her first day of school – Dennis will frame all of these and much more with equal care.
He takes his time with each new client, getting to know their tastes and preferences. Then, he introduces the various elements that will make it all come together. "Matting is most important," he says. "That's what really makes a piece shine."
"Anything that comes in could go out of here ten different ways. There are many different choices to make, and all of these choices are important when it comes to how the finished product will look. And you want it to look its best."
Here's one of the most important choices: what kind of glass will offer the best protection? We all love the sunshine down here in the South (hey, it's the reason many of us are here), but a sun-drenched room can be very damaging to artwork over time. That's why Donovan stresses the importance of conservation glass, which can block up to 99-percent of the harmful UV rays. Then there's museum glass, a kind of conservation glass which offers not only protection, but also a stunning "no-glass" appearance. He explains all of the different choices in detail, striving for complete customer satisfaction at an affordable price.
The right frame is what ties it all together. After he puts that in place, that's when it's time to step back, take it all in, and wait for the "Wow!"
Over 35 years of framing experience goes into each and every piece of art that passes through the shop. He was introduced to the art of framing while working up North, and immediately fell in love with the creativity and attention to detail involved in the process.
Like many others, Donovan and his wife Maryann discovered the splendor of the Charleston area while traveling.
"We would vacation in Hilton Head or Myrtle Beach and take day trips to Charleston," he recalls. It was during one of these day trips that they went just a bit further down the road and discovered Summerville. They were immediately enchanted by the "biggest small town" they'd ever seen.
After years of living and working in Pennsylvania, they were ready for a change of weather. They moved to Summerville in 2008, and rolled up their sleeves to start making their business a success.
They immediately set to work not only establishing Donovan's Custom Framing, but also giving back to the community that welcomed them. They became involved in the Greater Summerville / Dorchester County Chamber of Commerce and charitable organizations and events, such as Summerville D.R.E.A.M and the Summerville Kitchen Tour.
Donovan did exactly what he does best. He used his years of experience and knack for finding what makes a picture "work" and soon enough, the business began to grow. Within a year of coming to town, they were awarded a Summerville Journal Scene Reader's Choice Award (since 2009, they've received first place three times and runner-up once).
Donovan has worked on some amazing pieces, including a signed Salvador Dali, and regularly completes major multi-piece projects for clients such as Santee Cooper, as well as many local restaurants and professional offices. Clients routinely seek out Donovan's Frame Shop from Mt. Pleasant, Kiawah Island, and as far away as St. George. Another client, from North Carolina, heard they were the best, so she made arrangements to have her piece framed and picked up while she traveled to Summerville for the annual Flowertown Festival.
Those are the kinds of connections that make the Donovans happier than ever to have chosen Summerville as both their home and place of business. "We're still so enamored of being here, in a place this warm and wonderful. Just sitting in our home, we feel like we're on vacation."
"It's very easy to get to know the people in this town. The kindness and generosity we've experienced since we moved here has left us feeling totally humbled and blessed." 843-871-9003, donovanscustomframing.com