Harold's Cabin
03 Sep 2022
Beloved Westside neighborhood corner eatery feels like home
By Wendy Swat Snyder
Photos by James Stefiuk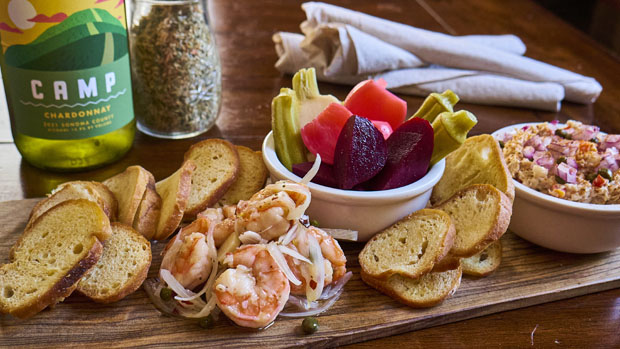 Almost every restaurateur, chef, manager, and server has a pandemic story, assuming they survived the rigid dictates of COVID-19. With luck, there's a silver lining to the story, and for Harold's Cabin, that is so much the case. It's been a year since the farm-to-table eatery reopened after an 18-month hiatus—a shutdown that resulted in a re-imagined menu, roomier dining spaces and a new service model.
What remains the same is the restaurant's commitment to the Westside neighborhood it anchors—to be a cozy gathering spot with kicked-up pub food served with a big helping of homestyle hospitality.
The restaurant's story began with a collaboration of Bill Murray (yes, that Bill Murray) and partners Mike Veeck, John Schumacher, Drew Childers and Ben Danosky.
"Mike and Bill have been involved in other restaurants in their journeys—Rutledge Cab Co.—and a couple of Caddyshacks the Murray family owns," says food and beverage veteran Schumacher, whose association with the Charleston Riverdogs connected him with the group.
"Their interest is in creative and fun ideas," notes Schumacher, adding that the team's expertise landed Harold's Cabin on Travel + Leisure's Coziest Restaurant in South Carolina accolade in 2019.
It so happened that the property the partners identified for their eatery was a former corner store that once housed Harold's Cabin, a small family-owned mercantile that would grow into a taste-setting Charleston institution. Opened in the 1920s selling kids snow cones, the shop would eventually provide offerings from around the world, Dean & DeLuca-style. Schumacher says they drew inspiration from the family's entrepreneurial story and came up with a concept that pays homage to their community spirit.
"From the beginning our vision has always been a neighborhood restaurant," adds Schumacher. "And that's our template for the dishes we create."
The ubiquitous burger is a case in point. The kitchen puts a spin on theirs that patrons love.
"We make ours special with locally-sourced beef, bread from EVO, sweet jalapeno relish and housemade smoked onion mayonnaise," explains executive chef Taylor Hodgkins. "We find ways to add our craft to common bar food."
Hodgkins helped develop the menu for the initial 2016 opening and returned last September. "When we reopened after the pandemic, what was always part of our debate was, how do we deliver on really approachable, scratch-made food that is more adventurous?"
Hodgkins attended Johnson & Wales and participated in World Wide Opportunities on Organic Farms, landing in Portugal to study permaculture, a self-sustaining approach to agriculture that takes its cues from natural ecosystems. After moving to the Lowcountry, the Cape Cod native did a stint at farm-to-table eatery The Lot on James Island and weathered the pandemic at Tolli's Trattoria on Johns Island.
Post pandemic, the team pivoted to a new service model for the "new normal." It's now supplied via a big blackboard in the entry that reads "Welcome to the Cabin" followed up by a list of seasonal offerings—DIY for both sit-down diners and folks on the go. Orders are taken at a counter flanked by a beverage-laden cold case and a cozy bar. Seating is yours for the choosing, first come, first serve. The rooftop offers additional tables and views amid a productive herb garden that supplies the kitchen.
The Cabin's decor borrows from the original's cabin-in-the-woods theme—think rustic-chic: industrial Edison lighting mixes it up with quirky stick chairs and moose print upholstery, antlers and kitschy knickknacks, a potbellied stove and original brick chimney and local artwork that includes the place's raccoon logo. It's a playful vibe that I'd venture mimics Murray's and the team's let's-not-take-things-too-seriously outlook.
The evening we visited the Cabin, Schumacher gifted my guest and I a pair of gorgeous peaches from a batch he'd brought from Cook's Farm in Trenton, South Carolina. A convivial conversation covering all things food followed. It felt like home.
On to the meal—as starters, we sampled two appetizers: shrimp from Tarvin Seafood blanched with local bay leaf and "rooftop" Meyer lemon and then pickled, was a must-have. So, too, was the smoked trout dip garnished with capers, red onions and Old Bay seasoning we scooped up with EVO crostini. The chef sent out an assortment of veggies from his pantry—house dill pickle chips, baby carrots, tiny baby turnips and breakfast radish—each preserved in its own distinctive pickling brine.
The farm peaches showed up charred in a hearty salad of Vertical Roots greens, puffed farro, toasted pecans and a peachy vinaigrette—sweet, salty, acidic and addicting. A second salad celebrated the season with local watermelon pressed in a marinade of its own juices to concentrate the flavor. Thick wedges combined with butter beans and house ricotta made with Lowcountry Creamery milk made it another must-have dish.
Another nod to the Cabin's adventurous approach to bar food is a swoon-worthy sandwich featuring Johns Island tomatoes that elevated them to stardom. Dill pickling brine transformed thick slices of the fruit that were layered with pea shoots and "rooftop" chive oil on a bed of EVO Texas Toast.
Another sandwich that exemplified the kitchen's commitment to locally-sourced product featured rich, salty prosciutto slathered with Split Cream Farms goat cheese and housemade raspberry jam, all wrapped up in an EVO baguette.
Wanting to end on a whimsical note, we finished our full-of-surprises experience with an ice cream cookie for grown up kids. Cast iron brittle, cocoa nibs, puffed farro and rich, dense ice cream sourced from Frigid Bits were stuffed into a super-crisp, not overly sweet cookie. Need I say more?
The pandemic-driven pivot notwithstanding, the team has stayed true to its roots. Harold's Cabin oozes creativity—a fun salute to the Charleston imagination by some pretty innovative folks in their own right. How lucky for their Westside neighbors.
Harold's Cabin
247 Congress St.
Charleston
843-793-4440
@haroldscabin