Holiday Brunch
13 Nov 2015
On the first day of Christmas (or the twelfth, or the twentieth ...), treat your true loves and out-of-town guests to the leisurely joys of a holiday brunch.
There's no warmer way to welcome a friend into your kitchen than with a mug of fresh coffee, while an aromatic skillet of bacon pops and crackles on the stove.
Brunch is a cook's slow-food fantasy during the busiest season of the year. After all, what other meal combines the luxury of sleeping in with the de rigueur of robes, slippers and fizzy drinks before noon?
Recipes and Photos by Kim Byer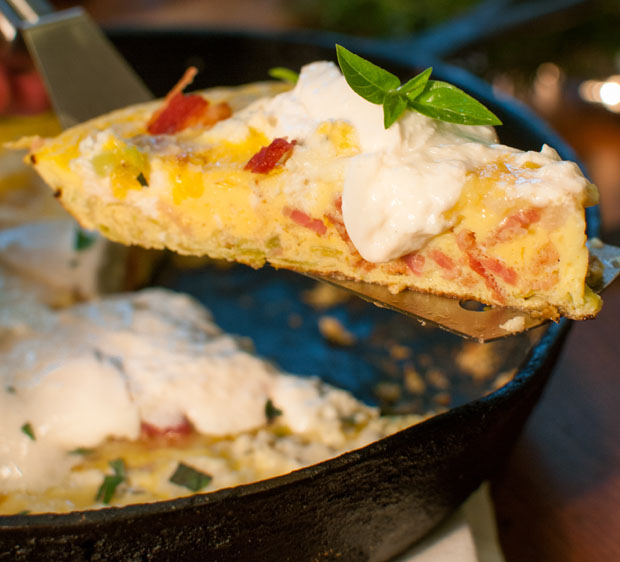 Downhome or Downton Abbey?
If ice sculptures, champagne flutes and Gatsby are your thing, stack your finest china on the sideboard and pile silver trays high with miniature pastries, fruit slices and cheese wedges. I do hope your slippers have kitten heels.
Or, be sane and serve grits from the slow cooker and milk from a carton. Cover your buffet with burlap and slide your silverware into a mason jar. Turn up your favorite Jack Johnson/Charlie Brown playlist and decorate your table with rosemary sprigs tucked into jelly jars and chargers hand-drawn in chalk.
Five Golden Rings
In lieu of croissants flown in from Paris, these Double Cheese Danish substitute beautifully for flaky, crumble-on-your-tongue treats. And this easy, toss-and-bake recipe for Pistachio Granola will transport your crazy hippie aunt back to her happier youth.
Your niece's sophisticated palate will adore the Pomegranate and Pear Salad with its candied pecans and chunks of marbled Gorgonzola. And the Bacon and Burrata Frittata will have everyone asking, "What is this cheese again?" Until, in a solemn moment, Uncle Don declares the Grilled Ham and Gruyere sandwiches the best of the bunch. These delicate sliders, with a hint of peach jam and whiff of pungent Dijon, melt beneath their buttery crunch. They're sure to knock his socks off if his endless glass of strong tomato juice doesn't first. Ah, the simple joys of a holiday meal.
What to say when your friend asks you for the recipe…
Brunch means never having to say you're sorry. It also means you don't have to cook everything. Brunch isn't over at my house until the bakery-bought chocolate babka is served. Explain that buying hyper-local is your jam, then tell them where they can buy it, too. After all, it's the perfect time of the year to purchase fresh-pressed juice, preserves, honey, and sweet breads from local bake sales and street markets.
Long after the playlist has looped around for the third time, gently guide your guests out the door (or back to their rooms) with a sample of goodies wrapped in small brown paper bags, tied with twine and a festive tag. Hosting a holiday brunch is all about gathering good friends and family together for a comfortable, casual meal. The more relaxed you are, the more convivial the memory, generous sampling of mimosas notwithstanding.
*******
This salad glistens with shiny red pomegranate seeds and golden bites of honeycomb, candied pecans and savory chunks of marbled Gorgonzola. It's as pretty as a present on your plate. Its delicate mixture of texture and flavor will leap and pirouette like tiny dancers across your tongue.
Pomegranate and Pear Salad with Candied Pecans, Gorgonzola and Honeycomb
Serves 4
Candied Pecans
1/4 cup pomegranate juice
1 teaspoon sugar
1/4 teaspoon kosher salt
1 cup pecans
Salad
Baby greens (cleaned and dried) to fill four salad plates
1 medium pomegranate (or 4-ounces pomegranate arils)
2 ripe pears of choice, sliced and rubbed with lemon juice
2 ounces Gorgonzola cheese, crumbled
1 tablespoon red onion, minced
1/4 cup honeycomb, sliced into bite-sized pieces (optional)
Lemon juice to keep pears bright
Dressing
6 tablespoons extra virgin olive oil
3 tablespoons pear-infused white balsamic vinegar (or mild white vinegar)
2 tablespoons pomegranate juice
1 teaspoon good quality Dijon mustard
1/4 teaspoon kosher salt
Freshly ground pepper to taste
Directions
Add pomegranate juice, sugar and salt to a non-stick pan and simmer over medium high heat until liquid begins to thicken (four minutes). Add pecans; toss and cook until pecans are browned and all of the liquid has evaporated.

Spread candied pecans onto a baking sheet to cool.

Meanwhile, divide baby greens among salad plates.

Remove arils from pomegranate (see note) and scatter over lettuce.

Slice one half of a pear over each salad.

Evenly scatter Gorgonzola, red onion, honeycomb and candied pecans.

Just before serving, drizzle with dressing.
Note: Quarter pomegranate with a sharp knife. Holding a wooden spoon, slap the skin side of each quarter over a cereal bowl until the arils dislodge.
***
Puff pastry, when perfectly baked and filled with cheese, rises and falls to create a wedded confection of airy soufflé and French croissant. These Danish pastries, bubbling over with a lemony ricotta and cream cheese filling, will transport your soul to the Blue Danube, where you'll float, breathlessly, until the big ball drops into Times Square and your blissful holiday brunch is rudely interrupted forever.
Double Cheese Danish with Orange Icing
Yields 8 Danish
Danish
8 ounces cream cheese, at room temperature
1/3 cup sugar
2 large egg yolks, at room temperature
2 tablespoons ricotta cheese
1 teaspoon good quality vanilla extract
1/4 teaspoon kosher salt
Zest of one medium-size lemon (approximately 1 tablespoon)
2 sheets frozen puff pastry, defrosted
1 egg beaten with 1 tablespoon of water, for egg wash
Orange Icing
1 cup confectioners' sugar
1 teaspoon butter, softened
1/2 teaspoon vanilla
1/2 teaspoon orange juice
Directions
Preheat the oven to 400 degrees. Line a sheet pan with parchment paper or silicone baking sheet.

In a mixing bowl or by hand, cream the cream cheese and sugar, beating slowly until incorporated. Add egg yolks, ricotta, vanilla, salt and lemon zest and slowly mix until all ingredients are combined.

Unfold the sheets of puff pastry and, using a sharp knife or a pizza cutter, slice into quarters. Brush with egg wash and place a heaping teaspoon of filling into each square. Fold two opposite corners, then brush the folded tops with egg wash.

Chill for 5 to 10 minutes, then bake for 20 minutes or until puffed and golden.

In a small bowl, cream confectioners' sugar, butter, vanilla and orange juice until the icing drizzles from fork tines. Add extra 1/4 teaspoon of orange juice, if needed.

When Danish pastries are cool, drizzle with orange icing and/or serve warm with your favorite jams or preserves.
***
These bright bowls of luxurious, creamy cheer will have your guests gobsmacked by their beauty. Ladle a small spoonful of honey, like liquid gold, into a glass and alternate layers of snow-white yogurt with flakes of golden oats and chunks of nuts and bits of shiny fruits. Beware of hikers wandering in from the meadows like moths to a flame: It is that good.
Greek Yogurt & Pistachio Granola Parfait
Yields approximately 8 cups of granola
1 1/2 cups old-fashioned oats (not quick-cook)
1/2 cup pistachios
1/2 cup pepitas
1/4 cup raw, unsalted sunflower seeds
1/4 cup pure maple syrup
2 tablespoons honey
2 tablespoons coconut oil
1/2 teaspoon vanilla extract
1/2 teaspoon ground ginger
1/4 teaspoon cinnamon
1/2 to 3/4 cup mixed dried fruit (such as apricots, cranberries, mangoes, or tart cherries), chopped
Honey
Greek yogurt
Shelled Hemp Seeds or Bee Pollen (optional)
Directions
Pre-heat oven to 325 degrees. Prepare baking sheet with parchment paper or use silicone baking sheet.

In a large bowl, mix together oats, pistachios (if not pre-roasted), pepitas, sunflower seeds, maple syrup, honey, coconut oil, vanilla extract, ginger and cinnamon.

Spread mixture onto baking sheet. Bake for 30 minutes. Allow to completely cool before removing chunks with a spatula.

To assemble a parfait, drizzle some honey in the bottom of a parfait glass. Layer with a few tablespoons of Greek yogurt, then alternate granola, dried fruit and yogurt up to the rim. Top with additional dried fruit, hemp seeds, and/or bee pollen.
***
Ah, the foolproof frittata. This has to be the most beloved brunch dish that a cook can whip up. It's made just as often with refrigerator leftovers as it is with planned ingredients. As long as there are eggs and veggies in your kitchen, a frittata is the perfect way to enjoy them.
This particular savory skillet pie recipe relies on a single leek to infuse an earthy sweetness. Add salty chunks of bacon and top with a torn ball of (ahem—the world's most luxurious cheese) burrata and you have a chef d'oeuvre.
Bacon and Burrata Frittata
Serves 6
6 rashers bacon, fried and chopped
8 large eggs + 1/4 cup water
4 ounces fresh burrata cheese
1 leek, thoroughly washed and chopped
1 4-ounce round garlic-herb cheese (such as Boursin)
1/4 teaspoon salt
Oil for frying
Freshly torn herbs, freshly ground pepper and/or sliced green onion, for topping
Directions
Pre-heat oven to 400 degrees.

Heat one tablespoon of oil in a large skillet (such as cast iron) and cook leek with salt until the onion is wilted.

In a small bowl, whisk eggs with water and slowly add garlic-herb cheese. Pour over leeks. Add chopped bacon.

Cook on top of stove until eggs begin to set (2 to 3 minutes). Remove from stove and cook in oven until the top of the frittata begins to brown, about 15-20 minutes or until eggs are puffed and almost set. Remove from oven and tear the burrata ball into small sections over the frittata. Return to oven for 5-7 minutes or until burrata is warm.

Just before serving, top with fresh herbs.
***
Brioche's buttery, airy texture is key to this superior grilled cheese sandwich. With each crunchy bite of gooey Gruyère, salty ham, piquant Dijon and sweet peach preserves, you know you've scored high on Santa's nice list. Brioche is the perfect splurge during the holidays – after all – angels knead the dough, which results in its fancy-pants price tag.
Ham and Gruyère Sandwiches
Makes 6 Sandwiches
1 brioche (or Challah) loaf, sliced into twelfths
8 ounces Gruyère cheese, grated
6 slices ham
1/4 cup peach preserves, preferably homemade
1 tablespoon good quality Dijon mustard
Butter for frying
Directions
Preheat oven to 300 degrees.

In a small bowl, stir the peach preserves and Dijon mustard. Spread equal amounts onto six slices of bread, add a slice of ham, a small mound of Gruy

è

re cheese, and top with remaining six slices.

Heat a large cast iron or similar skillet with one tablespoon of butter and gently toast both sides of each sandwich, being careful not to overcrowd. Brioche will toast quickly in butter. When toasted, remove and place inside a glass casserole dish.

Heat sandwiches in oven for ten minutes or until ham is warm and cheese is bubbly. Slice into halves or quarters.