Ted's Butcherblock
13 Nov 2015
Charleston has few secrets where dining is concerned anymore. On the national radar thanks to its vibrant culinary scene, accolades have become routine here and the city ranks highly as a top Southern food destination. Its reputation attracts the best talent in the hospitality industry and discerning food critics follow. From fine dining to craft brewers, Lowcountry pros raise the food bar daily. And when it comes to grabbing a quick bite that measures up to these standards, insiders flock to Ted's Butcherblock.
By WENDY SWAT SNYDER
Photos by JAMES STEFIUK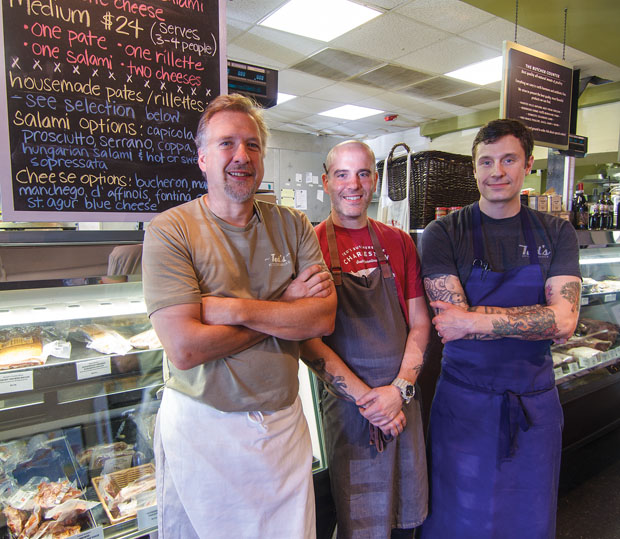 The brainchild of owner Ted Dombrowski, the shop pays homage to his Polish grandparents who opened a butcher shop in New Jersey after coming to the United States in 1918. Ted's place is part neighborhood butcher, gourmet market, and no-fuss café all under one roof. Located a stone's throw from the Charleston harbor on East Bay Street, the eatery is tucked into the back of a small shopping center and easily missed. But Ted's Butcherblock has a loyal following—savvy locals who know it is a go-to for fresh, innovative fare and top quality products from the best sources available.
"My concept is nothing new," says Dombrowski, who discovered Charleston while attending Clemson University in upstate South Carolina. "In New York there are places like this everywhere. But when I came to the South and found there were so many flavors you couldn't get, my plan was to fill that niche."
Good food has long been a constant in Dombrowski's life. The New Jersey native grew up helping out in the kitchen of his parent's family-style restaurant. "All of us kids worked there," he recalls. "I washed dishes and cleaned up—the place was a huge operation, 5,000 square feet—the food was solid Americana, we even had a polka band...it was a very blue collar town."
At Ted's Butcherblock, Dombrowski showcases the ethnic foods he loves and his passion for the craft of butchering. Inside big, old fashioned counters, shoppers find naturally produced meats, poultry, game, and other best-quality products. His purveyors represent farm-based programs that are organically compliant such as Painted Hills Natural Beef, Berkwood Farms Berkshire Pork, and Cheshire Farms. Customers' orders are hand-cut to provide maximum flavor and freshness. Another case is stocked with fish and shellfish—some of it local, and nearly all domestically sourced. Ted's Butcherblock supports the South Carolina Aquarium Good Catch initiative. Shop the cold case for authentic specialty items such as fresh ravioli and pierogies.
Many of these ingredients are showcased in the innovative gourmet sandwiches and paninis for which the café is known. The popular Wagyu beef panini features thinly sliced house-roasted beef with caramelized onions, sautéed mushrooms and blue cheese garlic aioli pressed on a soft ciabatta roll. A non-meat panini combines julienned squash, zucchini, carrots, broccoli and mushrooms, caramelized onions, farmhouse cheddar, and a splash of house vinaigrette. On Wednesdays, the kitchen kicks it up another notch with a specialty sandwich that is a little more intricate and creative, like the housemade porchetta sandwich stuffed with broccoli rabe, lemon, chili and salsa verde on focaccia.
"We want the sandwiches to be a representation of what we are," notes Dombrowski. "They're different from what's out there—that's what our niche is."
Every Saturday, the staff fires up the grill and smoker and rolls out the "ultimate burger" for one, delicious day. House-ground chuck and brisket are the foundation for toppings like beer braised onions, steak sauce, horseradish aioli, cheddar cheese, and onions rings.
Probably the best-kept secret in town is the Ted's Butcherblock Friday night dinner—a prix fixe ($20!) two-course menu composed by chef Jamie Fairchild every week. "I post the menu on our website the Wednesday before the dinner," he explains. "A guest can also choose something else out of the case and we'll prepare it to order."
With Dombrowski since 2011, the Johnson & Wales graduate says he had known of Ted's Butcherblock before joining the team and "always had a lot of respect for what he's doing—simple, but top of the line."
Fairchild's entrees incorporate the shop's fine ingredients, like a flavorful roasted chicken breast I enjoyed recently from Springer Mountain Farms, an American Humane Association-certified poultry supplier. The plating was a visual feast of fall color: earthy shiitake mushrooms from Sea Island Farm; dark, autumn greens with a hint of heat and pine nut butter; and a silky, amber mousseline of delicata squash.
"Jamie is a very talented chef," notes Dombrowski. "I give him the opportunity to create his own dishes—we can do whatever we want because we don't have a set menu."
Sous chef Chad Dennis focuses on producing the shop's housemade sausages, soups, and inventive desserts for the Friday dinners such as his rum cake: tender, slightly boozy bites of cake moistened with a drizzle of grapefruit and buttermilk mousse.
Dennis' sausage repertoire includes Italian, German, chorizo, and breakfast sausage. Charcuterie is also made fresh in-house and includes pancetta, duck and pork rillettes, pâté de Champagne, and bison pâté. The shop brings in select international sausages such as Irish-style bangers from Schaller & Weber, Cajun boudain from Comeaux, lamb merguez from Fabrique Delices, and, of course, Polish kielbasa from New York.
Porkbelly connoisseurs can sample artisanal bacons in the comfort of their homes by joining the "Bacon of the Month Club." The program delivers the unique product from over a dozen varieties crafted at small smokehouses from around the country.
Ted's Butcherblock offers full catering services for luncheons, receptions, and other special events. Menus include hot and cold bites such as duck confit salad and pickled shrimp, charcuterie trays, salads like tabouli-style quinoa and poached tuna, plus meats and poultry—smoked, roasted or braised. Other crowd pleasers include a whole hog feast and a Lowcountry boil. Or opt for a kitchen on wheels—the eatery's food truck is equipped to offer gourmet sandwiches and panini, burgers, grilled housemade sausages, hot dogs, barbecue pork, brisket, chicken, fried fish, and more.
Ted's Butcherblock is the sum of many parts, all centered around quality—and that is what keeps the creativity flowing. Dombrowski and his team aim to stay fresh and new. Their secret—never stop evolving.
Ted's Butcherblock
334 East Bay Street, Charleston
843-577-0094
tedsbutcherblock.com