Holiday Settings
13 Nov 2015
Designing your holiday table can be both wonderful…and overwhelming. You see shop windows, recall friends' past décor, or pin dozens upon dozens of ideas on Pinterest. Well, the Interior Designers and Consultants at Southeastern Galleries, Celadon at Home and GDC Home, respectively, offer their ideas with three of the most magical, whimsical and "glam" tables—and their best advice to you is to start with one main piece, and let the rest fall perfectly into place.
By TERESA ERRICO » Photos by NONI BRUECKNER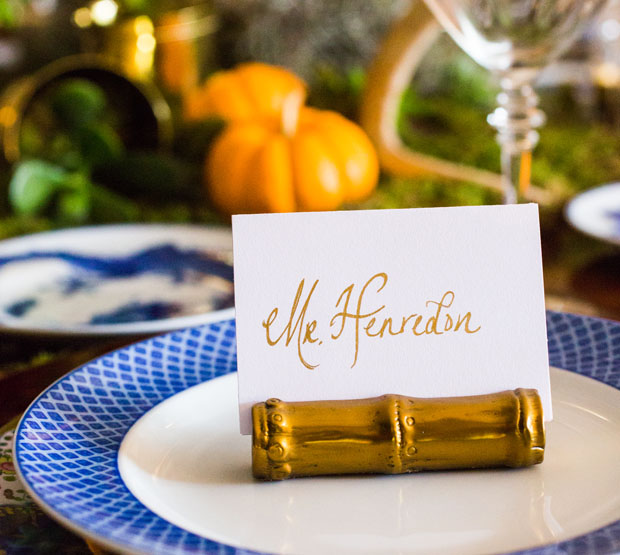 Brianna Roberts
Celadon at Home
Holidays mean different things to different people, and for those who aren't able to celebrate Thanksgiving or Christmas with a large crowd, Brianna Roberts, the Visual Merchandiser at Celadon, wanted to create a natural look that would be just as elegant for two as it would be for ten. "We wanted to show how Thanksgiving or Christmas with a small number of people can still be festive," she said.
The table design is applicable for either holiday, thanks to its natural colors of cream and white, as well as pops of gold and silver. The cream linens are Celadon's signature house linens and the hand-blown vases at the centerpiece are a part of the store's 2015 holiday line. "We tried to use a lot of neutrals so it wasn't necessarily reds and greens to make it Christmas-specific," Roberts explained. "It's a table that could really transition from Thanksgiving to Christmas or even to New Year's."
Roberts added a local touch by using recycled wine bottle drinking glasses, courtesy of Charleston's candle company, Rewined, which fit perfectly into the table's natural feel. "The table has wood, marble and other stone mixed in with shiny, metallic vases for a little bit of sparkle. So it's kind of a mix of natural and a little bit of bling for the holidays!" 843-884-7005, celadonathome.com
Meredith Kizer, Chandler Chakides
GDC Home
Meredith Kizer and Chandler Chakides, Design Consultants at GDC Home, were inspired by one bowl, their centerpiece, and from there layered around it to create this elegant, "glam," mix-and-match table. Their advice is not to replicate an exact design you've seen elsewhere, but to find that one dish, candle, tablecloth or unique piece that inspires you as well, and build around it until you've created your own ideal holiday look.
"Our design is an eclectic mix," Kizer said. "'We have a Moroccan lantern and the metallic cowhide and then the very traditional dinner plates. It doesn't all have to match."
"The cowhide we used as a tablecloth makes it a little rustic, and then mixing that with the gold candles and some of the more sparkling accessories also makes it elegant," Chakides said.
The duo really wanted to do something metallic, especially in silver, white and gold because those gold features can both be used in the fall and to add a nice holiday glow, making it perfect for transitioning from one season to the next. Chakides noted, "You can use [the metallics] as your primary colors and transition into the Holidays by adding pops of red and green like we did with our glasses, greenery, and berries in order to give it a Christmas feel."

The goal of GDC Home's table was to create something anyone could imitate in their own home. Mix and match what you have, bring in treasured pieces, and then make it relevant to each holiday by bringing in Thanksgiving, Christmas, Hanukah, or any other holiday's main colors. 843-849-0711, gdchome.com
Randolph Cooper, Brittany Bowser
Southeastern Galleries
Randolph Cooper and Brittany Bowser, Interior Designers for Southeastern Galleries, went for a more whimsical table for autumn. "The table in a really fun way is kind of an avant-garde take on A Midsummer Night's Dream," Cooper explained.
For them, their fundamental building block which they created this table around was a John Richard vase. Then they added the Mottahedeh Tobacco Leaf dishes. "We wanted to bring in the classic Charleston styling," Cooper said of their dish choice. They updated it, however, by mixing the Blue Dragon set with Blue Lace, and then bringing in the classic Tobacco Leaf which Cooper loved for its gorgeous color. He stresses that it's OK to have several variations of China on your table.
"Not everything has to be a matching fit," Bowser says, noting that there are small elements, such as bits and pieces of gold throughout their table pulling things together instead. The Tobacco Leaf plate's colors also tie in the greenery. "We wanted that high contrast of really polished, chic gold with organic greens."
To add more of that contrast, Bowser took the John Richard vase, which typically holds candles, and filled it with reindeer moss, dry lavender, succulents, and Spanish moss and placed it at the center of the table. For Cooper, their centerpiece is about repurposing something you already have.
Around the table are old books, antlers, pumpkins, and more succulents adding to the whimsical yet organic feel. "Mixing and matching creates more interest. To have the unexpected elements, like using the stack of books, that adds a different element and texture," Bowser explains. "It creates a conversation." And it creates the perfect holiday design. 843-556-4663, southeasterngalleries.com