Swig & Swine's Anthony DiBernardo has a passion for giving back to the community
By E. C. Waldron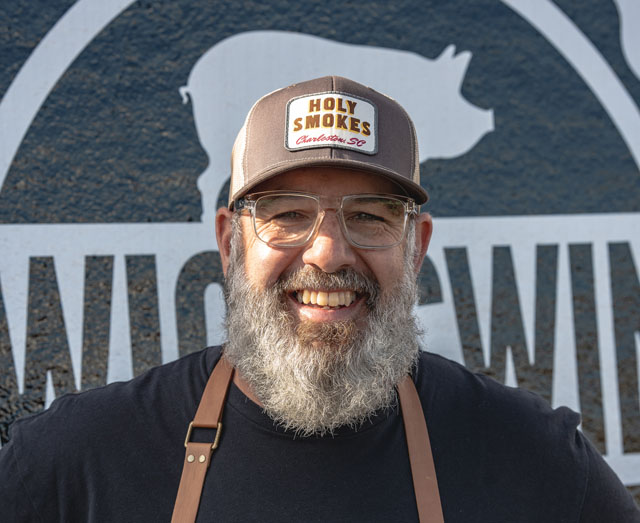 Anthony DiBernardo calls himself a Smokeman. The owner of three Swig & Swine restaurants in the Lowcountry, he is a barbeque fanatic.
"Horrifying vegetarians since 2013," is one of his restaurant's slogans.
His artistry is more subtle—long and slow. Using hickory or oak wood, he creates the perfect smoke, infusing the brisket, the pork belly, the ribs, the chicken. Smoking meat is full of historic lore, loved and practiced in specific regions and styles all over the country, from California to Tennessee. Swig & Swine serves Texas style but provides other regional sauces on the table. DiBernado is involved in every aspect of the popular eateries. He trains the pitmasters, tweaks the menu and the recipes, and makes sure the customer is treated well from the time they open the door until they leave. With locations in West Ashley, Summerville and Mt. Pleasant, Swig & Swine is listed by Trip Advisor in the top ten best barbeque places in the region.
For DiBernardo this is more than a cuisine. To this 51-year-old chef, this is his religion and provides meaning for his life.
"To me it is the great equalizer; it doesn't matter your social or economic background," said DiBernardo. "Barbeque is an affordable meal. You can get two to three meals out of it, so for lower income families it's a source of good food."
For DiBernado, Swig & Swine allows him to take his passion for good meats—and his passion for good deeds—to the max. He routinely raises money with his nonprofit, Friends Cooking for Friends, on behalf of people suffering from cancer to help offset high medical bills. His pals and other chefs volunteer, cooking up massive amounts of ribs, chicken and brisket for $20 a pop. Every cent goes to a person who is in need. He holds these fundraisers at the pool house where he lives, at his house or at places like the American Legion. The nonprofit gave one family a check for $15,000, another $20,000.
A Smokin' Path Begins
DiBernardo started cooking at age twelve in southern New Jersey and eventually became a cook in the Navy. It wasn't regular ship duty; he was on a submarine for four years. Below the sea, he not only learned to cook under extreme pressure; he learned a lot about making food for others.
"I learned you better cook real good when you are cooking for 130 men," said DiBernardo, "I also got the big picture—this was the only thing these men had to look forward to. The only source of morale."
The submarine's home base was Charleston. When he was discharged, he enrolled at Johnson and Wales University to become a chef. But it was a hard adjustment from the military to college life.
"I would arrive in my white coat uniform ironed with creases that could cut someone, and next to me and was a guy who pulled his uniform out of the back of his car." He lasted four days. What followed was several immersive chef experiences, first at Blossom on East Bay Street when it was a Mediterranean restaurant and DiBernardo learned to make pastas and bread. Then DiBernardo headed up the Kiawah Island Inn, bringing it to four-star status. But that was also where he realized he wanted to cook not just for the wealthy, but for everyone.
"I literally had a life and career changing moment while I was at Kiawah," said DiBernardo.
"I come from a blue-collar family. My father used to drive trucks and my mother used to manage grocery stores. I was at the hostess stand checking reservations and I overheard a family of four in the lobby, and I heard the daughter tell the father it was okay if they couldn't afford to eat here and that really that really hit me in the stomach."
That led him to cook the kind of food you can pick up with your fingers, with sides you could have at family picnics. Di Bernardo originally hatched Swig & Swine along with a partner, then became sole owner. Realizing his dream of owning his own restaurant, his second goal was to give back to the community, supporting people in need.
Local realtor Deborah Carson has known him for years; their children went to school together. "When the Charleston Basket Brigade was going on, Anthony would donate meals to be raffled off to help fund the event," said Carlson. "He always steps up." The Basket Brigade was an event that delivered holiday meals to needy families.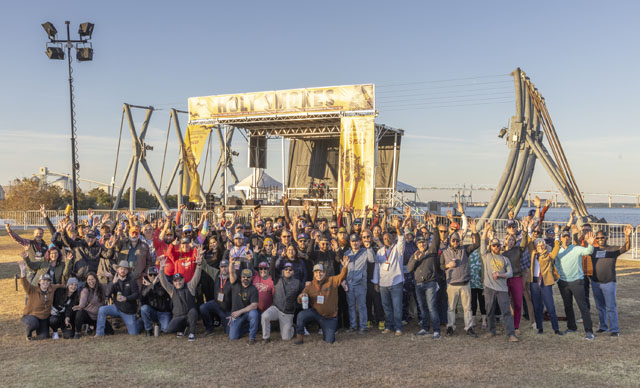 Holy Smokes Festival
In addition to individual fundraisers, he and his chef friends and partners launched an annual barbeque festival: Holy Smokes. This year's event will take place on November 11 at Riverfront Park in North Charleston.
"Aaron Siegel from Home Team BBQ—we have been friends for a number of years—and he had reached out to me probably about six years ago with an idea for a festival like this," said DiBernardo. They soon partnered with Taylor Garrigan of Home Team BBQ, Robert Moss, contributing BBQ editor of Southern Living Magazine, John F. Davis of Carolina One Commercial Real Estate, and Joe Norton, a local restauranteur.
This year's festival will have more than 30 pitmasters from all over the country, men and women and their crews from California and Connecticut, cooking and smoking their own regional brand of barbeque. And once you buy a ticket, it's all you can eat.
"We have set up four villages. We have a Texas village, a traditional village, a new school village, and a coastal village," said DiBernardo. The chefs and crew volunteer but the nonprofit pays for their travel.
DiBernardo said 100% of proceeds from Holy Smokes will go to charities. This year, they are raising funds for MUSC Shawn Jenkins Children's Hospital, Ronald McDonald House and Hogs for The Cause, which helps families with children suffering from pediatric brain cancer. And this year they have also added a cause dear to DiBernardo's heart—Fisher House of Charleston, a veterans' support group.
"Our event this year is falling on Veteran's Day, and I wanted to do something special; we'll have a veteran lounge inside the event with some wellness things for veterans," he said. For this submariner cook, it was those four years on the USS Batfish SSN 681 over hot stoves and ovens which enables him to keep all the plates spinning. He does add that his wife is a huge support and maintains his schedule.
With three wildly successful barbeque restaurants—and plans to open two more in the fall—cooking and raising funds for individuals, holding a yearly barbeque festival for charity, DiBernardo often thinks back to the experiences that shaped his career. "The four years on that submarine is 100 percent what I believe what prepared me mentally and physically to do what I do running restaurants every day. I very quickly learned how to process stress in those four years, and I take that lesson of processing stress, that's what allows me to do what I do today," he said.