Hushed Elegance
30 Mar 2013
A Kiawah Island home is anything but ordinary with a simple palette and details that reign supreme.
By ROB YOUNG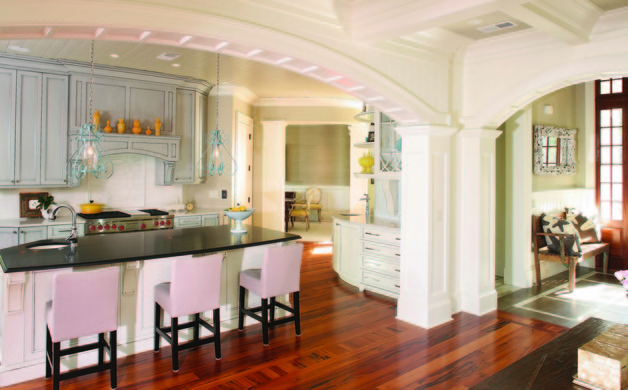 From a cheese plant to churches to custom-made homes, Marc Camens has trod varied ground during his years as an architect.
Yes, that's right. A cheese plant.
"People always ask me what my favorite project was, and I always say, 'cheese plant,'" Camens says, laughing. It's fitting. As the principal of Camens Architectural Group, his undertakings have ranged widely in type and scope, counting fire stations, administrative buildings, handicap housing and adult day programs, and Main Street retail. Though plainly, the former New Yorker has made his mark designing residential homes among the lakes of the Adirondack Mountains and the marshes and saltwater channels of the Lowcountry.
The diversity of his work has granted Camens a specific skill set: the art of listening. The locale may change, as well as the demands. He could be tasked with creating space for Muenster cheese makers or giving solemnity to the Catholic liturgy, but his approach remains similar. "You have to glean the information for specialized use," he says. "You may change the venue, but you still have to find out how people live. I apply that to houses, and I take the attributes of the site, the views of my clients, the way that they live, and then I design the building inside-out."
It's true. Though his job title may say architect, at his core Camens is something more – he is a listener. He has to be. The customized work requires him to actively gather information, take in details, and discover how his clients live, what they enjoy, and how they plan to spend time in their new home.
What it means, is that Camens frames his questions differently.
Instead of running down a checklist – how many bedrooms, how many bathrooms, should the kitchen have an island – he digs deeper. "How do you live?" he asks. "How do you cook? How do you sleep?" Those answers provide Camens with a means of going forward.
"This is one of the main questions I ask: Can you give me a philosophical statement of what this house means to you and your family?" Camens says. "Some have said it's their primary house. Some have said that it's their safe haven from the rest of the world. It gives me a trigger point. When we're designing the house, it's like a mission statement."
Purposeful Living
For David and Lin O'Leary, a rough copy of their mission statement read as follows: a slice of heaven, home, comfort, relaxing, serene, happy, welcoming, engaging, not formal, fun.
Those desires or directives are from Camens' notes during his first meeting with the couple, a lunch date that followed a round of golf with David on Kiawah Island's Ocean Course. "When we met," David says, "he basically walked us through the whole process of living, and how we saw ourselves living. As opposed to just saying, 'I want four bedrooms and four bathrooms.' He didn't want to hear that. He wanted us to describe how we lived, what our lifestyle was like, and what we were looking for in a home."
So the O'Learys told Camens. They told him exactly how they envisioned living. Lin wanted a home where her girlfriends could drop by anytime and prop their feet up on the ottoman or couch, or cozy up to the counter for a cup of tea. David wanted a quiet space that he could use as a retreat. They both wanted sufficient room in the kitchen, enough for the two of them to easily cook and maneuver, and a bit extra when their grown sons came to visit. "When we talked about our favorite rooms with such passion, it was amazing to see Marc's creativity come off the paper," Lin says. "At the end of the day we felt like Marc got us. He understood our different needs."
The O'Learys didn't want the house to be a showpiece or a typical beach home. They just wanted a comfortable place for a family to live, one that would emphasize its surroundings – nature, water and woods. Wish granted. Their home, situated on a cul-de-sac on Kiawah Island, is as they imagined. "For Lin and I, our house is us," David says. "Marc really built a house that encompasses who we are as individuals."
A Collaborative Environment
True, the house reveals the O'Learys' character. But it also reveals several nifty, distinctive features, starting with the staircase. "Marc has so many wonderful signatures, but he always seems to do something incredible with the staircase," Lin says.
Being Connecticut natives, David and Lin did not wish to build a home characteristic of New England, as the style many times includes a prominent staircase at the entrance. So instead, their Kiawah residence contains a stairwell leading to a multi-windowed turret. Quite literally, it brightens the entire space. "The flow of sunshine into the first floor is so welcoming," Lin says.
The light flows upstairs as well, providing illumination and texture to the bedrooms and to David's office, a spacious hideaway accented with walnut inlay that Lin says everyone describes as "the best room in the house." The office, the catbird seat, really, reveals a sweeping view of a large pond in the back yard, the vaulted ceilings helping to achieve the panorama. "It gives me a peacefulness, a serenity of the area," David says.
That's actually another of Camens' trademarks: the openness, the vision and sight lines. In every room, there's a view. The windows are pitched for generous exposure, the placement in accordance with the lot. "Even when you walk into the end of my kitchen where the refrigerator is, you have a beautiful view of the woods next to me," Lin says. "The windows keep bringing the outdoors back inside. It opens everything up."
In keeping with the approach, the entire house retains a softer feel as well. There are not many borders or curves. Camens seeks to create invisible walls by fashioning or altering room boundaries, mostly by delineating smaller areas within bigger rooms. "He places arches inside rooms to act as dividers, but they don't hinder the flow of the room," David says. "It creates a natural break. Wherever you stand, you can see several parts of the house from different angles."
Camens displays an astute eye in that regard. But he had to have help from Lin and David to apply these touches as the three created a trusting, collaborative environment and an honset exchange of dialogue. "We engage all our clients in the process. We encourage that," Camens says. "The house speaks to their involvement and our involvement in bringing those ideas together."
Uncommon Understanding
When Camens finishes his work, and the build is completed, he always asks his clients the same question: How does the home live? "I don't say, 'Do you like that really cool living room?" Camens relates. "I ask how it lives, and I generally get some really fabulous answers because we all created it jointly."
It's because of the process – one that requires several turns and several inputs. Camens took Lin's file folder of home photos, those she had plucked and pulled from magazines and other media, and incorporated the collection into the design. He mocked up trimwork prior to the build to ease their concerns. He drew and colored the house plans – by hand – after the first meeting with David and Lin.
"He's not a cookie cutter architect," David says. "I think he really does build it to the individuals, and he doesn't take Plan A and connect it to Plan B for your house."
Camens seeks to reach a common – or perhaps uncommon – understanding.
"After it was over, David asked me if I would do it again – the design, the build and the work," Lin recounts. "And I said, absolutely. If we could have the same team, I would do it again in a heartbeat. That, to me, is the greatest compliment."
Architect: Marc Camens. (843) 768-3800, camensarchitecturalgroup.com.