Passion and friendship building spells success for Rachel McKenna and her chic, high-end consignment fashion store.
By AMY KEHM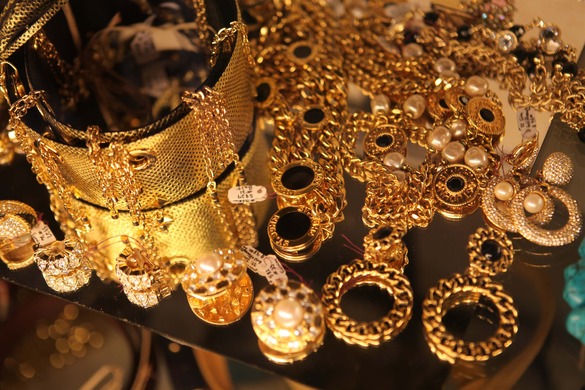 For consumers with a fashion passion, Charleston presents the most delightful satisfaction. The downtown peninsula offers the Lowcountry's version of "Rodeo Drive" with high style at every turn. Well-donned locals and visitors stroll historic streets showcasing their chic finds.
As you know, high fashion most often comes with high prices. But for those who meander off the beaten path, a chest of hidden treasure awaits, ready to delight.
The place is called The Trunk Show – a selective, high-end consignment store on Charleston's Meeting Street. Owner Rachel McKenna has operated her fashion-forward shop for ten years.
"This really was a transition going into something like this 10 years ago," said McKenna.
McKenna spent most of her adult life in Greenville, as the owner of a successful interior design business. For that business, McKenna traveled and shopped the country.
"I used to shop consignment in Miami and all those areas for years," she noted. "But in this area, people were afraid to wear other people's clothes, I think."
McKenna opted to transfer her design knack in a new way. She purchased the business from someone else, expanded it and showed the Lowcountry how to turn consignment into couture.
"We carry designers such as Chanel, Armani, Caroline Herrera, Oscar de la Renta, Fendi and many more. We showcase estate jewelry, handbags, just the gamut."
You will find dazzling gowns for balls and proms, shoes that appear to never have been worn, glittering head pieces, vintage costume jewelry, selective china, crystal and sterling silver.
McKenna is especially discerning about the items she displays at The Trunk Show. Most of her consigners have worked in cooperation with her for years. Each consigner must make an appointment during which an associate goes over each item individually with the consigner, checking pieces meticulously while pricing them.
"We do build relationships. And that's what it's about. I want long term shoppers and long term consigners," said McKenna.
McKenna understands that many women, though enticed by consignment, fear being discovered wearing someone else's used clothing. In addition to partnering with Lowcountry consigners, McKenna pays for shipping from consigners and boutiques from across the country, ensuring that 50% of The Trunk Show's selection are new to the Charleston region.
"You're going to get a mix of items not only found in this region," she explained.
The relationships McKenna builds blossom in many unique ways. For instance, McKenna has a 90-year-old consigner from North Carolina who designs original jewelry, solely for The Trunk Show. Every single piece is entirely unique.
"Her daughter came to me the last time she was in and she whispered to me, 'You gave my mother her life back. She gets up every day to make jewelry for your store,'" McKenna shared. "Those are the things that make you know you're doing the right thing."
The right thing, McKenna said, was also about going green. Recycling high-quality, high-end fashion is now in vogue. It has become, almost, the sophisticated way to shop.
"I think that consignment has come into its own," she explained. "When the recession hit, shoppers still wanted nice things. But they didn't want to pay full retail. I think consignment has a real place in our society now. And it really is a way of going green forever.
"Years ago, you would not tell anybody if you bought anything from a consignment store. Now, it's cool to tell them you bought items from The Trunk Show."
The Trunk Show is a place of great fulfillment for McKenna, who though retired from her first design career, successfully segued into another. Her dream of opening a shop in the Holy City has become a dream come true not only to her, but to so many shoppers.
"You know what I think it is? I think it's helping people. I think we love the people we get to meet. The people who shop with us and consign with us are the nicest people," said McKenna. "I really have a passion for it. I love it. I hope it shows when you come in." (843) 722-0442, www.charlestontrunkshow.com.