It's Nice to be Naughty
29 Nov 2013
Go ahead. We give you permission to indulge in these superlative holiday cheese-inspired treats. Enjoy, because January will be here soon enough.
Recipes and Photographs by Kim Byer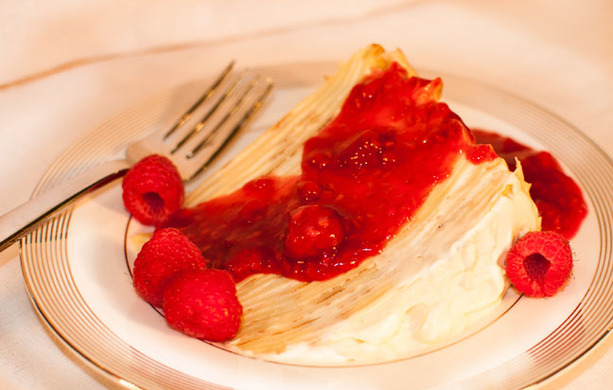 Inevitably, Halloween comes and goes and I'm left holding a black plastic cauldron of picked-over candy. And so November begins -- what started with an innocent Butterfinger® ends with platters of sharp, aged, creamy, nutty, smelly and glorious cheese. I'm scratched off the Nice list and booted into Camp Naughty.
The seductive scents and subtle aromas of cheese hijack my self-control during the holidays. Days of shopping, decorating and gift-wrapping wear me down and a plate of a few artisanal cheeses, fresh bread and wine is my go-to fast food meal. When my family gathers to trim the tree, cheese is the co-star of the evening. Melted Brie draped over gingersnaps and heady wedges of Morbier and Manchego tease my palate. Of course, the night isn't complete without a store-bought cheese ball, covered in nuts. It's hardly my cheese of choice, but it's a tradition.
Fortunately, cheeses have come a long way since the processed varieties of the 1970s. Craft cheeses aren't just for specialty stores anymore. Exemplary locally-crafted cheeses can be found in our Saturday morning farmer's markets.
So this holiday season, if you're tempted to be naughty, update your grilled cheese sandwich from the banal to the inspired with one of these savory-meets-sweet pairings. Or, switch out cream cheese for creamy goat cheese with smoked salmon on buttery toast points. Medjool dates aren't only for healthy banana smoothies anymore; they're making their way onto the holiday sideboard. Sprinkle a little candied bacon over your favorite Stilton or blue cheese and your family will gobble these up. My favorite creation in this cheese collective is the Lemony Cheese Balls. These tangy bites, coated in pine nuts and showered with powdered sugar, are the bee's knees.
But, of course, the grand dame of the season is our mille crêpe cake. Like a gingerbread house or a [croque-en-bouche], mille cakes are confection-slash-construction projects and are best made with loved ones. They make for sweet smelling, butter-filled mornings, good memories and grand entrances. So say "Cheese" this holiday season, for all the naughty reasons.
Mini Grilled Cheese Sandwiches

Inspiration:
Goat cheese with strawberry pepper preserves (pictured)
Aged cheddar cheese with raspberry wasabi mustard (pictured)
Blue cheese with pear preserves
Havarti with dill and wholegrain Dijon mustard
Munster with orange marmalade
Cheddar pepper with fig jam
Mozzarella with pesto
Gruyere with Dijon mustard
Swiss cheese with apple butter
Smoked Gouda with blackberry jam
Parmesan and roasted red pepper spread
Brie or Camembert with Major Grey's Chutney

Heavier, rustic breads without air pockets work best for grilled cheese sandwiches. Arrange cheese chunks, slices or shreds on one slice and cover a second slice with a spicy, savory or sweet spread. Over low heat in a heavy-bottomed pan or iron skillet, grill sandwiches in one tablespoon of butter. Flip sandwich when you smell the butter cooking. The heat should be low enough to allow the cheese to melt and the bread to toast. When cool, cut into squares. Re-heat prior to serving.
Buttery Toast with Smoked Salmon, Goat Cheese and Fried Capers
Makes 8-12 appetizers

8-12 slices rustic wheat, white or rye bread
8 ounces smoked salmon
3 T capers
1 T vegetable oil
4 ounces goat cheese
1/4 red onion, sliced into transparent crescents
Citrus marmalade or jam for drizzling (optional)
Fresh dill
Butter for toasting bread

Preheat oven or toaster to 325 degrees. Spread butter onto both sides of bread and bake until firm. Fry capers in vegetable oil until plump. Spread softened goat cheese onto toast. Top with a slice of smoked salmon, a snip of fresh dill, capers, onion and citrus jelly. (Calamondin orange marmalade pictured)
Medjool Dates stuffed with Stilton, Walnuts, and Candied Bacon
Makes 2 dozen appetizers

1 dozen dried, organic Medjool dates
1 wedge of Stilton cheese
24 walnut halves
6 slices bacon
1 T light brown sugar
Several dashes cayenne pepper or smoked paprika

Pre-heat oven to 325 degrees. Lay bacon flat onto SilpatTM or foil-covered baking sheet. Sprinkle brown sugar evenly over both sides of bacon. Cook for 20-25 minutes, until crisp. Let cool and break into small pieces, discarding fat. Split dates in half and remove seeds. Place walnut half inside one-half of each date. Spread dates with blue cheese and sprinkle with candied bacon shards and cayenne pepper.
Buttery Cheese Wafers rimmed in Smoked Paprika
Makes 40-50 wafers

2 cups grated sharp white cheddar cheese
1 1/2 sticks butter
1 c all-purpose flour
1 c bread flour
1/2 t red pepper flakes
1/2 t kosher salt
1/2 t smoked paprika (Optional)

Preheat oven to 350 degrees. Allow cheese and butter to reach room temperature. Cream together, adding sifted flour and spices. Squeeze together the pea-sized pieces of dough until you can divide the mixture into two or three equal-sized balls. Work the dough until it's warm and pliable and has the texture of a ball of Play-Doh. Roll balls into logs (diameter of wafers will not increase when baked) and sprinkle on or roll in smoked paprika. Refrigerate for 10-15 minutes. With dental floss or a sharp knife, slice logs into 1/4 to 1/2 inch wafers. Lay wafers in rows on a cookie sheet covered with parchment paper. Bake for 15-20 minutes or until wafers turn into the soft-baked consistency of a sugar cookie. Be careful not to overcook, as softer wafers will melt in your mouth. Dough may be refrigerated for up to one week before baking.
Lemony Cheese Balls with Toasted Pine Nuts
Makes 1 dozen

1 (8-ounce) package cream cheese
4 oz. honey goat cheese
Zest and lemon peel of 1 lemon (divided use)
4 T lemon juice
Pinch of salt
1/2 cup toasted pine nuts, chopped
Powdered sugar for dusting
Blend cream cheese and honey goat cheese. Add lemon zest, juice and salt. Mix well and place into freezer for 10-15 minutes. Toast pine nuts until they are caramel colored. Pine nuts burn easily and need to be watched. Cool, then chop. Shape cheese mixture into ½ inch balls and roll in toasted pine nuts. Top with a curl of lemon peel and dust with powdered sugar.

Mille Crêpe Cake with Raspberry Sauce
Adjust recipe for desired layers*
Crêpe Batter
Makes approximately 7 large crêpes (multiply recipe for desired height)

4 eggs
1 cup flour
1/2 cup milk
1/2 cup water
1/2 teaspoon kosher salt
2 tablespoons melted butter

Whip all ingredients into a small bowl. Cover and refrigerate for 30 minutes. Depending upon the diameter of your crêpe pan, you'll want to pour enough batter to cover the bottom and produce a round crêpe – about 1/3 to 1/2 cup. You may also put a small amount of butter in the pan between crêpes. Over medium heat, fry one side for approximately one minute until it slides easily in the pan. Gently turn over with your fingers or a spatula and cook the other side. Stack each cooked crêpe between a square of parchment or wax paper. Crêpes may be made ahead of time and stored in the refrigerator.
Cream Cheese Frosting
Makes enough for one 12-to-15 layer mille cake

1 (8-ounce) package cream cheese, room temperature
1/2 cup sugar
2 cups whipping cream
1 t vanilla extract
1/2 t almond or coconut extract (optional)
In a large mixing bowl or a stand mixer, beat cream cheese, sugar and flavorings with a whisk attachment on medium speed until smooth. Scrape the sides and continue mixing on medium speed, slowly adding whipping cream until stiff peaks form. Spread a thin layer over each crêpe. Tip: Keep frosting cool.

Raspberry Sauce
Makes approximately two cups

2 t cornstarch
1/3 cup sugar
3 (6-ounce) packages raspberries (divided use)
1 T lemon juice

In a medium sized saucepan, melt sugar and cornstarch over low heat. Reserving a handful of raspberries for topping, add remaining to mixture and bring to a low boil. With a wooden spoon, stir and macerate berries. Reduce heat to simmer and allow mixture to thicken. As it cools, add lemon juice.
Notes: You won't need a special crêpe pan; you can use any flat-bottomed pan or griddle, though crêpe pans make this much easier. They come in all types -- unseasoned, non-stick or electric. All work well and should be relatively inexpensive. A non-stick French version that you can find in local kitchen shops will cost around $20-$25. If your pan isn't well seasoned, the first round of crêpes should be well buttered.