JBs Smokeshack
24 Jul 2015
Barbeque cooked low and slow
By JOHN TORSIELLO » Photos by DIANA DEAVER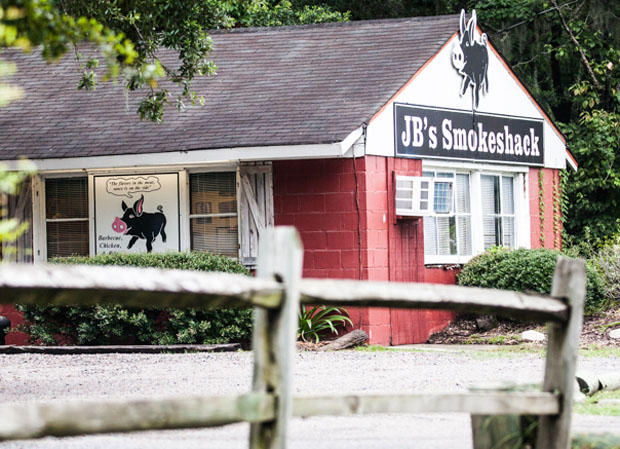 One might say barbecue is in the Quinn Family bloodline. They have been devotees and practitioners of that style of cooking for years.
Armed with two small Brinkman smokers in their back yard, JB and Diane Quinn would smoke meat for family and friends. A good friend and neighbor, who always volunteered to be their taste tester, asked them to cater a few parties for her, which planted the seed that became JB's Smokeshack, located off Maybank Highway on Johns Island.
JB says that with retirement approaching, he and his wife were thinking of doing some catering and, while searching for a commercial kitchen, spotted a small building on Maybank Highway that was for lease.
"We called the owner and by the end of the day we had a restaurant building." From that point on, he says, there was no turning back, and oh yes, no retirement in sight. "When we told our son, Billy, who was working in Missouri what we had done, he said `Dad if you are determined to do this, I will come and help you get it set up.' Billy came home for Thanksgiving and helped his parents clean and paint the building. On Christmas day he returned home to Charleston, and has been a part of the operation from day one. He is now the owner and cook.
Opened in April of 2002, JB's Smokeshack was well received by the Johns Island community from the get go, and word spread throughout the Charleston area quickly of the tasty treats that awaited in the modest smokeshack with a smiling pig atop the restaurant's sign.
JB believes there are several reasons that sets their restaurant apart from other barbeque restaurants in the area.
"It's the selection of `home cooked' meats and veggies on our buffet. We cook our food in the most health-conscience ways possible without compromising taste. We try to use the freshest and highest quality products available, and we were one of the first to serve our meats without sauce. Our slogan is `Flavors in the meat, sauce is on the side.`" To wit, five sauces are at the customer's disposal on the table.
Billy says there are many things that go into making good barbeque food. "First, you have to have a passion for barbeque and getting it right―it's not a job, it's a labor of love. To be true barbeque, you have to cook your meats low and slow over wood. Barbeque is not oven roasted meat with barbeque sauce on it. If the meat is not flavorful on its own, sauce does not make it good barbeque." And, the Quinns believe that it is not just the meat that makes for good barbeque, it is the total experience of sharing good food with family and friends in an atmosphere where customers feel comfortable and welcome. "It's feeling more like you are in grandma's kitchen than a restaurant. It should truly be comfort food."
The Quinns are proud of all the dishes they serve at JB's Smokeshack, which has six employees. But they particularly beam about their brisket and their fried chicken. "We consistently get rave reviews on both items," Billy says.
While it is important to produce food that people will travel miles for and keep coming back, running a successful restaurant in the Lowcountry provides something more for the Quinns.
"I get a great deal of satisfaction from having our customers leave happy that they came," says JB. "We have made many friends while getting to know our patrons. Being able to do what you love for people who appreciate your efforts is very rewarding." Naturally, running a business has its challenges. "One of the biggest challenges is trying to guess how many people may come in each day, and how much they will eat, so that we will know how much food to purchase and prepare."
The Quinns have found the Charleston area a great place to do business. The fact that their restaurant is located in one of the best tourism towns in the U.S., indeed, the world, is a real bonus. Says Billy modestly, "We have had customers from all over the world who claim to have come just to eat with us, but I suspect there are a few other things that may have drawn them to the area."
As for the future, Billy sees the Smokeshack "building on what we have been offering." The restaurant has added a few new items to the buffet and carving station, and now have outdoor seating. "We are looking to expand our catering services, and have hired a catering manager to better serve those clients. We have also begun having our sauces and spice rubs bottled, and they are currently available both online and in the store. We hope to expand our distribution into grocery stores and specialty shops in the coming year."
JB's Smokeshack also takes its show on the road and will be competing at The Festival of Discovery in Greenwood in July, The Lowcountry Hog Fest in September, and Smoke on the Harbor in November.
JB's Smokeshack
3406 Maybank Hwy., Johns Island
843-557-0426
jbsmokeshack.com