Looking Sharp
24 Jul 2015
Garrett Wood and the art of handcrafted knives
By JASON A. ZWIKER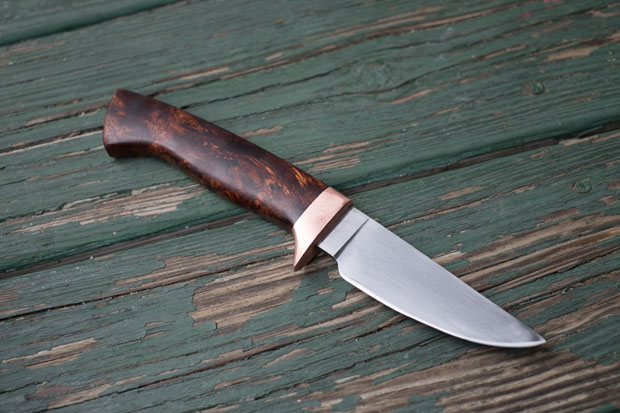 Garrett Wood learned the value of hard work, self-sufficiency, and reliable tools early in life. As a Boy Scout who advanced all the way to Eagle Scout, three Palm, much of his childhood was outdoors: camping, hiking, rock climbing, canoeing, and kayaking all across Tennessee and the surrounding states. One of his favorite memories is of ten days in the Sangre de Cristo Mountains at Philmont Scout Ranch on the east side of the Cimarron Range in New Mexico.
Spend enough time in the great outdoors and you learn the value of a reliable knife, one that can be depended on for chopping saplings and remain sharp enough to shave with after that's done. "It's the one basic tool that you're always going to need," Wood says. "Whether you're camping, hunting, or just want a utilitarian knife for everyday carry."
These days, Wood handcrafts knives, holding them – and himself – to the standards he learned long ago. "A good knife should last your lifetime," he explains. "You shouldn't have to replace it every few years. You should be able to hand it down to your kids."
It's a time and labor-intensive process, making a good knife. When he first decided to try his hand at it, he sought the help of Jason Knight of Harleyville, who is one of only 110 master bladesmiths in the world. "He's taught and helped me a lot," Wood says. "It's hard to pick just one most valuable lesson from all of that, because there's so much to know."
"To do this, you have to learn a lot more than just how to heat and hammer metal," he says. "You have to learn to work with wood, how to weld, how to grind and machine parts."
Like many traditional craftsmen, he makes his own tools along the way, both replacing worn-out parts and customizing tools to meet different needs. When a steel brush ― used for knocking off the scale that forms on hot metal when exposed to air ― was in need of a handle, he simply forged his own. While experimenting with twisting metal to form intricate patterns, he found himself needing extra leverage, so he welded a short length of rebar to the business end of a wrench and created a custom tool that did exactly what he needed it to do.
"A bar of high carbon steel isn't much to look at," he says, balancing one in his hands to illustrate the point. "But with a lot of persuasion from heat and hammering, it can become something beautiful."
For Wood, even the smallest details are important. He points out finger grips that he's carved in the handles of his tools to force his hand to hold them properly. "You don't want a death-grip," he explains. "You hold it lightly."
The importance of a proper anvil naturally follows the importance of a proper grip, as he demonstrates. "A good anvil is 80-percent rebound. I put 10 pounds of force down, I get 8 back. That's how you work metal for hours at a time without wearing yourself out. By using the proper tools and using them correctly."
His workshop, where he can easily spend half the day when he is hard at work ("There's no such thing as an 8-hour workday anymore," he says with a laugh), is a place where it's wise to assume everything is sharp and everything is hot.
Working less than an arm's length from a 2,300°F heat source, moving from a hundred-year-old anvil to a power hammer that can, as he phrases it, "turn a hand into a bag of ketchup if you're not careful," requires the utmost care and attention to detail.
Luckily, precision work just so happens to be his specialty.
"It's not only about shaping metal, but also manipulating its properties," he says. "And you want knives to have very specific properties. The knife a chef uses to bone a fish is not the same as the knife a chef uses to fillet a fish. You use the right tool for the job at hand."
"If we couldn't express our artistic sides, all knives would look the same."
So what inspired him to take this step, leaving the traditional 9-to-5 workforce to pursue his dream?
"I wanted to get back to traditional ways of doing things," he says. "It bothers me when products aren't built to last. And I wish more things were still being made in the United States. I'm not saying I'm going to solve the problem. I'm just one person. I want to take care of my family and not be a burden to anyone else. I want to know that I'm doing something honestly."
According to Wood, the most difficult step of the process for him is at the very end, after a sale, when it's time to say goodbye and watch a knife leave with its new owner.
"I spend so much time handcrafting them, I almost don't want to get rid of them," he says. "Each and every one of these knives means something to me." etsy.com/shop/GwoodKnives