Kiawah in the Community
05 Jan 2021
Kiawah Island Club & Real Estate builds partnerships with the Sea Islands community
By Jenny Peterson
Photos by Patrick O'Brien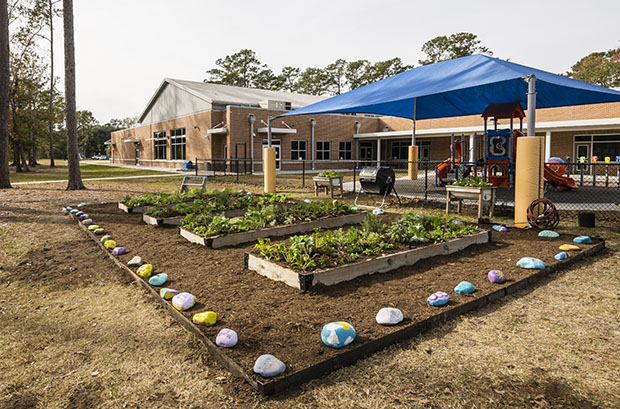 Right about now, lemongrass, lettuce and peppers should be sprouting in a brand-new greenhouse at Angel Oak Elementary School on Johns Island.
The seedlings are being tended to by third graders, under the watchful eye of a surprising expert—the superintendent of landscaping at Kiawah Island Club & Real Estate.
Matt Stanis is volunteering his time away from his club duties to help the students learn how to grow their own vegetables, herbs and even edible flowers.
"I'm giving every kid a choice on what to plant; they'll get a pack with 18 holes in it and can choose between lettuces, oregano, thyme, and other herbs they'll eventually be able to harvest and bring home," Stanis said. "I'll come to the school every two weeks to keep the kids involved with the plants. I don't want to plant and then walk away."
The entire gardening program—including the construction of the new greenhouse complete with an irrigation system—is made possible by Kiawah in The Community, an employee initiative at the Kiawah Island Club & Real Estate that encourages employees to go into the nearby community and engage in volunteer opportunities.
The idea to help improve Angel Oak Elementary was to rehabilitate outdoor spaces and provide a meaningful surprise gift for students and teachers during a challenging school year due to COVID-19.
"We realized that to get to Kiawah, we were driving through these communities every single day and weren't really connecting with them," said Scott Dawson, general manager at the Kiawah Island Club.
More than 500 staff members and hourly workers were invited to participate in the effort, which kicked off last November. Volunteers are divided among seven teams, each with a focus on a specific community. Once a project is identified, it's literally all hands on deck.
For a three-day building blitz late last year, employees volunteered together at Angel Oak Elementary School to build the greenhouse and raised plant beds, build benches and a seating area and freshen up the school's murals.
Volunteers also built an outdoor chalkboard and whiteboard with 30 stools made out of tree stumps for outdoor learning opportunities.
"Part of the idea of the project was to brighten up this area as soon as the kids come outside," said Waring Jordan, the school's the parent liaison. "The students were so excited."
Another unique addition is a five-foot music wall outside the learning cottages mobile classrooms, where students can play instruments with old pots and pans and PVC pipes as drumsticks for students to make noise.
All the materials were either donated, paid for through donations or funded by the Kiawah Island Club & Real Estate.
Employee volunteers showcased their individual talents in construction, painting and building, with a Kiawah investment partner, employees from all departments, and a bartender at Cassique working side-by-side on the project.
"The teamwork we've formed was a totally unintended byproduct," Dawson said.
As a special touch to the students, oversized "kindness rocks" were painted with bright colors and kind messages that have been placed around the school as door stoppers, garden décor and more. One rock even depicted a drawing of the nearby Angel Oak tree.
Future plans include showcasing student art and holding student dance performances at the Kiawah Island Clubhouse.
Into the Community
Through their individual teams, Kiawah in the Community is actively participating on improvement projects in seven identified areas in Johns Island— Angel Oak, Haut Gap, Maybank, Edenvale, Bohicket, Rosebank and Stono—reaching out to area schools, fire departments, community centers and more to learn about the needs of that community.
"There's no script; the teams were told to go into those communities and be creative and they started coming up with these brilliant ideas," Dawson said.
The team assigned to Haut Gap reached out to Our Lady of Mercy Community Outreach and helped collect dental products, partnering with a local dentist who donated 100 toothbrushes to the effort.
An upcoming car wash at a local church, manned by Kiawah employees, will give all proceeds back to the church.
The efforts have been big and small; Kiawah employees have helped clean and mow a backyard of a resident who was unable to do the work herself after her cancer diagnosis.
"The extent in which we can help is powerful," Dawson said. "And we are getting as much out of it as the recipients are."
For more information about Kiawah in the Community, visit www.kiawahisland.com/inthecommunity/ or email kiawahinthecommunity@kiawah.com.