Spreading Blessings
05 Jan 2021
Founder of Lowcountry Blessing Box Project encourages kindness, empathy
By Holly Fisher
Photos by Lea Austen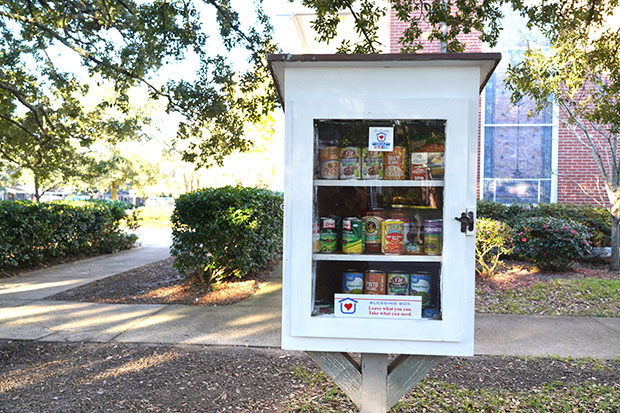 In early 2017, the country was divided over a tense presidential election just a few months prior. Katie Dahlheim wondered what could bring people back together. Was there a common cause that would unify divided hearts and minds?
"At that point, like now, people couldn't agree on much of anything," Dahlheim said.
But then Dahlheim read about Jessica McClard who launched the grassroots little free pantry movement in Fayetteville, Arkansas, in May 2016. Inspired by the little free library idea, the free panty was a similar concept.
Instead of leaving a book and taking a book, people left non-perishable food items in the little wooden boxes for those in need, or they could take what they needed.
"I thought it was brilliant," Dahlheim said. "Everyone eats. And, second, we should be kinder to each other. This was anonymous giving. It was judgement free. You don't know who's going to get the food."
That idea of anonymity was particularly appealing to Dahlheim. Those who donated wouldn't know who was taking the food, so they couldn't judge a single mom, someone who was homeless, seniors or someone suffering from an addiction.
"I felt that was really important," Dahlheim said.
An Idea Takes Shape
Captivated by the idea of the little free pantry, Dahlheim got to work figuring out how to bring this idea to Charleston. In Arkansas, Jessica McClard put her first pantry box in front of her house. But Dahlheim lives on a cul-de-sac, which doesn't get a lot of visibility.
Undeterred, Dahlheim thought, "If I can't have one that's sort of my own, what if I made a network of them and put them at other people's houses?"
So Dahlheim got to work building and weather proofing four little pantry boxes from cabinets she bought at the Habitat for Humanity ReStore.
Next, Dahlheim took to social media. She created a Facebook page for the Lowcountry Blessing Box Project. She posted in area Facebook groups, asking if anyone would like to put one of the boxes in their neighborhood or at a business or church.
"People came out of the woodwork," she said.
The first four boxes quickly found homes in downtown Charleston, West Ashley, Wadmalaw Island and Ravenel.
At the same time, others began reaching out to Dahlheim asking how they could get involved and if they could build their own blessing box. Her answer was a resounding, "Absolutely!"
"That was the beginning, and it grew like wildfire," Dahlheim said.
Fighting Food Insecurity
A lawyer by day, Dahlheim continues to oversee the Lowcountry Blessing Box Project. She maintains a list of blessing boxes throughout the Lowcountry on the organization's website and posts photos and updates on social media.
"At this point, now three years in, I'm more a clearinghouse of information," Dahlheim said.
The project has done exactly what grassroots efforts are designed to do – spread and grow thanks to a network of do-gooders in the community.
The Lowcountry now has 170 blessing boxes stretching from St. Stephen and Ridgeville to Beaufort and Hilton Head. The boxes are filled with non-perishable food items, basic toiletries, baby supplies and anything else that might be considered a blessing to someone who finds themselves in need.
One simple rule applies: Leave what you can, take what you need.
The Lowcountry Food Bank reports that in 2017, almost 680,000 South Carolina residents did not have consistent access to adequate food. The childhood food insecurity rate in South Carolina was 18.3 percent.
But those numbers are pre-COVID-19 pandemic. Unexpected job losses and business closures have hit families hard. Children who often rely on school meals found themselves without the security of the school cafeteria.
Feeding America reports that due to the effects of the coronavirus pandemic, "more than 50 million people may experience food insecurity in 2020, including a potential 17 million children."
The need for the Lowcountry Blessing Box Project has never been greater.
About 70 of the 170 boxes around the Lowcountry were added in 2020, Dahlheim said.
"There was renewed interest in the project in the pandemic," she said. "It was important that we had the structure and network and framework in place when the pandemic started. It's an easy way to give without having to come in contact with people. You can give and get without coming in contact with anyone."
The Lowcountry Blessing Box Project website links to building plans and resources for those wanting to build their own box. Dahlheim encourages people to check the list of existing boxes to avoid putting a new box right near an existing box.
When a new box is built, the donor sends a photo and the address to Dahlheim so she can add it to the master list on the website. Then, it's up to the individual or group that created the box to maintain it.
Even though Lowcountry Blessing Box Project is a formal nonprofit organization with a board of directors, Dahlheim doesn't want to micromanage. She's happy to let individuals, neighborhoods, churches and businesses take ownership of their box.
Setting an Example
As a bonus, the James Island mom can involve her two children, 6 and 9, in the project. It's a way to teach her children to give back and to be kind and empathic, Dahlheim said.
"It's easy for them to participate. There's not a ton of volunteer opportunities for littler kids, so this is a great way to get kids involved," she said.
Dahlheim has received several messages from grandparents who turn a blessing box into a project with their grandchildren.
"As parents, we're just trying to raise good humans. This is something the kids can do," she said.
Prior to the pandemic, Dahlheim spun off additional outreach efforts to help neighbors in need. She organized free laundry days at laundromats on Reynolds Avenue and Charleston's Eastside. Dahlheim also partnered with local restaurant management groups to create Catch Up On Lunch, a fundraising campaign to repay past due lunch debts for Tri-County school children.
Her work has not gone unnoticed by the Charleston community. Dahlheim was named a Hero of the Lowcountry by Fox 24 News, the Charleston Business Journal's Top 40 Under Forty for 2019, and a James Island Town Hero. She also won the 2018 Spot Light Award named for Mother Emanuel victim Myra Thompson.
Back in 2017, Dahlheim never imagined how the project would take off. And she certainly couldn't have fathomed a global pandemic that would put even more individuals and families at risk for food insecurity.
"The idea of the blessing boxes caught on in such a way that other people were inspired and did their own thing," Dahlheim said. "I thought a network of 10 would be cool. Now we're at 170."
Hometown: Weirton, West Virginia
Education: Bachelor's degree from Marshall University and a law degree from Capital University Law School
Family: Dahlheim lives with her husband and two children on James Island
Volunteer work: Dahlheim serves on the board of directors for Lowcountry Youth Services; former board member for Beyond Our Walls in North Charleston
Learn more about Lowcountry Blessing Box Project at https://chsblessingbox.wixsite.com/home or on Facebook at www.facebook.com/chsblessingbox.