Life's a Breeze
01 May 2012
Scenic surroundings and great sunsets make for a winning combination at the new Stono Breeze
By DENISE K. JAMES » Photographs By DICKSON DUNLAP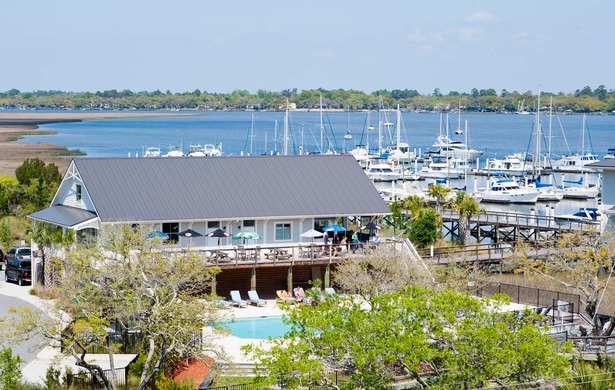 The end of a hard day at work usually calls for a drink, and the more relaxing the atmosphere the better. The Stono Breeze Waterfront Bar & Café, which has just opened at the St. John's Yacht Harbor Marina, fits the bill just in time for spring and summer.
Situated right off of Maybank Highway and convenient to both Johns and James Islands, the St. John's Yacht Harbor Marina is a good place to take a boating break.
"There's no other view like this in Charleston," confirms bar manager Amanda McClimans with a grin. "We have plenty of free dock space for folks to bring their boats up and have some lunch or a drink any time of day. If the dock space happens to be full, our deckhands will find you a space. We won't turn you away if you want to hang out with us!"
McClimans has been on board with the Stono Breeze since its grand opening at the beginning of March. A veteran of food and beverage in the Lowcountry, she was recruited specifically for her bartending skills.
"I was working at another restaurant on James Island and the folks who were putting this place together came and asked me to be part of it," she says. "It's a challenge to manage the bar and the kitchen at once, but it's a lot of fun."
The small but tasty menu includes fare that pairs well with boat drinks and beers—think homemade sandwiches and dips.
"We do a lot of specials too," says McClimans. "For example, we've recently featured a French dip, club sandwiches,and Ruben. And we sell out of the specials almost every day."
Other mainstays on the menu include crab dip, soft pretzels stuffed with tangy cheese, miniature corn dogs, salads,and wraps.
"I love the chicken salad; I make it myself," says McClimans. "We also do a mean BLT!"
Never one to pass up an opportunity for chicken salad, I tried it. The sandwich came out on a flaky, buttery croissant with the generous portion of chicken salad seeping out the sides,begging to be eaten with a fork. It's delicious and perfect for a water front meal.
"Our food is simple and good, but our real emphasis is on the waterfront view," says McClimans.
And what a view it is. The peaceful Charleston marsh is just over your shoulder, promising a gorgeous sunset while you dine. The patrons at the Stono Breeze are an eclectic mix of young professionals and seasoned boaters. Everyone seems friendly and enthusiasticabout the future of the spot.
"Since we're located on a marina, we concentrate on all biodegradable and earth-friendly products," says McClimans."We're not quite there yet, having just opened, but we definitely would like to be known for being green."
On Saturday and Sundays, the Café features live entertainment. Recent musical guests have ranged from female vocalists to saxophone players.
"We have a pretty good assortment of beers and the dollar cans of PBR are popular. It's incredible how many good beers you can get in a can nowadays." says McClimans.
But it's not just beer to be had at Stono Breeze; the cocktails are a refreshing pick. Try their version of Sangria, also known as the "Sambreezie Sangria," a mixture of rum and white wine, plus mango, peach, and citrus juices and topped with Sprite.
For a sweet shooter, McClimans invented the "D'z Flipz" shot, made up of Pinnacle whipped cream vodka,Frangelico, and a salted glass. "It tastes exactly like a chocolate-covered pretzel," promises McClimans.
Other favorites include mimosas,margaritas and bloody marys. And look forward to frozen beverages this summer after the crew gets the blending underway.
"We have so many plans," says McClimans. "Summer came so early this year, we really have to get moving. It's an exciting time."
Stono Breeze Café
2408 Maybank Highway
Johns Island, SC (843) 557-1027
Tue-Sun,Noon-11pm