Magic Reality
30 Jan 2013
A passion for art and their love for each other helped to create one of the top art galleries in Charleston.
By JASON A. ZWIKER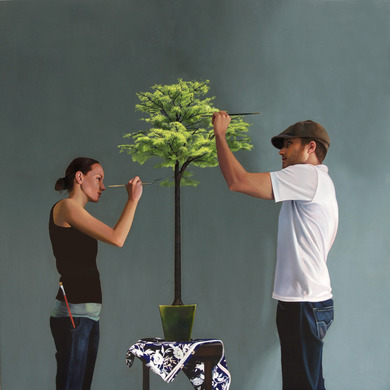 Her bed was covered in roses. An open suitcase and a glass of champagne rested near a note from Robert Lange.
Pack for warm and cold, the note said, but she'd yet to learn where she was going.
When Robert and Megan met, she was studying fine arts and journalism at the University of New Hampshire. He was a Northeastern math prodigy with a passion for art. They weren't quite yet the Robert and Megan we would later meet in Charleston - owners of one of the best loved and most successful galleries in town - but the surface was sized and primed and their story was beginning to be sketched out.
"Rob's desire to pursue painting kept him in the studio late into the night, painting in giant communal rooms filled with easels," Megan says. "We would perch ourselves in a comfortable corner and spend the nights drinking coffee and talking about everything under the sun."
"We've been a team ever since."
So when she found herself with the suitcase and the note, she packed. Next came a limo ride to the airport and a ticket to Paris.
"When I arrived in Paris, he was waiting for me at the gate. He'd flown there the night before to prepare."
He'd prepared an elaborate adventure through the City of Romance, complete with interludes of humor. While they were at the top of the Eiffel Tower, he got down on one knee… and tied his shoe.
Then, they drove to a cottage in the Dordogne valley, a magically picturesque place of medieval castles and high wooded hills. It was there, the next morning, that he asked her to marry him.
"The sun was rising, the Dordogne River stretched across the landscape, and I cried my way through a 'yes, of course'. He gave me my grandmother's ring, reset into a setting he had designed."
What makes the story amazing is the fact that, at the time, they were in their early twenties, finishing school, working the kind of jobs college kids typically work. After deciding to ask her to marry him, Rob spent an entire year saving every penny he could save and meticulously planning.
That blend of aesthetic sensibility, patience, and slow and careful planning helps explain the extraordinary success of Robert Lange Studios ("RLS"). These are incredibly talented people ready and willing to roll up their sleeves and work.
Robert's paintings grab the eye: bright colors, rich shadows, hyper-realism. Clever narratives - occasionally whimsical, always thought-provoking - are at play in his works. Reflective surfaces appear so true to life in his works that viewers are often taken aback.
Actually, walk through RLS and you'll be taken aback at how often you're taken aback. There's some powerful talent represented here. The colorful surrealism of Nathan Durfee pairs well with the nuance and natural beauty of Megan's work. The common theme among artists as diverse as Ali Cavanaugh, Joshua Flint, Karen Ann Myers, and Mia Bergeron is world class talent. Each artist at RLS –those listed are only a small sampling – brings to the table a distinct narrative style, a personal voice.
Vivid color and bold use of light and dark fill the walls. It's hard to walk past a Lange original, the emotionally evocative landscapes of Charles Williams, or the dreamlike washes of light painted by KC Collins and not feel compelled to stop and look and wonder.
There's a youthful exuberance to RLS that brings a smile to the face whether you participate in their many openings and events throughout the year, or simply follow them online. The RLS Super Blog (12 Artists and their Quirky Little Worlds), which can be accessed from the main RLS web site, is an aggregate of the individual blogs of the artists. Constant updates on new works by their artists, as well as informative videos, keep prospective buyers involved in the process. The why is simple: it's fun.
That positive energy, not to mention a huge helping of heart, has made RLS an art phenomenon. Just think: less than ten years ago, these were two crazy kids, head over heels in love with one another, coming down to Charleston to get started.
"We were young and silly," Megan says, recalling the enormous amount of work - family members, while visiting the young couple, chipped in their time to paint walls and lay down floors – invested in those early days. "But we had a vision of what our gallery could be." www.robertlangestudios.com.