Slightly North of Broad
30 Jan 2013
Twenty years into the making, the Southern cuisine at Slightly North of Broad continues to woo the crowd.
By WENDY SWAT SNYDER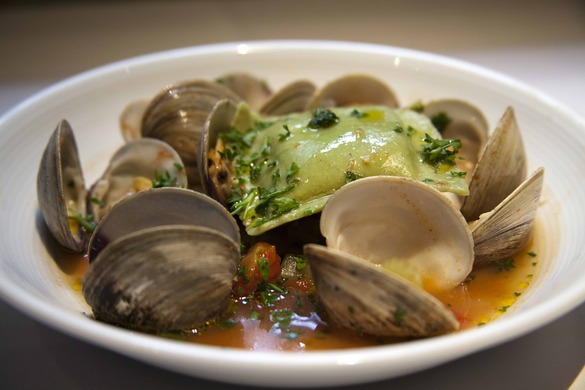 It's been almost twenty years since Slightly North of Broad opened for business in a two hundred year old building on East Bay Street. It was 1993, and owner Dick Elliott had only recently discovered an affinity for the restaurant business after acquiring The Colony House as an investment. Eager to develop a new downtown restaurant from concept to finish, the retired corporate lawyer teamed up with Chef Frank Lee and General Manager David Marconi to bring his vision to life.
The concept for the new restaurant was clear to the trio – it would be a relaxed, neighborhood-style restaurant for patrons who appreciated fine dining without the attendant fanfare. But naming it – even with over forty suggestions from an advertising firm – eluded the Elliott Group.
"We were headed to Atlanta to do some research," recalls Elliott. "I told David and Frank we had to address the issue of the name before we took another step, and locked the doors of my car."
They discussed what they wanted the restaurant to be, and what they knew it was not. "We're never going to be 'south of Broad' (the blue blood side of Broad Street), we're just a little north of Broad. Somebody in the car said 'that's it - north of Broad', and I added the clarification 'slightly'. "
Elliot was also the driving force behind the appearance of the new restaurant. As the renovation of the old building got underway and sheet rock was torn down, the team found original woodwork and a stunning brick archway that would become the eatery's focal point.
"Dick had been speaking with Frank about having an open kitchen," recalls Marconi. "It really did speak to the concept he wanted: a restaurant that was warm and welcoming, and showcased the chef."
Architectural designer Janie Atkinson was commissioned to add artistic finishes in the dining room such as trompe l'oeil that mimics the weathered stucco found on many old downtown walls. Her red-painted floors and ancient Asian rugs have endured over the years, in keeping with a slightly shabby gentility that "says" Charleston.
"It just feels like a Charleston restaurant," says Marconi. "And add in Frank, what he's doing in the kitchen, being adamant about wanting the style of the cuisine to be Lowcountry, and using his French techniques to create this unique Southern cuisine."
Two decades later, all agree that little has changed in either the front or back of the house. Located in the center of the business district, Slightly North of Broad quickly gained – and has maintained – notoriety, catering to the lunch crowd with well-priced and quickly prepared "express lunch" offerings. In fact, many of the restaurant's regulars found it through the lunch menu.
"The Southern grilled medley has been on the lunch menu since the beginning," notes Lee. The healthful plate is big on flavor with chicken breast, zucchini, eggplant, and tomatoes grilled to perfection and served with basil pesto, balsamic vinaigrette, and goat cheese croutons. "It's a real value and reflects what we're doing here – real food for real people."
Over the years, the restaurant's reputation as a proponent of Lowcountry cuisine rose in tandem with the city's as a culinary destination. Lee's kitchen was also at the forefront of the farm to table movement, sourcing ingredients locally whenever possible.
"We always took the approach that we would support our farmers, and buy whatever they had," says Lee. "Nowadays we have a lot more choices than we did back then. Restaurants are focusing on helping farmers and fishermen set standards of quality."
While new local sources for product such as eggs, chicken, beef and pork have opened up in recent years, Marconi points out that there are fewer options today for getting local fish, due to restrictions on local fishermen.
Fortunately, wild fare the Lowcountry is famous for, such as shrimp, clams, and flounder, is still to be found on menus. At Slightly North of Broad, a medium plate of local steamed clams is paired with artichoke ravioli, roasted fennel, and tomato white wine garlic broth.
"My style of cooking hasn't really changed," says Lee. "I'm buying the best product I can buy – from anywhere. I try to find ingredients my customers really like, and pair them with the best seasonal fare from local farmers.
A hearty lunch of crispy confit duck leg is a favorite, paired with Anson Mills farro, local root vegetables, dried fruit, and the perfect sweetness of a poached pear.
Fresh, pan seared North Carolina flounder is beautifully matched with Ambrose Farms watermelon radish, and grapefruit from Lady's Island distributed via GrowFood Carolina. The light acidity of grapefruit juices is combined with extra virgin olive oil to dress organic chrysanthemum greens and Swiss chard from Sweetgrass Garden.
"Over twenty years we've built a really strong team that helps us execute with a high level of quality and integrity," notes Lee, who, like Marconi, is now a stakeholder in the renamed Maverick Southern Kitchens.
"We have really good people," agrees Marconi. In fact, excellent personnel has been a driving force behind the expansion of the restaurant group in Charleston and other cities around the state. "And at the same time, Charleston was developing as a culinary destination, and we wanted to be part of that."
"I like to think that Slightly North of Broad is a microcosm of our community," muses Elliott. "Charleston's all about quality, striving for excellence – and at the same time, just naturally hospitable.
We welcome people, that's what the restaurant is all about, offering a fine product and presenting it in a very comfortable way."
Elliott says big plans are in the works for the restaurant's twentieth anniversary, but is mum on the details. As for taking Slightly North of Broad to new markets, he says the group has thought about opening another one, but "there's a distinct feeling about the building and the people you just can't replicate anywhere else – there could never be another S.N.O.B."
Slightly North of Broad
192 East Bay St., Charleston
843-723-3424
Lunch Mon-Fri, 11:30-3pm
Dinner nightly, 5:30pm
www.mavericksouthernkitchens.com