Middleton Place Restaurant
05 Jul 2020
Middleton Place Restaurant
A step back in time
By Wendy Swat Snyder
Photos by Jim Stefiuk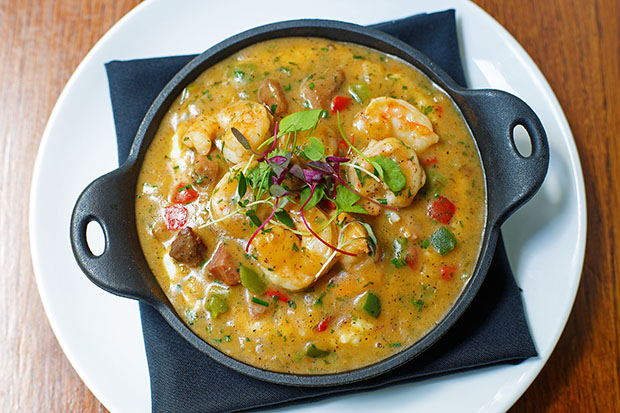 The entire concept of dining out has been turned upside down by COVID 19—social gathering for a shared meal is now challenged by the new normal of distancing and disinfecting.
Yet many Charleston eateries are proving to be resilient, and none more so than the Middleton Place Restaurant.
Tucked within the 110 acres of National Historic Landmark Middleton Place, it is a crowd-free oasis of serenity. Approaching the venerable restaurant over a
rambling, packed-earth road, fears of viral transmission evaporate into what feels like open, pristine air.
Dining out at Middleton Place Restaurant is a step back into Lowcountry culture and cuisine.
Here, farm-to-table was practiced, years before it was a thing, under the watchful eye of the renowned American chef and James Beard Award-winning cookbook author Edna Lewis.
Her use of seasonal ingredients and time-honored techniques produced elevated dishes that brought a new sensibility to Southern food.
Lewis cooked the way she grew up eating in Freetown, Virginia, and parlayed that close-to-the-land approach into a thoughtful menu when she joined the Middleton kitchen in 1985 as Chef-in-Residence.
Today, executive chef Chris Lukic pays homage to Lewis's legacy with dishes that draw on her recipes and ingredients sourced from a farm on-site managed by Jamie Yurgartis.
"Our shrimp and grits dish is taken from her recipes, and the tomato gravy on the catfish dish is exactly as she cooked it," explains Lukic, who's headed the Middleton kitchen since 2016. "Yet, there are a couple of different things we do to keep some of them more current with the times."
Lukic grew up cooking at an early age for his father's Florida restaurant. He went on to earn a Grande Diploma in Culinary Arts at the French Culinary Institute in New York City and gained early experience there at Marcus Samuelsson's famed Aquavit.
Other mentors include Rick Moonen, renowned for his commitment to sustainable seafood, and Wolfgang Puck in Los Angeles.
"Our philosophy of cooking, technically, is never going to change," notes Lukic. "Our style of menu is still the same. We change the menu seasonally and are contemporary while staying true to our Southern roots, which is who we are. We're always going to have fried chicken on the menu."
Tomatoes, turnips, beets, carrots, kale, peppers, eggplant—nearly two dozen vegetables, greens and herbs from the USDA Certified Organic farm on site comprise a majority of the kitchen's local fare.
Other vendors include Limehouse Produce and Lowcountry Street Grocery. Lukic says he tries to build the menu around the farm products and meets regularly with Yurgartis for preseason planting coordination.
"We've also built a 1,000-square-foot space with a large shade cloth covering it in an attempt to grow our salad mix through the hottest months," notes Yurgartis. "If it works, it will be huge because we go through a lot of salad greens."
The farm is also a learning site for the Lowcountry Local First Growing New Farmers Program, providing students with hands-on experience in specialty crop production.
Because education and preservation are hallmarks of the Middleton Place mission, the team has broken ground on a new plot near the walking tour routes to give visitors access to the thought process behind planning the seasonal menu.
"This will give us the opportunity to engage with guests and talk to them about our growing practices and the vegetables that they can look forward to eating at the restaurant. It will also serve as a space to host school groups and educational workshops," explains Yurgartis. Stables and a barnyard (with the corresponding farm animals) provide a bucolic backdrop for the restaurant.
Loaded with charm, the brick building was designed by W. Bancel LaFarge in 1933 based on research done in Barbados and was originally used as a guest house. Rustic
elegance is the theme inside, with lots of hardwoods, thick beams and floor-to-ceiling windows flooding the dining room with light and views of the spectacular Mill Pond and Azalea Hillside.
The evening my guest and I visited, cordial greetings from masked and properly distanced staff were the order of the day. Our excellent server, Morgan Lewis-Dove, arrived at table with a basket of warm, thickly crusted whole grain bread.
We started with a Charleston tradition: she crab soup, loaded with flavor and Carolina blue crab. The comforting dish had a silken texture and was spiked with sherry and a light touch of heat. Golden and candy cane beets from the on-site farm arrived next in a salad bright with the flavors of fresh, sweet strawberries, an orange-sumac vinaigrette and goat cheese mousse.
The must-have pork belly appetizer offered hefty chunks of crispy meat that's been trimmed of excess fat, scored and then rendered. Creamed corn, green tomato and cucumber relish balance out the saltiness of the pork.
The house-made corn ravioli overdelivered in every way—definitely an entrée not just for vegetarians. Lukic says it's 'corn on corn on corn:' nearly every part of the plant is used, distilling flavor into a broth from the stalk and adding kernels and corn milk. The stuffed dumplings were cooked to al dente perfection and garnished with a red pepper reduction, cotija cheese and smoked garlic.
The market seafood dish showcased halibut that day and was another must-have. The beautiful piece of fish was firm yet fork-tender, moist, and held flavor of the simple
salt and pepper seasoning. Savory grilled Swiss chard, a delicate gratin composed of paper thin slices of potato and a sweet heirloom tomato conserva brought contrasting flavors and textures to the excellent dish.
When asked if the pandemic had affected the restaurant's operation, Lukic's answer was a firm "no." He says that protocols that were already in place, like sanitizing tables, have simply been expanded.
The focus remains, as always, on a high standard of service and excellent food. It's comforting to know that some things never change