Create a spa bathroom at home
By Shelby Simon
Photos by Patrick Brickman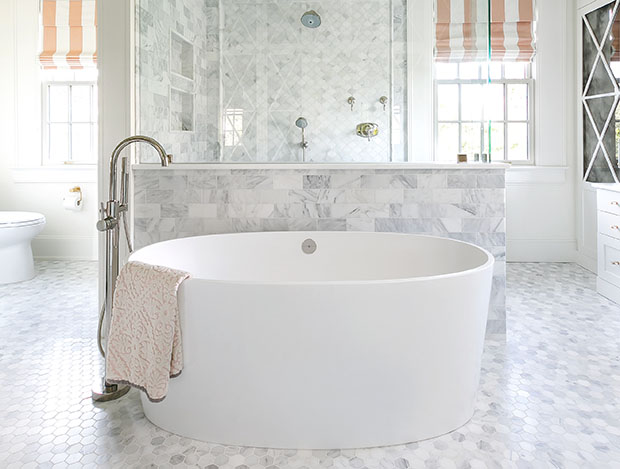 Taking time to care for both the mind and the body has a long-lasting effect on health and wellness. With people spending increased time at home for work and leisure, it is no wonder the spa bathroom is having a major moment in interior design trends.
"More than ever, we need to start figuring out how to separate work-from-home life and relax-at-home life," says Lauren Messina, owner/interior designer at Lauren Messina Design.
Through her expertise in interior design, coupled with her extensive experience traveling the world's most luxurious spas and hotels, Lauren helps her clients create spaces at home in which they can unwind and practice self-care.
"Any space that can promote health and wellness on a daily basis is a plus right now," she says.
Fortunately, incorporating the spa into your home does not need to involve a total overhaul of your space.
The key features of any spa bathroom, Lauren says, are ones that incorporate a calming feeling right away.
"The first step is cleaning up your existing space so you can have a place to escape and not worry," Lauren suggests. Storage is essential: getting rid of the countertop clutter and making sure there is a place to store items out of sight will help make the space feel clean.
There are also several products that can enhance the "wellness sanctuary" feel, such as a candle or diffuser with a relaxing scent. Additionally, "soft textiles such as beautiful fluffy towels and a light-colored rug are some of my favorites when designing a bathroom," says Lauren. "I think that keeping things light and airy is an important characteristic of any spa bathroom."
This includes color palettes as well: Lauren often enjoys working with pastel hues and advises to keep the walls light colored, as it both helps the space feel larger and adds to a calming atmosphere. Clean and crisp layers of tile and textiles also help put the mind at ease.
Lauren also often adds dimmable lighting in the room, as well as an eye-catching light fixture somewhere as a visual interest.
For next-level spa additions, zero-gravity tubs provide a place to immediately relax your joints. There are also chromatherapy (a lighting system that uses soothing qualities of color to let your mind and body drift and relax) and aromatherapy options, as well as modern bathroom fridges that store cooling towels for your face. Hand-showers offer options to diffuse water with your favorite essential oils and scents. For a luxe addition, add a bamboo bath caddy that can hold a book or a glass of wine while you soak.
And this is just the beginning, says Lauren, who expects many more products to roll out in the next few years.
If you do want to build a state-of-the-art spa at home during a renovation or new build, expert designers like Lauren can walk you through the process.
When starting a project, Lauren pulls a lot of inspiration from her past experiences and photos. "While I travel, I love to take pictures and notes of each space, so I remember how it made me feel. I think the experience is just as important as the look."
Clients are encouraged to share their inspiration photos with Lauren as well, and together they can walk through their existing space to discuss both what they love and don't love about each area.
Though spa bathrooms are mainly created in the master suite bathroom, Lauren believes every bathroom in the home should have elements that help one to relax. "Having a place to escape at the end of a long day is essential," Lauren says. "The bathroom is just the beginning."