Natural Beauty
01 May 2013
Wells Gallery celebrates all things Southern with fine art
By JASON A. ZWIKER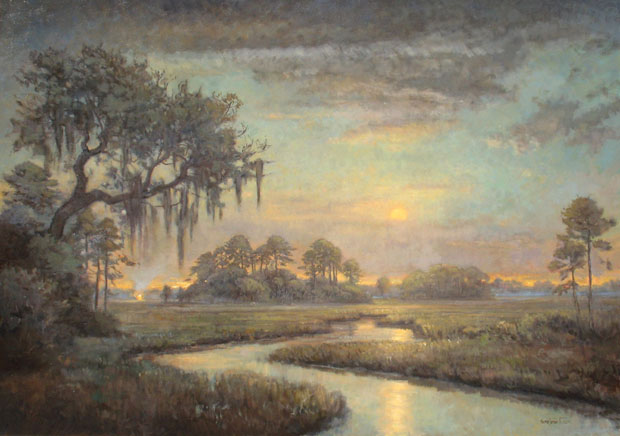 IT'S THAT TIME OF YEAR IN THE SOUTHCarolina Lowcountry. Art is in the air.
The warm breezes and clear blue skies are surely part of the reason. It's perfect weather for either a day on the water or a stroll through the city, perfect weather to be in love, to watch Spanish moss sway from the branches of live oaks and to simply feel happy to be here, surrounded by an abundance of natural beauty.
Add good food, good people, and festivals aplenty into the mix and there's little surprise that so many artists are drawn to this place.
Wells Gallery is a vital part of that vibrant art scene. Located in The Sanctuary at Kiawah Island, the gallery offers visitors to the South Carolina Lowcountry an opportunity to experience a wide range of artistic talents and styles.
Art is a natural complement to both the natural beauty of the island and the grandeur of The Sanctuary. When the hotel opened, Karen Larson Turner, a graduate of Calvin College and the School of Representational Art in Chicago, where she rigorously studied classical technique, was commissioned to paint four murals above the grand staircases. Those murals, and the smaller paintings within the gallery, speak of an abiding love for the landscape of the Lowcountry.
That love is not surprising. Every day, Wells Gallery owner Hume Killian sees more and more people discovering or deepening an appreciation for the area and all it has to offer.
"People who come to Charleston don't make just one trip," he says. "They return, sometimes several times a year, and they develop a relationship with the area. They fall in love with the food, the history, and the outdoors. They want to take something that reminds them of it home with them."
The styles and subject matter of the works of art may be varied, but the focus of the gallery is on all things Southern. Contemporary artists, some of them emerging, some of them established national artists, are chosen for the strength of their work. "We like artists who contrast with, as well as complement one another. There is a nice variety in the works: hyperrealism, expressionism, and everything in-between."
"We look for long term relationships with our artists. It can be challenging for an emerging artist to build a following, a solid client base, but we truly enjoy seeing that happen and being a part of that."
In the last decade, Killian has seen the Charleston area achieve notoriety as an important market for artists and as a destination for collectors. "Part of that is simply because of the area itself. There's a plethora of subject matter and the light is wonderful year round."
As more artists come to Charleston, the art community becomes even stronger. The galleries benefit from the strength of the gathered talent. And serious collectors take notice.
And what they are taking notice of is certainly worthy of notice. Even a casual walk through the Wells Gallery reveals works of staggering beauty: some representational, others abstract, some with vibrant colors, others with a quiet understatement.
Wax and oils are the materials with which Curt Butler creates the rich textures for which he is known. There is a distinct mood to each of his works. "He's very much on the edge of abstraction. His work is all about the movement of the palette knife, the brush work. We're thrilled to have him."
Butler, a graduate of both Kent State and the Savannah College of Art and Design, evokes the feeling of being surrounded by nature in his powerful mixed media paintings. A special showing / reception for Butler's work will be held May 1, 2013. This is just one of many events planned by Wells Gallery.
The Friday before Father's Day, June 14, 2013, will feature a special father and son event. Acclaimed fine artist and illustrator Glenn Harrington has won major awards from the Portrait Society of America and Oil Painters of America. He is especially well known for his paintings of golf legends such as Jack Nicklaus and Payne Stewart. The World Golf Hall of Fame in St. Augustine, FL and the Jack Nicklaus Museum in Columbus, OH have commissioned paintings from Harrington and his work has appeared on the covers of numerous books.
Glenn's work will be featured alongside those of his son, Evan Harrington, a recent graduate from the Pennsylvania Academy of the Fine Arts in Philadelphia. Though early in his career, Evan has established himself as an artist to watch, receiving "Best in Show" in Painting at the ASCI Mid Atlantic Region Fine Arts Exhibition.
Over two dozen artists are exhibited in the Wells Gallery and the collection of fine art is always changing, providing visitors with a reason to return again and again to peruse the latest oil paintings, watercolors, sculpture, and glass.
A stroll through Wells Gallery is the perfect complement to a stay on Kiawah Island. It's the perfect opportunity to see what some of the finest artists who've lived in or visited the South Carolina Lowcountry have created. Inspired by the natural beauty, historic architecture, and gracious people, they put blank canvasses before them and tell the story of that inspiration in brushstrokes.
Killian certainly understands that feeling of inspiration.
"That's the reason I'm in this business. I'm in awe of the way an artist can create something magnificent out of nothing. Whenever we put a new painting in the gallery, I'm like a 5 year old kid on Christmas morning." 843-576-1290, wellsgallery.com.