The Candy Shop
01 May 2013
Sweet temptations are what's in store at this Market Street shop.
By HOLLY FISHER » Photos by ASHLEY WALKER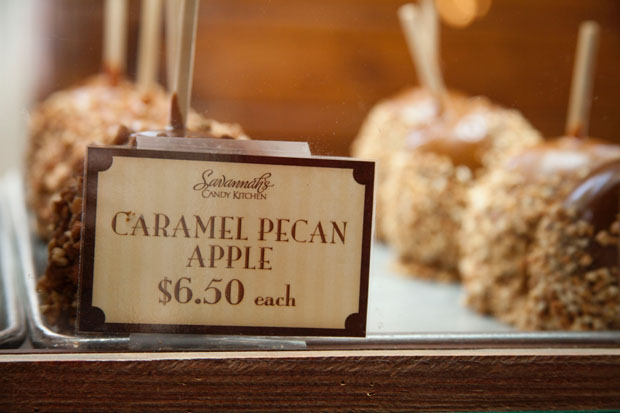 Willpower goes out the window when the scents of pralines and candy apples waft onto Market Street from Charleston's Candy Kitchen here in Charleston. The shop at the corner of North Market and East Bay streets is abuzz with visitors starting in spring, and well into the summer as they are drawn up the steps into a sea of chocolate, caramel and gelato.
This Charleston candy shop is an extension of Savannah's Candy Kitchen, started by Stan Strickland more than 30 years ago. Strickland's mother worked in a candy factory so at home she was constantly making candy and pralines, using her hand for a measuring cup and cooking with only the freshest ingredients, according to the company's history. Strickland learned the art of candy making from his mother and decades ago decided to share her tasty delights with Savannah.
Strickland opened his first store on historic River Street and quickly grew to what is now a 4,200-square-foot location. Strickland opened a second shop in Savannah, expanded into Charleston in 2002, and has since opened shops in the Hartsfield–Jackson Atlanta International Airport and in Nashville, Tennessee.
Charleston general manager Myra Forsythe has been with Savannah's Candy Kitchen since she was 16 years old. "I know how to make everything," she said.
A family atmosphere that fosters long-term employees coupled with a commitment to quality is a hallmark of Savannah's Candy Kitchen, explained Tonya Strickland, the regional manager for retail.
"Through the years we've certainly brought on people who share our passion for good quality ingredients," she said.
Those ingredients include real butter and cream but no preservatives. Aside from the hard candies, the products at Charleston's Candy Kitchen are homemade daily either in the individual stores or at the Savannah location.
Certainly the company could sell more and do more by creating products with a longer shelf life, but that goes against their core values, Strickland said. "We just don't want to do that. We want to stay as true to what we started with 35 years ago."
The company also makes gelato, which comes in more than a dozen flavors like banana pudding, key lime, peach and raspberry. Other specialties include red candy apples (available on Fridays only), taffy, gophers (pecans, chocolate and caramel) and glazed pecans.
The store has glass cases filled with sweet temptations of fudge, bigger-than-your-mouth caramel apples and truffles. Wooden barrels are stocked with hard candies and selections of treats normally reserved for stories about the "good 'ol days," such as Bit-O-Honey and Mary Jane along with Dum Dum Pops and fruit-filled candies. And it can all be washed down with a Coke in a bottle.
Despite the vast number of candy choices, Charleston's Candy Kitchen's signature sweet remains the same: pralines. "We want everybody to experience that when they walk in the store," Strickland said. "It's totally different from anything you've ever tasted before."
At its core, Charleston's Candy Kitchen is about bringing fun to people's lives – it's one reason the company locates its retail stores in tourist-based communities like Charleston. "It's where we feel the most at home working with people who want to have fun," Strickland said. "Anybody who's on vacation wants to have fun."
For Forsythe, the job of tempting visitors with a pecan log or some fudge is just as sweet. "I like what I do, meeting people from all over the world. And we bring them a little happiness," Forsythe said.
And, in this case, happiness comes in the form of free praline samples. 843-723-4626, savannahcandy.com