Nature's Calling
01 Mar 2012
Island living and fishing is a key ingredient in Teri Whitner's handcrafted pottery
By Jason A. Zwiker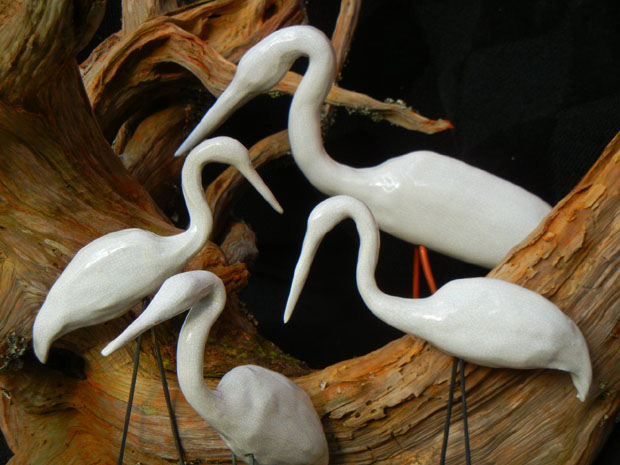 When a rooster strolls through the studio on a daily basis, it's a safe bet that the artist has a good sense of humor.
And for Teri Whitner, the rooster is just one of the regular cast of characters that wander by while she handcrafts her one-of-a-kind pieces. The dogs, the cat, chickens, the occasional visitor from the surrounding woods… they're all part of what makes her world go round.
Her easy laugh, good sense, and an abundance of wisdom when it comes to fishing make it clear that she is not your average artist. In one breath, she'll offer canny advice on what to slip on your hook – "If your bait is pretty, they'll eat it". In the next, she'll describe the way the colors of the marsh change from chartreuse green in springtime to the subtle gold of fall.
That's when you'll realize that this lady is both the perfect fishing companion and a true artistic spirit, all rolled up into one.
The marshes and waterways speak to her in a language that blows right past most people's ears. And that language – the intimate knowledge of winds, tides, and wildlife – is ever present in her art, from the glazed earthenware platters to the whimsical sculptures.
Those who have discovered her handcrafted pottery in Carolina Clay Gallery, at the intersection of Kiawah and Seabrook Islands in Freshfield's Village, appreciate her knack for nature at a glance. Her work is lighthearted and finely crafted; replete with images, colors, and patterns that feel like the great outdoors.
Her fine art has been shown in galleries such as Helena Fox Fine Art in Charleston to Carolina Creations in New Bern, NC as well as galleries in Beaufort, SC and Montgomery, AL. Her art follows her life – the plates she crafts are filled with cleverly painted creatures like blue crabs, herons, egrets, and sea turtles. The colors are bright and beautiful, the design bold.
Her sculptures retain the same big-hearted love for the natural world. She has crafted clay koi to decorate a pond and, in season, festive reindeer to ring in the holidays.
It probably won't surprise anyone to hear Teri describe herself as "a fish-a-holic". For her, hot summer days are made for dragging a line and cool, dark nights are perfect for easing through mud flats with a lantern and flounder gig.
She grew up spending weekends and summers on a Wisconsin lake with her grandparents. She tried a few other places on for size between then and now, but when she visited Seabrook Island, she knew she had found a place where she wanted to stay.
When she's not in the studio creating art, she is on the water. All those days in the sun have set a permanent smile on her face. "I tell people that I'm really only 20 years old," she jokes. "I've just been in the sun a lot".
Fishing trips and nature tours keep her happy, but she balances the joy with the practical. As she likes to say, "It's not just for fun, it's also for dinner." She and her husband, Billy, are the owners of Bohicket Boat, Adventure & Tour Company. Taking the path to Cherry Point, the Wadmalaw Island dock on which you'll find them, is like strolling back to a simpler time.
"You see something different every single day," she says. "The ocean is so beautiful and so are the marshes. I can be out there from morning until dark. I've learned to look at how the light hits, depending on the time of day, and to look at how shadows and colors change from morning to night."
It is obvious that these observations have directly influenced the look of her various works of art.
Teri is a self-taught artist. With her usual good humor, she tells the story of how her style and medium changed as her family grew. "When I was in Charlotte, I did weaving on a loom," she says. "But then the kids started climbing on it."
Seeing that they were interested in art but needed direction, she found a teacher who could school them in the shaping of clay. "It was when the boys were 4, 6, and 8," she says. "They were looking for something to do. I took them to class and I began to be interested too."
It wasn't long before she was adding clay in with the sculptural baskets she was weaving at the time, then, diving straight into the world of pottery and sculpture.
She enjoyed early success with her sculptures and baskets at the Southern Christmas Show in Charlotte, NC, and soon after began seriously applying herself to her fine art plates.
At one point, she did contemplate having a go at formal art education. "But then a friend, who is also an artist, said, 'You put colors together that aren't supposed to work… but they do. If you take classes, that might change." She took the advice to heart and kept on keeping on with her own intuitive take on interpreting the world around her into works of art.
It's hard to see where the artist ends and the Lowcountry fishing expert begins, but maybe that's exactly what makes her work so unique and interesting. Wadmalaw Island is the perfect setting for her to craft her pieces, laying clay out over a ball to shape it while "Frenchie," named for the comb that leans over like a beret, strolls in, lays an egg, and leaves.
That easy, natural setting of the island is the context in which she has not only grown her art, but also in which she has grown her family – a family that loves and lives both art and nature, every day.
"This is a good place," she says. "It's a really good place to be."