Nick's German Kitchen
06 Sep 2023
A new take on time-honored German specialties
By Wendy Swat Snyder
Photos by Aleece Sophia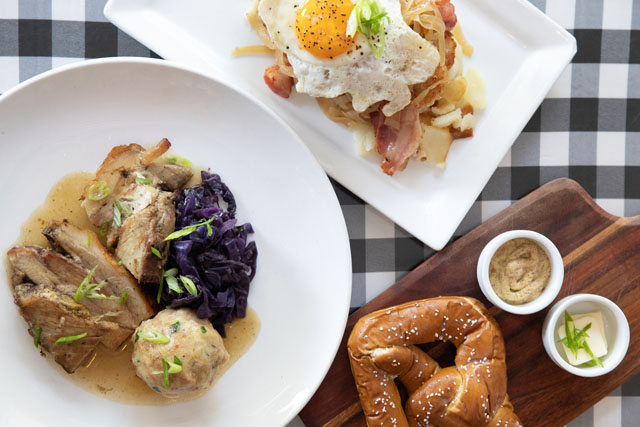 Millions of merrymaking folks around the world hail the arrival of Oktoberfest with a flurry of frothy anticipation. As Charleston rolls into the festival season and gets ready to roll out the barrel, thoughts naturally turn to food—chops, dumplings, schnitzels and brats of all kinds—authentic fare hailing from the part of the world where the Bavarian holiday originated in 1810.
Tucked into a nook near the Isle of Palms Connector is a place where you can celebrate Teutonic food and culture this holiday, and every day. At Nick's German Kitchen, Old World traditions come to life with a New World spin.
When Nick and Kelly Ruhotina opened Nick's German Kitchen in October 2019, they were on a mission to update the image many people have of German cuisine.
"I think people have a preconception that the food is heavy, and that German restaurants are old fashioned," says Kelly, who manages the eatery's front of house. "Nick's dishes are very classic, but we like to celebrate German culture in a more refined way. It's clean, simple cooking, served in a manner that's more upscale. We offer an extensive wine list to pair with our dishes and have many different coffee specialties, which is very typical in Germany. People who have been to Europe appreciate the small details like the little cookie we serve with the coffee."
Nick's German Kitchen has been a welcome addition to the Mount Pleasant dining scene—filling a void left by Max & Moritz when the much-loved German restaurant shuttered around 2005.
The husband/wife team got their first taste of the restaurant business in Germany, where they met while Kelly was in school and Nick was working to find his culinary niche. Of Bosnian origin, his affinity for hospitality emerged when he was a teenager.
"My whole family are good eaters," he says with a smile, and a telltale accent. Nick's passion for food led to culinary school in Frankfurt, and a long line of restaurant stints working in the front of house. To this day, he enjoys strolling through the dining room to chat with guests.
In 2004, Nick opened a restaurant of his own, taking charge of menu creation, while a trusted chef "made all my dreams happen," he said.
The team eventually expanded into a larger location, and when demands increased, Nick stepped into the kitchen to support his team.
"I had so many ideas," he recalls. "If we had issues in the kitchen, if someone was on vacation, I'd fill in. I have a lot of fun in the kitchen, I love it, and I love to see the happy faces of customers. There's nothing better than spending 10-12 hours in the kitchen, setting up the line, cooking, plating, making a nice presentation and then the guest says they love it—that's true hospitality. I had a good chef by my side, and we did it together."
Here in the states, Nick and Kelly's journey continues with a place they own and operate together on a daily basis, drawing loyal fans with authentic continental dishes in a space that reflects the casual elegance of a European cafe. Chef tip: the most important ingredient in the kitchen is passion.
A chalkboard in the entryway lists the day's specials, and an airy crystal chandelier hangs over checkered cloth covered tables. Framed black and white prints of photos taken around Austria and Germany cover an entire wall, setting a monochromatic color palette for the intimate dining space and a cozy bar.
"The original inspiration for the interior design was the Viennese coffee house, which combines elegance with the social space of dining," said Kelly, adding, "of course we have our own spin on that due to the size of our restaurant."
My guest and I were charmed by the unique ambiance, and by our server, Sylvie Farrell, as well. Outgoing and well-informed, she guided us enthusiastically through the evening's meal with thoughtful suggestions and explanations.
We started with the Kartoffelpuffer. Crisp, tender pancakes of shredded potato and onion enhanced with nutmeg and held together with eggs and a pinch of flour. The texture and flavors of this simple dish were outstanding.
Next, we sampled the Bavarian bratwurst, a very tender, lightly spiced sausage the kitchen sources from a German butcher operating the Bavarian Bratwurst Company in Wisconsin. The tasty appetizer comes with fried potatoes lightly flavored with bacon and a "new generation" of sauerkraut, lightened with a touch of sweet cream.
We quickly understood why customers demand stroganoff on the chalkboard at least once a week. The tender beef dish is served with fresh spaetzle, another house specialty, and a savory mushroom gravy—housemade, as are all the kitchen's sauces. Tenderloins of beef, veal or pork may be the main protein featured on any given day.
The sauerbraten—a national treasure—was a party for the palate. The tender roasted meat was marinated for two weeks in a piquant bath of juniper, cloves, bay leaves, mustard seeds, vinegar and honey. The sour tang it produced was balanced by the addition of sweet raisins. Spaetzle and a salad of cabbage and fresh apple completed the hearty dish. All Nick's vegetables are sourced from Limehouse Produce. Crosby's Seafood provides fish; pork and beef products are from Keegan Filion Farm and Halperns'.
There's a special place in my heart for breaded cutlets, and Nick's Jagerschnitzel exceeded expectations. The pork cutlets were pounded to a just-right thinness, seasoned, sent through the standard three step breading process that ended with a dip in panko, and pan fried. A light mushroom sauce provided earthy nuance.
For dessert, we shared a dish of Pflaumenstreusel Kuchen. The combination of tender, moist streusel cake and jammy plum spoke of home. The not-too-sweet dish, finished with a dollop of heavy cream, was a perfect end to a perfect evening.
Nick's German Kitchen brings a bit of continental culture to the Lowcountry with a personable staff, welcoming space and classic menu, served their way.
Guten appetit!
Nick's German Kitchen
1150 Hungryneck Blvd
Mt. Pleasant
(843) 535-9565
@nicksgerman