Painting Life's Journeys
12 May 2021
The Art of Sheryl Stalnaker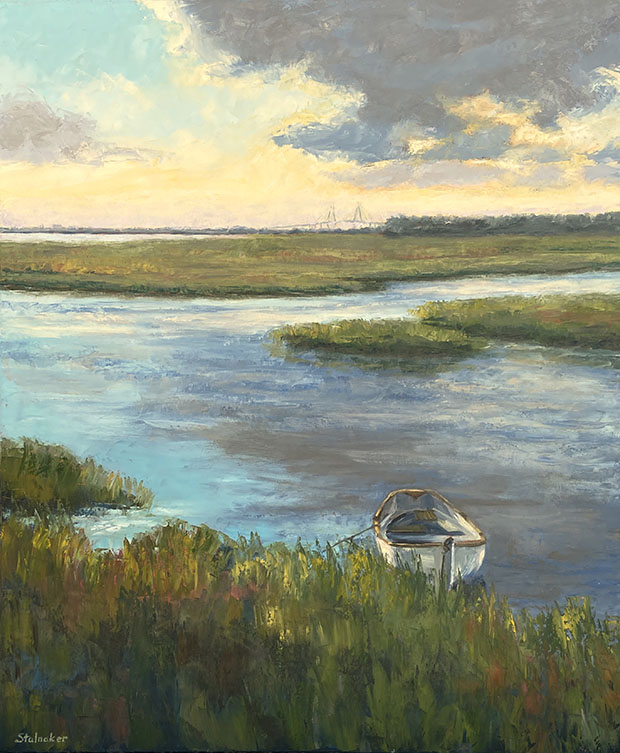 From the serene landscapes she painted while raising twins, to the pet portrait commissions that provided comfort during 2020, to the wandering journeys she's painted since the recent death of her mother and the cancer diagnosis of her father, Charleston-based artist, Sheryl Stalnaker has used her work to retreat from the world into places beloved and familiar: paint and canvas.
"If you look at my website, you'll see a variety of subjects. However, as I look at my work over a span of time, I find that a series of paintings often emerge from what is going on in my life," she says.
Her works, while varied, seem to share a common use of color scheme and texture.
"I paint with both a palette knife and a brush," says Stalnaker. "I've always been attracted to art where you can see definitive marks from the artist's hand. It has an energy that I'm drawn towards." She uses paint straight from the tubes, sometimes mixing cold wax medium to add extra texture. "I do go through a lot of paint," she says.
Also a teacher, she tells her students, both young and older, to start with painting what they love, and she finds that her own art works best when she follows her own advice.
"If I love a subject and really understand it, there will be art collectors who also feel the same way," she said.
During one art show, a customer purchased an ocean painting. "She shared that she had been going through a very difficult time in her life. She found peace when looking at my painting and wanted to have it hanging in her home. As an artist, those experiences are very rewarding."
Rewarding and beautiful, just like Stalnaker's work.
Exhibiting at 2021 Piccolo Spoleto Outdoor Art Exhibition - May 28 - June 12
843-754-1994