Member owned Heritage Trust Federal Credit Union rolls out two new branches, and continues to make a difference in the community with their outreach programs.
By JASON A. ZWIKER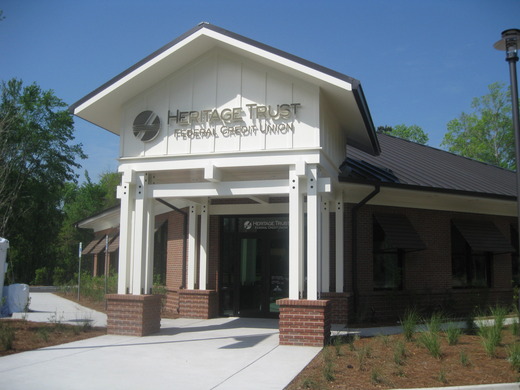 People helping people: that's how Heritage Trust Federal Credit Union sees it. With that in mind, the Dialog Stations and community rooms at the newest branches make perfect sense.
"The idea was to create a place where people feel comfortable," says Chief Development Officer Emily Reynolds. "The community room is a place for homeowner's associations to meet, for emergency response training, for whatever community needs the area may have."
The newest branches in Mt. Pleasant, at the Park West subdivision and Coleman Boulevard, offer truly innovative approaches to customer service. Heritage Trust partnered with Level 5, a consulting and development firm based in Atlanta, for the design. Traditional teller lines have been replaced with Dialog Stations. "It's like a concierge system," Reynolds says. "It's more efficient and more personalized."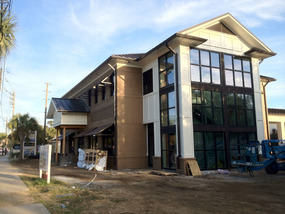 Cutting-edge technology, including biometric vault entry (an extremely secure system in which your hand serves as your unique identifier), ATMs with advanced check imaging / cash recognition systems, and coin machines that directly deposit into member accounts, is just icing on the cake. The heart of Heritage Trust is in its commitment to providing more personalized quality service to its members and to its community.
Heritage Trust has been part of the Charleston community since 1955. It began as the air base credit union and remains a strong supporter of our military with a branch on Joint Base Charleston. It serves over 50,000 members through 11 branch locations in Charleston, Dorchester, Colleton, and Berkeley counties.
It is a rapidly growing financial institution with a keen interest in contributing to the growth and prosperity of the community. Over 300 Select Employee Groups (SEGs) have chosen Heritage Trust to be their credit union. "Financial outreach education is a core product for us," Reynolds says. "We try to partner with organizations and companies that have an interest in providing financial education to their members or employees."
Reynolds finds that, before providing outreach education, it is especially helpful to talk with personnel about the most frequently asked financial questions in that organization. "It's better if we can target specific needs," she says. "Those might be about managing money, paying off debt, or avoiding bankruptcy or foreclosure. One of the most frequently asked questions is: What steps should you take to improve your credit score?"
Personal financial tools available for members are designed to help identify spending patterns and opportunities to save money. "Members can access these tools any time to create a financial plan," she says. "You can create charts that show you where your money is going each month, which is important in establishing a budget." Financial counseling as well as retirement and investment services are just a few of the benefits. Some members may be eligible to manage qualified medical expenses through a tax-exempt Health Savings Account (HSA).
As a participant in the Shared Branching network, Heritage Trust provides members on the road with access to the services of almost 4,000 credit unions nationwide. Online and mobile banking services protected by firewalls, filtering routers, and multiple layers of encryption provide members with convenience that inspires confidence.
Reinvesting back into the community that has supported it for so many years is important to Heritage Trust. "We give back in many ways," Reynolds says. Some of these include participation in Women Build through Habitat for Humanity, providing fun items and gift baskets for the Charleston Air Base picnic, volunteering for the Backpack Buddies program at the Lowcountry Food Bank, the Relay for Life charity golf tournament for the American Cancer Society, and assisting Water Missions International with sending water purification equipment to Haiti following its devastating earthquake.
Heritage Trust donated computer equipment to the Berkeley County School District and, prior to construction of their Coleman Boulevard branch, they facilitated a local fire department training exercise on the grounds. They've worked with Charleston County Schools, providing outreach education, and they've partnered with the Urban League to help provide free tax preparation for those unable to afford it.
That's a whole lot of good for the world, but, then again, that's their whole philosophy. In a credit union, the members are the owners. Credit unions, being not-for-profit organizations, return profits to the members by offering better rates and services.
And Heritage Trust prides itself on doing exactly that: providing local military personnel, businesses, nurses, teachers, and many other hardworking community members with a financial organization that works for them, that puts their interests first.
Heritage Trust Federal Credit Union
843.832.2600
www.HeritageTrust.org