Proof is in the Passion
01 Jul 2012
Downtown's newest bar, Proof, offers a chic and relaxing atmosphere to unwind
By DENISE K. JAMES Photograph by DICKSON DUNLAP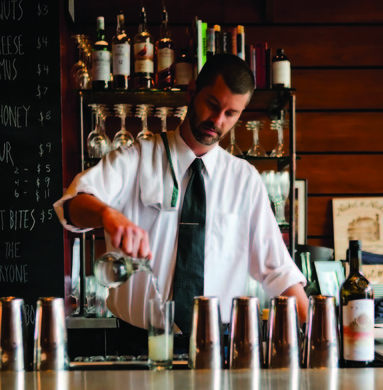 Craig Nelson learned at an unusually young age how to pour the perfect cocktail.
"I've always been part of a community that appreciates food and drink," says the co-owner of Proof, Upper King's chic wine bar. "As a child, my uncle owned a bar and my grandmother owned a liquor store."
Nelson describes Proof as primarily a place to enjoy a glass of wine or a cocktail; while the gourmet snacks are indeed delicious, he says that it is "a bar first, not a restaurant."
"We wanted something more intimate than a full-service restaurant but that still offers a fantastic wine list," he explains. "I felt that there was a niche to be filled here in the Lowcountry. My wife and I always wanted a laid-back spot to have a glass of wine or drink before or after dinner. So, we opened one."
Nelson and his two co-partners, Mark Cumins and Jerry Sheer, picked the spot formerly known as the Pita King and got to work renovating the building about a year ago. The result is a cozy bar with several additional community tables, perfect for trying the different drinks and snacks on the changing menu.
The wine list at Proof is extensive, with around 30 types of wine available by the bottle and by the pour. The prices are reasonable, typically ranging from $5 to $9 per glass.
"I'm personally a fan of French and Mediterranean wines," says Nelson, "and I've put plenty of those on the list. There are actually a lot of reasonably priced choices that people might be unfamiliar with. We're hoping to expose our guests to a new experience."
The beer list at Proof is grouped by the style of brew, not the brewery, making it easy for guests to spot new labels of their favorite type.
"We cover all the different beer styles, from pilsners to stouts," says Nelson. We'll keep this list through summer, maybe add a few lighter choices, and change it up in the fall."
"Nothing is sexier than dark liquor," he confirms. "We've actually had a lot of ladies ordering our bourbon cocktails. I think vodka-soda is on its way out; people want flavor!"
Inspired by his enthusiasm, I order the "Charleston Buck," a blend of Woodford Reserve, Tuaca, citrus, egg whites, and ginger beer made in-house. It's delicious and unique.
"We make our own juices and ginger beer instead of relying on premixes," Nelson tells me. "We're working on a lime cordial right now. We proudly use local bitters by the Newtonian Beverage Company, as well as local tonic by Jack Rudy, in our cocktails."
If you're hungry, Proof's snacks are just as eclectic as the drinks. Nelson admits that he was inspired by his own sensibilities when choosing the fare.
"We have a small plate menu comprised of snacks I thought would taste good over cocktails and conversation," he says. "These aren't necessarily foods I've had before in a bar atmosphere, but that I wanted to have."
I order duck rillettes, a savory spread made from duck, as well as the boiled peanut hummus –it tasted like the beach! – plus the delicious pimento cheese, inspired by Nelson's wife's recipe. Each of the snacks comes to my table in a portion generous enough to share – which I do, with my friend Bryan.
"You seem to have a bit of French influence here," I remark, topping toast with the duck rillettes.
"Perhaps we do lean a little French," Nelson agrees. "After Prohibition happened in the United States, wealthy Americans brought the cocktail culture to Europe, where bars were still legal, and discovered new ingredients. We try to emulate that sense of adventure."
As for the name Proof, Nelson says that he and his partners knew it when they heard it. "We had come up with about 850 names as possibilities," he says with a chuckle. "Finally, a friend tossed out the name Proof. Our eyes lit up and we immediately said this is the one."
Proof Bar
437 King Street
Charleston, (843) 793-1422
Mon-Sat, 4pm-2am
Sun, 6pm-2am