Power of the Pig
01 Nov 2012
Award-winning sauces and Memphis-style barbeque is a recipe for success at Sticky Fingers Smokehouse.
By WENDY SWAT SNYDER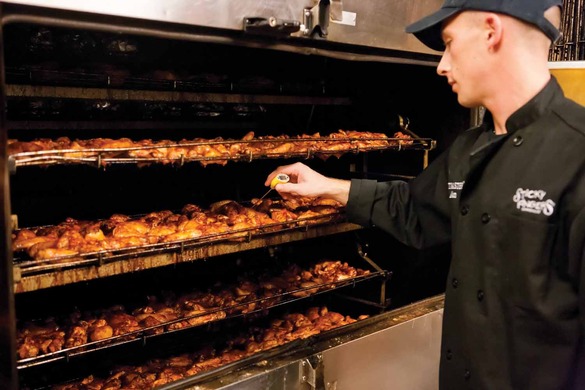 The South takes its barbeque very seriously, and the City of Charleston is no exception. As what many call the cooking mecca of the South, Charleston brings its own brand of barbeque to the table with pride.Conversations among fans generally revolve around the finer points of preparation, notably the best cuts of meat, cooking techniques, and the sauce.
Most here will concede that for what one calls "barbeque", the pig rules – pork shoulder for the "pulled" variety, and pork ribs for the slab. Cooking techniques run the gamut, from grills to smokers, dry rubs to mop sauces.
The finishing sauce South Carolina is famous for is a mustard-y liquid gold. Its Tarheel neighbor's is vinegar based.Georgia adds a little tomato to the mustard.Down in Texas, the 'cue is known for its spicy kick. Tennessee's has a tomato-y tang.
And that's where the Sticky Fingers story begins. A passion for barbeque and an entrepreneurial spirit brought three longtime school buddies together with a mission: to bring the Memphis-style barbeque they grew up with in Chattanooga, TN to the South Carolina Lowcountry.
"When my friends and I started Sticky Fingers," recalls founding partner Chad Walldorf, "we were right out of college. Jeff (Goldstein) had identified an unfilled niche." Missing from Charleston was the dry-rubbed hickory-smoked pulled pork he and his buddies loved back home.
Goldstein's idea to bring the taste of Memphis to the Charleston barbeque scene made good business sense to Walldorf and Todd Eischeid, and with absolutely no culinary training or restaurant experience, the three agreed to open their own place and "give it a try".
With a name inspired by the Rolling Stones album, Sticky Fingers Smokehouse opened its doors in 1992 to an enthusiastic crowd. The new Mount Pleasant restaurant with its own take on an old favorite had formulated a recipe for instant success.
"The response was great," notes Robert Patterson, Sticky Fingers director of operations. "Some of the most famous barbeque places in the world are in Memphis." The partners hadn't misjudged the power of the pig, and parlayed that and the town's notoriety into a solid dining experience for South Carolina 'que lovers. But, because they weren't prepared for it, the great response quickly became a challenge for the young restaurateurs, and pushed them into an unexpected direction – they became very good at correcting mistakes.
"We worked hard to overcome our lack of experience by providing every customer with great food and great service," notes Walldorf.
"The way we recovered became legendary," says Patterson. "The restaurant earned a strong local following because people knew if their experience wasn't great, we would make it up to them."
The kitchen kept the crowds coming with the authentic style that made Memphis famous - top quality meats, slow-cooked over hickory wood at very low temperatures with signature seasonings.
"We created our own rubs and sauces," remarks Patterson. "It was trial and error - we tried a lot of things to come up with the perfect sauce."
Today the restaurant boasts several sauces and rubs including Tennessee Whiskey, Carolina Sweet, andCarolina Classic, the first place winner in the 2010 Scovie Awards. The mother of them all was dubbedMemphis Original; all the others flow from it.
The menu boasts the pulled-pork barbeque sandwiches and award-winning ribs that inspired the venture, plusjust about everything else you can cook on a grill or smoke in a pit – chicken, turkey, brisket – and then some.
Sticky Fingers sources ingredients locally whenever possible. New-to-the-menu shrimp for fried platters and Frogmore stew is often "right off the boat," provided by Shem Creek vendors such as Mount Pleasant Seafood. Fresh salad ingredients are grown nearby and sourced from Limehouse Produce Company and Boone Hall Farms.
The restaurant has expanded in other ways as well. "We have a thriving catering operation," says Patterson. It has become known for the oyster roasts and whole hogs, roasted for those events when a client wants a traditional "pig pickin'," for which he "whips up an amazing vinegar-based sauce."
To celebrate its 20th anniversary, Sticky Fingers has added twenty items to the regular menu – including, for the first time, seafood items such as catfish.
"Charleston is a big seafood destination," notes Patterson, "so we chose catfish and shrimp – catfish is a natural in a lot of barbeque joints in the South."
The restaurant is also featuring special anniversary discounts that may be accessed online.
Over the past twenty years, Sticky Fingers has branched out into downtown Charleston, Summerville, and other areas where the team thought it would do well. The restaurant now has sixteen locations throughout the Southeast, including Chattanooga. "We wanted to bring the goodness back home," says Patterson with a smile.
That strong sense of home directs the company's community outreach philosophy, as well. "We want to stick to our roots," notes Patterson. "We are a local neighborhood-oriented business – we will always be involved in the community."
That involvement includes partnering with local elementary schools and churches on a regular basis, donating food and helping with fundraisers.
"Once a month staff volunteers serve lunch at Crisis Ministries," says Patterson. "It's great to see that our staff wants to be involved and represent our commitment to the community."
Sticky Fingers strives to distinguish itself with its commitment to its employees and community. And, most of all, what they have coined the restaurant's "legendary service". "Our staff is trained to treat every guest like they're the last person to walk through the door," says Patterson.
"While I am no longer an owner of the company," notes Walldorf, "I am very proud that Robert and his team continue to fulfill those ideals here in the city where Sticky Fingers began."
Sticky Fingers Smokehouse
341 Johnnie Dodds Blvd.
Mt. Pleasant, (843) 856-7427
Open daily at 11am
Other locations: Downtown
and Summerville