Visionary Art
01 Nov 2012
It's a browsers paradise at Spencer Art Gallery, with an array of mediums to choose from and over 500 paintings from the works of 50 local artists.
By JASON A. ZWIKER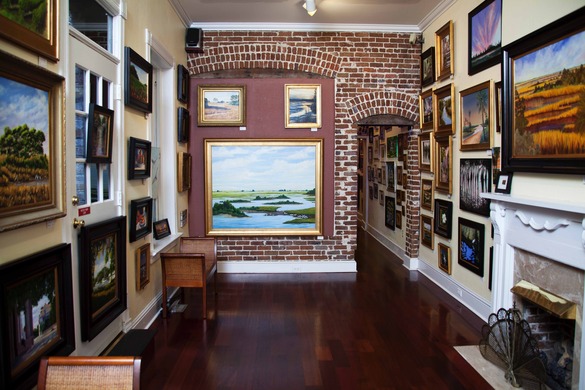 Bob LeFevre is a Pisces, born in the marsh. That's the way he tells the story as his paintbrush dabs the canvas. There's a sunrise emerging on that canvas. He takes his time.
If someone has wandered into the gallery from Broad Street and wants to talk, Bob has a lifetime of experience to draw from. Where's he from? "How far back do you want to go?" he asks. As it turns out, he's from Columbia, but not our Columbia, the other one, down in South America. Bogotá, to be precise.
"My mom worked for the American consulate and my dad worked for Mobil Oil," he explains. These days he makes his home on Seabrook Island, surrounded by the ocean, beach, and marsh scenes he loves to paint. He started painting as a child, but, as he puts it, "Life got in the way for 33 years."
Bob is one of about 50 artists at Spencer Art Gallery and, depending on which day a visitor drops by, any one of them might be painting near the front entrance, ready to answer questions and talk about their art. It's a personal touch that art buyers appreciate.
"When we first opened the gallery, there were only two galleries on Broad," says Jerry Spencer, who, together with wife Catherine, owns the gallery. "That gallery moved, so we are now the oldest." The Gallery has had 3 expansions in the last 12 years. Today, visitors browsing through Spencer Art Gallery I and II will find the works of emerging, midcareer, and master artists. More than 500 paintings and other works of art are on display between the gallery spaces at any time.
Art didn't snag Jerry's heart until later in life. Growing up in a small North Carolina town, he'd never even seen a gallery until the early 1960s, when he enlisted in the USAF and was stationed overseas in Japan. "I was walking around Tokyo and I strolled into an art gallery," he says. "I remember thinking, 'now, who'd pay $150 for a twisted piece of metal?'"
Ah, youth. Years later, he sincerely wishes that he'd been the one to pay that for the Picasso sculpture.
Today, both he and his wife are painters, and each has a personal style. Still life and Southern Lowcountry landscapes are her passions; she explores these beautifully in oils, acrylics, mixed media and watercolors. Jerry uses a variety of media to create visionary images about emotion and time.
In addition to his work at the gallery, Jerry has had a major impact on arts in Charleston in academia as well. "When I was at College of Charleston, I became very interested in the question of how artists could make a living as artists," he says. "So I developed and got accredited an Arts Management and Administration program."
His current passion is for making Spencer Art Gallery, and all of Gallery Row, a great place for those who love art to stroll around and revel in the beauty of creativity.
The criteria for choosing artists at Spencer Art Gallery are simple. "Each artist has to offer something new, something different," Jerry explains. "And the art has to be reasonably priced."
Each artist has a unique style and story. They come from all around the world. Yuriy Petrov, originally from Russia, lived in Boston when he first came to the United States but traded that a few years back for the warmer climes of Myrtle Beach. His musically-inspired paintings, wild with color, grab the eye immediately. Pat Van de Graaf, an artist and printmaker who studied at the University of Bridgeport, Syracuse University, and the Art Students League in New York City, creates watercolors and intricate hand tinted etchings. E. J. Woody, an artist from North Carolina, specializes in marquetry; the art of inlaid wood.
For Jerry, the best part about working with such a range of artists is watching them grow as artists through the years.
"Each individual artist grows in a different direction and at a different pace," he says.
"There are a lot of Baby Boomers who discovered art when they were young, but, for financial reasons chose to follow other career paths. Now they're retiring. They have time on their hands and art in their hearts."
What will that ultimately mean for art in Charleston? "What it means," he says, "is that we're heading for an art renaissance." 843-832-8402, www.spencerartgallery.com