Rejuvenate with a Spa Day
30 Jan 2013
Two friends with a similar vision create a relaxing spa that offers pure indulgences.
By JASON A. ZWIKER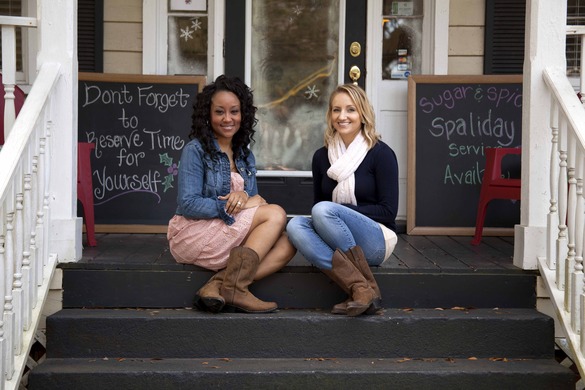 When they saw the little cottage, tucked away in a peaceful corner of Summerville, Bair Bell and Kathryn Corbett knew immediately that this was the place for them to start their dream.
"It had the best energy and the garden smelled amazing," Corbett says. "It was very peaceful." And that was precisely what they wanted for their day spa. This was a place where clients could escape from the pressures of everyday living, relax, and be rejuvenated.
"We decided to open a spa after talking one day about our visions and dreams for our own futures, and what we thought a spa experience should be like," Corbett says. "We realized we shared the same vision."
That vision is of a place of total comfort and luxury: a place where bridal and wedding parties can be indulged or where newlyweds can get away for a romantic couples treatment. That vision became Bair's Garden Day Spa, a full service spa where those in need of a bit of bliss can enjoy manicures, pedicures, massage, aromatherapy, body wraps, and more.
Bell, originally from Columbia, fell in love with the art of doing nails while she was living in Japan with her husband, who was stationed there for 7 years while serving in the U.S. Navy. She credits her husband with encouraging her to learn to do nails on her own. "It's a funny story," she says. "He said that I should learn to do this because I was getting my nails done so often. Once I learned how to do nails, I fell in love with it."
Today, she has over 12 years of experience of caring for cuticles as a nail specialist. "Getting my nails done always made me feel good. And now I get to make others feel that way. I love to make women feel good about themselves."
She found a kindred spirit in Corbett. The two of them worked together in a salon before deciding to go into business together. "We realized that we both wanted to give clients more of a spa experience," Corbett says.
Corbett, who is originally from Massachusetts, knows how good it feels to be pampered in a day spa. "I've been getting facials since I was really young," she says. Now, she strives to bring the same sense of bliss she experienced to others.
A wide variety of services are offered at Bair's Garden Day Spa, including massages, scrubs, aromatherapy, body wraps, skin care, and complete nail salon services. A variety of facial experiences are available, complete with skin analysis, exfoliation, and deep cleansing.
"We want to provide a personalized experience, catered to your needs," Corbett says. "We want our clients to really feel cared about, because we consider our clients to be our friends."
"We want all of our clients to come into our spa and feel at home and know that we care for each individual. We get the utmost satisfaction knowing that we not only make our clients look good but also feel good about themselves."
In addition to making clients feel good, Bell and Corbett are also committed to doing right by those who serve our country. They share their appreciation for those on active duty with an everyday 10-percent military discount (20-percent on Thursdays). They also offer other specials such as Teacher Tuesday discounts and Senior Citizen Wednesday discounts.
The good they do doesn't stop there. Participation in charitable events is important to them. They are accepting donations for Toys for Tots until Christmas, and are constantly taking donations for Lowcountry Orphan Relief. "They are in need of a lot of gently used clothing." Additional information about specific items that are needed is kept updated on their web site, along with information about gift certificate specials for the spa.
Bell and Corbett have had a great year in 2012, and are looking forward to the next year being even better. In fact, February 2013 will be a very special time for the spa. Not only will they celebrate their one year anniversary on February 14, but on February 23, they will be hosting their 1st Annual Oyster Roast. "We are very excited about this event. It will be taking place here at Bair's Garden and we will be doing silent auctions with proceeds donated to Lowcountry Orphan Relief."
"We like to give back to the community," she says. "We're giving back to those who give to us." www.bairsgardendayspa.com.