Social Creativity
30 Jan 2013
A great atmosphere with wine and a paint brush creates the perfect mix for fun and art at Fear No Easel.
By AMY KEHM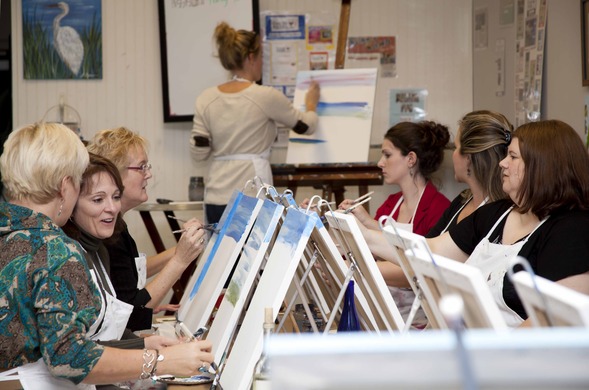 Here is a list to ponder: Leonardo da Vinci, Henri Matisse, Claude Monet, Pablo Picasso, Vincent van Gogh and you. You? Yes, despite your belief that art is something that "other people" do, you can create beautiful paintings too.
Fear No Easel in Mount Pleasant offers you the chance to showcase your inner artist, even if you have never seen a color wheel or held a paintbrush. Moreover, you do so in an incredibly fun, social environment.
Owner and creator Les Orr describes himself as a lifelong "unprofessional artist." He took art classes as a child and dabbled with painting for much of his life. Professionally, he worked in laboratory sales – a field that lacked artistic flair.
When time came for a career change, Les wanted a dramatic shift. He and his wife, Gina, known among friends as "Mr. and Mrs. Social," wanted to do something fun and new.
"I listened to what all the girls were talking about and they were interested in and went to some of my roots of paintings," Les recalled. "I have lots of friends who are artists, and who are teachers. It just blossomed from there."
In November 2011, Fear No Easel opened as a place for "social art" and word spread fast as budding artists learned that attempting something new was extremely rewarding. On your first visit, you may fear the easel – terrified of "messing up." As customers enter, Les sees what he calls the "deer in the headlights look" again and again. He immediately tells them, "You read the name on the front door, right? Relax and enjoy."
You will sit at one of two room-length tables and nervously watch as assistants fill your palette with colors. An artist takes the stage next to a beautiful canvas and you wonder if your finished product will more closely resemble a kindergartner's finger painting. The instructor tries to ease your fears as he or she walks you through your first stroke. You cringe as you touch a brush to a blank canvas while peeking at your neighbor's work and vowing to try not to embarrass yourself.
Then, something changes. As you go step by small step, you and your friend chat about your creations-in-progress. "People are talking about what they've done and how they did it. Everyone is encouraged to add their own flair."
Then, you chat about anything at all – your job, family or your day. Music plays and you realize that you have relaxed a bit. Now you have begun chatting with the woman next to you or the man painting across from you.
"You see people who don't walk in together and don't know each other and very quickly people are talking amongst themselves."
You take a sip of your wine or beer. (Yes, they are stocked with plenty of beer and wine.)
In a very short time, it hits you that you are actually having fun and the work before you looks pretty darn good. As you have painted, chatted and sipped, the class's instructor and assistants have offered suggestions and answered questions.
Les recalled one woman who sat with a sour look and who even stated that she was leaving. But after some gentle encouragement, she wound up smiling at her canvas while also booking a future event.
Les often recognizes faces that return for multiple visits. He will ask how two people know each other, and enjoys when they tell him that they actually met at Fear No Easel and developed a friendship. He enjoys watching couples on a date – with the man enjoying the activity as much as the woman.
"It's not just a girly thing!" Les noted.
Many men enjoy creating gifts for their wife or mother. Special nights for couples are offered, where they may create mirror-image paintings together.
The past year has been one of happy growth for the business. Artistic options have expanded to include classes for painting wine glasses, and camps for children during summer and school breaks. Most recently, the business began selling items like t-shirts, prints and nautical maps that feature professional artists' images.
Fear No Easel has become what Les envisioned it to be – a place for social art, community and fun.
"What I really want people to know is that they can create their own art with help from us and not have to be worried," noted Les. "Painting should be fun and enjoyable and not stressful. And that's what we really want to accomplish." www.fearnoeasel.com.