Unique horseback riding experiences in the Lowcountry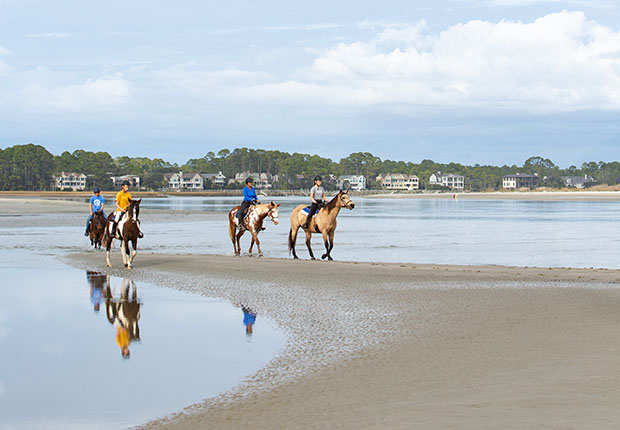 By Jenny Peterson
Photos by Aleece Sophia
It's a gorgeous day on the beach and the horses are ready.
There's an energy and excitement in the barn when they get saddled up; they know they are going for a beach ride along the pristine shores of Seabrook Island, just next to Kiawah Island.
You can see the horses' heads bobbing behind the beach dunes and as they enter through the beach access, and then it's a sight to marvel as the large, handsome beasts arrive onto the beach and walk straight to the shore of the Atlantic Ocean, leaving large hoofprints in the sand behind them.
It's not a common sight to see horses on the beach. For many, it's a bucket list item, a once-in-a-lifetime ride.
The few beachgoers who are on the nearly deserted part of the beach pull out their phones to document the scene.
The Seabrook Island Club Equestrian Center is one of the few places on the entire East Coast that offers horseback rides on the beach year-round.
For Seabrook Island locals, it's part of the charm of living in the community.
"The locals know us, and they'll put their dogs on a leash when they see us coming," explained Anna B. Morrow, one of the two guides who goes out with riders for beach rides, driving a four-wheeler on the sand nearby to watch for safety, including straps, saddles and stirrups. She also has a large shovel and is on manure cleanup.
"We want to be good neighbors," she said.
Under the watchful eye of the mounted guide, the riders took off in a trot and then a canter, a herd of horses racing along the shore.
They ended up taking a quick reprieve at Capt. Sam's Spit, an undeveloped area of the beach between Kiawah and Seabrook Islands, where dolphins were strand feeding in the afternoon sun, the horses not seeming bothered by the activity below the water.
Every day of the week except Sunday, groups of up to five riders plus two guides head out for hour-long rides and fun in the sun, just a short distance away from the equestrian center.
Anyone is welcome to sign up for a ride, including non-residents and those who have little experience. The beach ride has a walking option and an advanced rider option, where riders trot and right along the shore, where the footing is best for the horses, Shaw explains.
There is also a trail ride suitable for children as young as eight years old that meanders through woods and offers stunning marsh views. A deer or two might even pop up along the trail.
"The trail ride is really lovely, but the advanced beach ride is kind of 'known,'" said Shaw, Equestrian Barn Manager at the Seabrook Island Club. "We've had some of the best grand prix riders here and a former Olympian before."
Horses First
Shaw said that Seabook Island has been offering beachfront horse rides for 40 years.
"Seabrook Island has always had horses; we used to have two herds of wild Carolina Marsh Tacky horses," she said.
One Carolina Marsh Tacky lives at the barn, situated on 22 sprawling acres right at the entrance to the Seabrook Island community.
"When they were building Seabrook, they wanted to do something different from Kiawah Island and that was the horses," Shaw said.
There are 32 private horses boarded at the center and nearly two dozen horses owned by the club for trail rides, comprising almost every breed—Quarter Horses, paint breeds and more.
One of Shaw's favorite horses to ride on the beach is Leo, a 24-year-old registered paint breed, whose show name was "Paint the Moon" for his speckled coat.
The club purchases horses that are at least 12 years old and retired from another walk of life. Often, they are previous show horses or former jumpers in competition. Shaw and the staff of 16 or so (depending on the season) know each horse and their particular personality.
Shaw said the horses have to pass a training test before they are allowed to be beach trail horses, including going to the beach in all weather conditions with trained guides for a full year. Some don't pass, but that's OK; they'll just stick to the calmer trail rides inland.
"When we are making decisions about horses to ride, we are looking at the weather conditions and the horses' personality. If its windy, 'Dewy' the horse is not going to go, he's going to be so uptight about the waves coming to get him," Shaw said.
The horses at the barn are on a regular schedule—one beach ride and one trail ride Monday-Saturday for an hour each.
"This program is successful because our horses don't burn out; they know they have a day off, they know that every day at 6:30 a.m. they'll get fed, they're going to have a bath, and enjoy the acreage," Shaw said. "We can depend on them and they depend on us."
The COVID-19 pandemic has brought out more horse enthusiasts looking for safe, outdoor activities and there is a waiting list two weeks long for the beach rides.
The barn has implemented many safety protocols of sanitizing saddles and helmets between rides, closing their barn lobby for guests and requiring guests to wear masks. That is, until the ride begins.
"People come here to feel a little bit normal," Shaw said.
Living the Dream
Shaw is celebrating eight years at the Seabrook Island Club Equestrian Center, but her love of horses started when she was eight years old.
"I've been riding since I was a little girl and did barrel racing in Alabama," she said. "I went to camp like a lot of these staff members did; you couldn't tear me away from the barn."
After a career as a personal trainer, Shaw and her husband moved to Charleston after vacationing in the area for years.
"I was familiar with Seabrook and tried to find a place to ride and I said, 'one day, I'm going to work there.' I met so many people from being a personal trainer who didn't follow their calling and regretted it," Shaw said. "I had heard that story too many times and I walked in here eight years ago to get a part-time job. I moved up and I worked hard and made it as head of the barn."
Now she oversees every aspect of the barn, from the horses getting new shoes, to checkups from a veterinarian to of course, bringing riders out to the beach.
"It is so much fun, I can't describe how fun it is," she said.
Scenic trail rides are held at 10:30 a.m. and 2 p.m. Monday-Saturday. The cost is $75 per person. Beach rides are held once a day Monday-Saturday at varying times based on tides. The cost is $150 per person. 2313 Seabrook Island Rd. Visit www.seabrookisland.com or call (843) 768-7541 for more information.
Middleton Place Equestrian Center
History on Horseback
For the past 45 years, the sprawling grounds of Middleton Place in West Ashley have been a horseback riding destination. Here, riders learn the history about the National Historic Landmark and view America's Oldest Landscaped Gardens from atop a horse winding through immaculate trails.
The hour-long guided trail winds around the historic rice ponds that back up to the Ashley River.
"It's 'history on horseback' and goes around hidden trails with views of Middleton Place and the guides are going through the history and various stories of Middleton Place," said Danielle Huntsman, manager of the Middleton Place Equestrian Center. "The property its beautiful with huge oak trees lining the drive. We are known for our beautiful views and oak trees and have awesome guides."
Huntsman adds, "We've even had proposals at the end of the trail ride, and that's always a big hit."
The stables at the Middleton Place Equestrian Center have 14 trail horses with seven guides to accommodate up to six people at a time for trail rides.
The stables provide all the equipment to ride, including saddles and helmets. Everything is sanitized between rides.
Trail rides are offered at 10 a.m., noon and 2 p.m. Monday-Thursday and 10 a.m., noon, 2 p.m. and 4 p.m. on Fridays, Saturdays and Sundays. 4280 Ashley River Road. Rides are $75 per person. Visit www.middletonplaceequestriancenter.com or call 843-556-0449 for more information.
Charleston Area Therapeutic Riding, Inc.
Horse therapy
When Colleen Trepen first visited the stables of the Charleston Area Therapeutic Riding Center (CATR) on Johns Island 16 years ago, she knew it was a special place.
"My first impression was I just thought it was amazing that we could help people with disabilities enjoy the same things we all enjoy and give them the opportunities to learn horsemanship, riding, make friends here and connect with the horses," she said.
She recently took over as the groups' executive director, which includes overseeing the 20+ horses on 42 acres and leading a dedicated group of volunteers to help walk alongside the riders during sessions.
The non-profit's mission is to empower children and adults with a wide range of disabilities to enjoy more active lives through therapeutic horsemanship in a safe and enjoyable environment.
Therapeutic riding, also known as Equine Assisted Activities and Therapies, is the use of horses and equine-oriented activities to achieve a variety of therapeutic goals.
Benefits include improved balance, mobility, muscle tone, coordination and posture, increased concentration and self-confidence and enhanced independence. The center also welcomes veterans who can benefit from the program.
"Riding takes a lot of core strength and the horse moves your body in a circular motion, which mimics walking for folks that can't walk," Trepen said. "Just by riding a horse, they can develop hip mobility and the horse is also warm, so it helps with blood circulation."
She adds, "I think the mental part translates in that someone in a wheelchair is always looking up at the world. When they are on a horse, the roles are reversed and their perspective changes. They can enjoy that viewpoint of the world," she said.
For more information on how to volunteer, visit ww.catr-program.org or call 843-559-6040.