A Culinary Chameleon Achieves Zen—Again
By Wendy Swat Snyder
Photos by James Stefiuk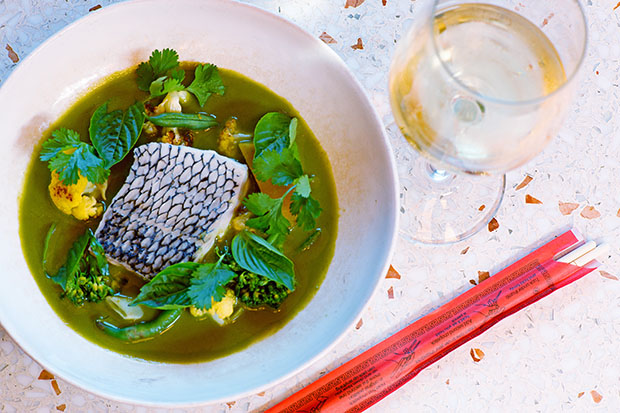 Chef Joshua Walker is nothing if not adaptable. He and partners Duolan Walker-Li and Joey Ryan have kept Charleston buzzing since opening their first eatery, Xiao Bao Biscuit, in a former gas station in 2012.
Tu arrived on the scene in late 2017, bringing to the Eastside a place where global cuisines were explored with the team's trademark culinary curiosity. And a little unpredictability.
"Tu has always been a passion project," says Walker. "We had wanted to start a second restaurant for a while, and for me, the first year was really interesting as it was a chance to branch out of Asian food after six or seven years of cooking it exclusively at Xiao Bao Biscuit. So at first we did food without any borders, drawing inspiration from cuisines all over the world—Peru, North Africa, Mexico."
Walker and wife Duolan, who is of Mongolian ethnicity, met in New York City and quit their jobs to spend several months traveling the Far East before settling down in Charleston, where Walker has family ties.
A year after opening, the focus of Tu narrowed—skipping from the original eclectic global concept that won the newcomer Eater's 2018 Restaurant of the Year Award to one that explored the foods and traditions of the Indian subcontinent.
"I had come from more of a fine dining background and was curious to branch out," explains Walker, whose credentials include stints in such New York City standouts as Silent H, Vinh Nguyen's hyper-authentic Vietnamese restaurant. "Sometimes creativity needs a box—and Indian cuisine was something that I was really excited to learn about and practice."
When the pandemic hit in March and restrictions hit the hospitality industry, the Tu team flipped the menu again and relaunched as a street food eatery; if diners had to shift to outdoor eating, the menu would be tailored to this new normal.
"The idea was to embrace that and focus on Asian street foods," explains Walker. "Think places like Singapore that have this wonderful mix of cultures—Chinese, Malay, Indian—and to have fun with a menu based on that essentially."
Walk-in patrons dine in an outside courtyard under a huge tent illuminated by strings of lights. An open-air room attached to the main restaurant serves as a more sheltered option. The beautifully renovated property on Meeting Street near the intersection of Spring Street has a Japanese aesthetic, with minimalist architectural lines and floor-to-ceiling windows that glow warmly from within when the sun goes down.
Doulan's touch is evident here, where a palette of pinks paint the rooms with a festive vibe. Huge globe pendant light fixtures floating above funky banquettes set the tone for a casual, fun night out.
Open for dinner Wednesday through Saturday, expect the unexpected when you stroll into Tu, where the menu—innovative yet reasonably priced—changes on a daily basis.
The evening I visited, the short, focused list featured hand-to-mouth delicacies like bao buns filled with filet of fish à la cha ca Hanoi; crab fried rice; and a martabak stuffed with chili cumin lamb and a side of sesame dipping sauce.
The dumpling that called my name was a pouf of glutinous rice, deep fried to a crisp, loaded with a dollop of spicy caramel pork and served with a splash of pickled ginger for extra zestiness. Walker credits Tu chef Vann Thomas for the crave-worthy dish.
Next on the plate was "Celebration," a Japanese-themed finger food that struck the right balance between healthful and sinful: a party of seasonal, local veggies that included cauliflower, broccolini, long beans and sweet potatoes—some tempura-battered and fried, and some lightly steamed—enhanced with a citrusy yuzu sauce. Each bite was a celebration of textures and flavors.
"We have long established relationships with folks like Abundant Seafood and Spade & Clover Gardens on Johns Island," notes Walker of Tu's local sources. "GrowFood Carolina is also an excellent resource and organization that honestly should exist in every state."
Featured on the menu was a local fish with green curry—a dish borrowed from Xiao Bao Biscuit you may wish to dig into with a fork. Walker explains that all their curry pastes are housemade—"unfortunately a rare thing, but it really makes a big difference," he said.
The hand-pulled noodles—another dish perfected by Thomas—consisted of broad ribbons of perfectly cooked pappardelle-like pasta in a rich meat sauce loaded with bits of chili cumin lamb, sesame and peanuts. Classic Chinese, and another total success.
Walker calls the butter chicken a "comfort classic, and probably the most popular dish in England."
Bite-sized morsels of very tender chicken floated in a velvety sauce, again, Tu's housemade curry—this one was makhana—enriched with cream and butter. Traditional and satisfying, it was served with lightly scented jasmine rice. A comforting winter go-to, as so many Indian dishes are, are best enjoyed with a frosty beer, recommends the chef.
Like the rest of the menu, sweets—such as pineapple cake with sweet coconut sauce, and Hawaiian butter mochi with mango ice cream—change daily as well.
"For me, I like food with big flavors," says Walker, explaining his culinary approach. "Most of the time we're not very subtle, and to pull that off and not make it overwhelming, you need to understand balance—it's like life. In theory, it's pretty easy to see and agree with, but it's hard to pull off in practice. Especially something interesting that is unique and just makes a lot of people happy. That's our goal."
Tu
430 Meeting Street
Charleston
www.tu-charleston.com