Seasons of Shawls
09 Sep 2015
Wearing the art of Jonathan Green
By JASON A. ZWIKER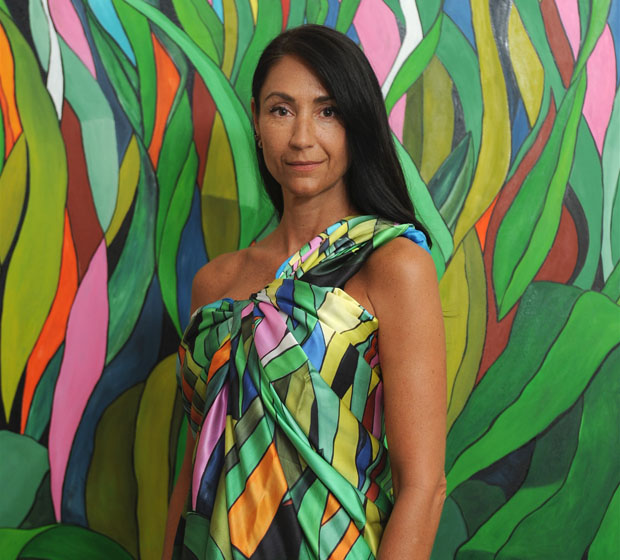 When: any evening in the late 1950s – early 1960s. Where: the best juke joint in town, awash in the cool breeze coming in off the ocean and the sound of music and laughter.
It was a time when men and women dressed themselves with the intent of commanding a room. And not an eye in that room could resist. They walked in like they were walking onto a stage, timing the moments in which they paused in the doorway – framed works of art – with precision.
Even as a child, Jonathan Green felt the power in that kind of presence. He understood that it was not only about how a person was dressed, but how the clothing made the person feel. Bright colors attract attention. Shawls and scarves can accentuate movement or be used to conceal, all according to the mood a person wants to convey.
"I've spent my life as a painter working with the concept of how the personality of a person is brought out through the clothes they wear, how clothing reflects culture," he says. Raised by his grandmother in Gardens Corner, he learned much by observing the patrons of the juke joint she owned, by absorbing the thrill of the music and dance, the songs of work and everyday life, by considering the care with which they prepared themselves for church.
Considered one of the signature voices of the Southern experience, Jonathan Green paints with a bold, powerful style. His work recalls in equal measure the beauty of the South Carolina Lowcountry, and the rhythms of Gullah life. His paintings can be found in collections all around the world, bursting with color, preserving the story of the sea islands and the people who lived and loved and built their lives there, together.
His lifelong passion for culture and clothing, as well as a desire to expand on his work for a larger audience, led to the design of, at first, head scarves. "I was commissioned to do a scarf early on for the American Heart Association and then later for a project with Mepkin Abbey," he says.
The scarves were gorgeous works of art, sure to accentuate any special occasion… "…and people started framing them, putting them up on their walls!" he says with a laugh.
He was honored, of course, that they would do so, but he also wanted to create something that people would wear and enjoy.
Collaboration with Victoria Ubina-Katzburg brought into being his latest passion: a series of silk shawls inspired by his art.
These are luxurious fashion items, like butter to the touch, and the print is gorgeous to behold. Representing the Four Seasons, they include Fire Grass, Evening Seascape, Marshland Landscape, and Day Skyscape.
"A single piece of fabric can do so much," he says. With practiced ease, he demonstrates the many ways the shawl can be draped to either accentuate or conceal, to add that extra je ne sais quoi that completes an outfit or to cover up if a theater is a bit on the chilly side.
The shawls are for everyone, men and women alike, and can be worn just as easily as sarongs or in other styles, limited only by imagination. As with all of Green's work, they evoke a feeling of marsh grass, clean skies, and closeness to the sea: the sense of storytelling, community, love, and belonging inherent in Gullah culture.
The shawls are sold at The Boutique Shop in Belmond Charleston Place, The Sanctuary at Kiawah Island Golf Resort, and online. Original lithographs by Jonathan Green can be found at Gallery Chuma on Meeting Street (gallerychuma.com).
And while these are beautiful things to wear, this is about far more than that for Green. "My sense of fashion reaches through 300 years," he says. "It's about understanding culture, understanding why certain colors and styles recur, what that says about not only the temperature of a part of the world but also the attitudes and ideas."
"We're still part of the animal kingdom," he says. "We'll use bright colors to attract one another. How we feel is often reflected in how we wear our clothing. The right colors and style can make us open up and become the center of a room."
He delves deeper: speaks of rituals, tea ceremonies, and taking the time to do things carefully and well. "When children are aware of their culture and are given the opportunity to express themselves, it's amazing the creativity that emerges."
He would like to see greater cultural education, events dedicated to the art of expressing the self through culture, clothing, and style. "It's not all that often that an opportunity comes along to preserve or re-create something that's been lost," he says. "But when it does happen, it's usually the role of the artist to lead the way." jonathangreencollection.com