Awesome Autumn Cuisine
09 Sep 2015
Native Scott Hall moved to the Big Apple to attend the NYC Theater Conservatory. Along the way, he became interested in cooking. He lived and worked in New York for 12 years, and has appeared on the Food Network and Cooking Channel shows, as well as the Travel Channel. The result is a sophisticated take on the cuisine of the South, with an urban flair and emphasis on fresh and local. In the midst of his growing success, Scott paused to create and share a few favorite recipes with us and our readers! You will love serving these dishes to family and friends.
Recipes by SCOTT HALL » Photos by AUSTIN PAGE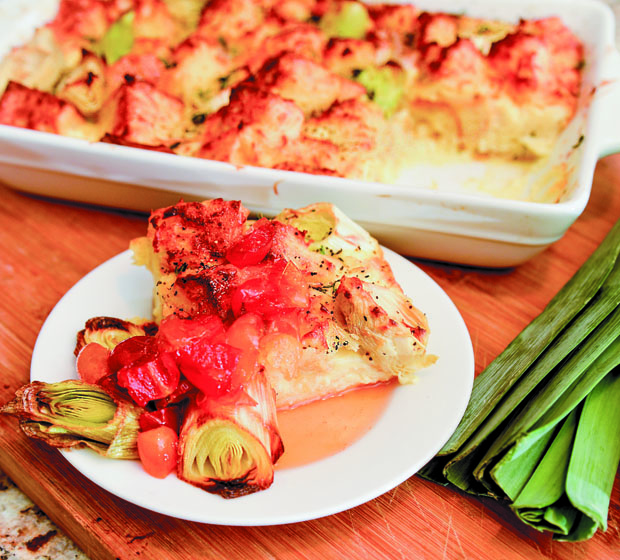 Creamy Mushroom Bruschetta
Servings vary
Earthy sautéed mushrooms & smoky bacon married in a rich cream sauce, piled over crusty buttered toast is at once rich and comforting while still feeling relatively light on your palate. It is a great dish for saying goodbye to the lighter fares of summer and looking forward to the comforting and sometimes decadent winter dishes to come. This dish makes a great opener for an autumn dinner with friends, a lovely addition to any fall cocktail party, or even the star of a light October luncheon. Substitute any mushrooms that look good to you and are available. I get very excited when freshly foraged chanterelles come my way.
Ingredients
1/4 cup olive oil
1/2 cup minced red onions
3 garlic cloves, minced
3 cups shiitake mushroom caps, cut in quarters, or halves for smaller caps
3 cups baby portable mushrooms, quartered
8 strips applewood smoked bacon
1/3 cup white wine
3/4 cups heavy cream
1 teaspoon fresh rosemary, minced
1 teaspoon orange zest
3/4 cup fontina cheese, grated
1/3 cup Parmegiano Reggiano, finely grated
1 French baguette, cut into crostini about 45 inches long, and 2 inches thick
6-8 leaves of sage sliced into chiffonade
20 leaves of fresh Italian parsley
Directions
On an ungreased cookie sheet, line the strips of bacon and roast in a 400 degree oven for about 20 minutes. Allow the bacon to cool and cut into lardons. Reserve 1 tablespoon bacon grease for this recipe and save the rest for another use.
Heat the olive oil & the bacon fat in a large frying pan over medium high heat. Add the onions, and cook until they are just beginning to caramelize, then add the garlic and cook for another 4 minutes, or until garlic is just beginning to brown.
Add the mushrooms two cups at a time, cooking them down a little before each addition. Season the mushrooms with salt & pepper to taste.
Add the white wine, deglazing the pan, and cook until the liquid has reduced to a rich thick sauce, 2 to 5 minutes, depending on the size and type of mushrooms used. Stir in the cream, rosemary and orange zest.
Mix in both cheeses, and the bacon lardons, and turn off the heat. Stir well and add salt and pepper to taste.
Place the cut baguette pieces on a cookie sheet. Brush with bacon fat or olive oil. Place the cookie sheet 6 inches below your ovens broiler. Toast until golden & crunchy on the outside and soft chewy on the inside, about 8 minutes, depending on your broiler.
To serve, pile the toast points high with the mushroom mixture, and garnish with fresh sage & Italian parsley.
Roasted Beet & Apple Salad in Creamy Chive Dressing
6 Servings
This simple classic salad is a wonderful bridge between the last days of summer and the first hints of crisp fall air. The dish can be tossed together for a rustic casual presentation, or carefully layered and arranged for a beautiful show stopper. Either way, the earthy beets, crisp sweet apples, and savory chive dressing marry perfectly, combining to make one of my all-time favorite classic salads.
Ingredients
2 pounds fresh beets
2 large granny smith apples, cut into match sticks & sprinkled with lemon juice
5 tablespoons creamy chive dressing (recipe follows)
1/4 cup thinly chopped scallions
1/4 cup fresh chives (1/2 inch cut)
Salt & pepper to taste
¼ cup crumbled aged goat cheese
Optional: Chive oil (recipe follows)
Directions
Preheat the oven to 375 degrees. In a baking dish, lightly drizzle the beets and thyme with olive oil. Season with salt and pepper. Cover with foil and roast until the beets are tender, about 1 hour and 45 minutes. Let cool, then peel the beets and cut them into small wedges. Toss the apple match sticks in 3 tablespoons of the chive dressing.
Arrange them as the first layer of the salad on your serving platter. Add the wedges of beets over the apples, being careful to place them where you want them on your first try, as they will stain the apple matchsticks once they touch them.
Drizzle the remaining creamy chive dressing over the beets.
Garnish with the goat cheese crumbles, scallions & chives, add salt & pepper to taste. If desired, drizzle a little chive oil over the finished salad.
Creamy Chive Dressing
Ingredients
3 tablespoons fresh squeezed lemon juice
1 cup heavy cream
1/4 cup sour cream
1/2 cup minced chives
Kosher salt
Black pepper (freshly ground)
1/2 teaspoon Dijon mustard
Directions
In a small jar, with a tightly fitting lid (I always use a mason jar), add all ingredients, cover with lid, and shake vigorously.
Chive Oil
Ingredients
1 cup roughly chopped fresh chives fresh squeezed lemon juice
1 cup extra virgin olive oil
1/2 teaspoon salt
Directions
Buzz the salt, chive, and olive oil up in a food processor, until the oil is a soft green with relatively small particles of chive remaining.
Mussels in Ale with Sweet Potatoes & Bacon
4 Servings
Steamed mussels can sometimes be intimidating to home cooks. Just make sure all the mussels are alive (shells tightly closed) and all the shells are clean and intact before you start.
There is nothing like a steaming bowl of mussels on a chilly night. That magical broth alone makes this one of my favorite first courses for autumn and winter dinner parties. With all the components neatly prepped and ready to go, it makes for some great culinary theatre, when finished in front of your guests.
Ingredients
4 lbs. live mussels
6 strips of thick cut applewood smoked bacon
1 large sweet potato peeled and cut into small dice
1½ tablespoons extra-virgin olive oil
1½ tablespoons unsalted butter
7 large cloves garlic, finely chopped
4 shallots, thinly sliced
1½ cups ale
1 small orange (zested & juiced)
3/4 cup chopped fresh flat-leaf parsley
8 sage leaves (4 finely chopped, four rough chopped)
French baguette cut into long toast points and toasted with butter
Directions
Rinse the mussels well under cold water. Pick them over, pulling off any beards and discarding any mussels that are broken or open.
On an ungreased cookie sheet, line the strips of bacon and roast in a 400 degree oven for about 20 minutes. Allow the bacon to cool and cut into lardons. Reserve 1 tablespoon bacon grease for this recipe and save the rest for another use.
In a large pot with a lid (I use an enamel cast iron Dutch oven), heat the oil, butter and bacon grease over medium heat. Add the shallots, red pepper flakes and diced sweet potato.
Cook until the onions are soft and beginning to caramelize, 5 or so minutes. Add the garlic and cook for another 3 minutes.
Add the mussels, ale, juice and zest of orange, half of the parsley and the finely chopped sage. Increase the heat to high, and cover the pan. After 2 minutes, remove the lid and toss the mussels well with a large spoon. Cover the pot again and cook until the mussels have opened wide, another 3 to 4 minutes. Discard any that do not open.
Add the remaining parsley and sage, give the mussels a final toss, and divide the mussels and the broth among bowls. Serve the toast points on the side.
Leak & Artichoke Bread Pudding with Tomato Jam
4-6 Servings
Savory bread pudding is one of my ultimate autumn go-to meals. Crunchy and crusty on the outside, warm and gooey inside, and always rich and decadent. It's also one of the most versatile dishes you can make. I like to make a savory bread pudding as my Sunday lunch with friends, and use it as a vehicle for whatever bits and pieces of produce I've got left in my fridge from the week. I usually serve it with a simple salad … something like baby arugula with a mustard vinaigrette and a crisp dry white wine. The tomato jam which I've served on top of this pudding is a nice way to add acidity to this very rich dish.
Ingredients
About 6 cups of 1-inch cubes bread (I like focaccia or ciabatta)
1 tablespoon unsalted butter (plus more for greasing the baking pan)
2 medium leeks, sliced well, washed and cut into thin discs (only the white and light green parts)
1 can of artichoke hearts, drained and roughly chopped
1/4 cup grated Swiss cheese
1/4 cup grated white cheddar
1/4 cup grated Parmesan cheese
3 large eggs
2 egg yolks
2 1/3 cups whole milk
1/2 cup heavy cream
1½ teaspoon coarse kosher salt
1/2 teaspoon black pepper
1/4 teaspoon granulated garlic
1/4 teaspoon cumin
1 cup Tomato Jam (recipe follows)
Fresh chives cut into 1/2 inch sections (optional)
Directions
In a large pan, heat your butter over medium heat until it is slightly browned and has a nutty aroma. Stir in the leeks and cook for about 5 minutes, stirring occasionally, until they have begun to brown. Turn the heat down to low and let them cook another 10 minutes, until caramelized.
Heat your oven to 350 degrees, spread the bread cubes on a baking sheet and toast them for about 10 minutes, until browned. Transfer them to a large mixing bowl. Stir in the leeks and add the artichokes and the cheeses and toss everything together.
In a large mixing bowl whisk together the eggs, egg yolks, milk, cream, salt, pepper, garlic, & cumin. Stir in the bread, cheese, & vegetable mixture and let sit refrigerated for 30 minutes.
Butter a 9-inch square loaf pan well, and fill with bread pudding mixture. Allow the custard to seep down to the bottom and chunks of bread to remain sticking out of the top of the pan. These will become browned and crunchy during the baking.
Put the bread pudding into the oven and bake for about an hour, until it is set and the top is nicely browned. Take the bread pudding out and let it cool for at least 15 minutes before serving. Slice to serve and top with a heaping spoonful of tomato jam & fresh chives if you like.
Simple Tomato Jam
Ingredients
1 tablespoon extra-virgin olive oil
2 small cloves garlic, minced
1 medium sweet yellow onion, cut to small dice
1 can (28 ounces) large diced tomatoes
1/2 cup red-wine vinegar
1/4 cup honey
1/4 cup sugar
1/4 cup molasses
1 Tbs. kosher coarse salt
Directions
In a medium sauce pot over medium heat, heat olive oil, add garlic and
onion, and sauté until translucent. Add tomatoes. Add vinegar, honey, sugar and molasses.
Simmer, stirring occasionally, until tomatoes have mostly broken down and
liquid has cooked down by three-fourths, 30 to 40 minutes.
Jam will keep in the refrigerator for 2 weeks.
Confit of Chicken Legs with Kalamata Olive & Orange Relish
2-3 Servings
I love using the confit technique for this decadent chicken dish. Try experimenting with different types of fat. Vegetable oil, Olive oil, melted lard, or duck fat all work wonderfully, each with slightly different results.
Ingredients
2 tablespoons kosher salt
2 teaspoons ground dry thyme
2 teaspoons granulated garlic
6 chicken legs, skin on
2 tablespoons fresh thyme leaves coarsely chopped
3 peeled garlic cloves, thinly sliced
8 cups vegetable oil (or liquid fat of your choice)
1/4 cup olive oil
1 tablespoon orange zest
3 tablespoons fresh squeezed orange juice
2 tablespoons sherry vinegar
3/4 cups pitted & roughly chopped Kalamata olives
1/4 cup orange marmalade
1/4 cup chopped scallions
5 whole sprigs fresh thyme
Directions
In a small bowl, mix the salt, ground thyme, and granulated garlic. Rub the salt and mixture all over the chicken legs. Tuck half of the garlic and fresh thyme leaves under the skin of the chicken, cover in plastic wrap, and refrigerate overnight.
Preheat oven to 275 degrees. Pat chicken dry. Transfer chicken legs to a deep, lidded casserole dish (I use an enameled, cast iron Dutch oven).
Arrange the legs so they fit tightly in a single layer. Cover the chicken legs with the fat, they should be completely submerged. Transfer the dish to the oven and bake for 2 and a half hours.
Meanwhile, mix the olives, olive oil, orange zest, orange juice, sherry vinegar, marmalade, and remaining chopped thyme in small sauce pan. Season with salt & pepper to taste. Simmer this mixture over low heat for about 5 to 10 minutes or until it has thickened substantially. After baking, take out the chicken legs and turn the oven up to 400 degrees.
Transfer the chicken legs to a rack & let stand until the skin has dried, about 15 minutes. Reserve the fat for another use (great for sautéing vegetables).
After the chicken legs have drained, place them on a cookie sheet covered in parchment and roast them in the oven until the skin is golden and crisp, about 10 to 15 minutes.
Plate the chicken and garnish with the Kalamata olive relish, thyme sprigs, fresh orange zest, and chopped scallions.
Brisket Stuffed Mac & Cheese
8-10 Servings
Ingredients
3 tablespoons salt
16 ounces small macaroni or penne pasta
5 tablespoons bacon fat (or butter)
1 medium yellow onion (small dice)
4 cups milk
1 pound sharp cheddar cheese
1 teaspoon Sriracha
4 tablespoons all-purpose flour
1 teaspoon kosher salt
1/2 teaspoon fresh ground pepper
1/4 teaspoon nutmeg
1/4 teaspoon garlic powder
1/4 cup panko
4 cups smoked & shredded brisket
1 cup hoisin sauce
Directions
In a heavy bottomed pot sauté diced onion in 1 tablespoon of bacon fat until translucent.
Reduce heat to low, add milk and bring to a simmer, simmer for 5-10 minutes, remove from heat, bring to room temperature and chill in the refrigerator for 1 hour.
Bring about 1 gallon of water to a boil in a large stock pot, add the table salt and the noodles and boil for about 10-12 minutes. Strain and mix the pasta in cold water and set aside.
Strain the onions from the milk mixture.
Heat remaining bacon fat in a large heavy bottomed saucepan over high heat, whisk in flour and cook for 1 minute. Slowly add 1/2 of the milk, whisking vigorously until it has thickened to a smooth paste.
Add the remaining milk whisking vigorously until the sauce thickens again, cook for 1 to 2 minutes.
Add about 3/4 of the cheese and stir until it has completely melted into the mixture, add the Sriracha, kosher salt, ground pepper, nutmeg and garlic powder.
Mix the smoked & shredded brisket with the hoisin sauce.
Add the cooked pasta to the sauce and fold together until the pasta is evenly coated, pour pasta and sauce mixture filling half a 9 x 13 inch baking dish. Add the brisket and top with remaining mac and cheese mixture and sprinkle remaining cheese over the top evenly, and sprinkle the panko over the cheese evenly.
Place the dish into a preheated 400 degree oven and bake for about 25 - 30 minutes.
Sweet Corn Cake with Gingered Peaches & Mascarpone Cheese
8-10 Servings
I love this simple dessert's marriage of savory and sweet. Go with goat cheese to play on this effect, or for a more traditional approach, use whipped cream and omit the scallions.
Ingredients
1/2 cup cornmeal
1½ cups flour
1 teaspoon cinnamon
1 2/3 cup sugar
1 tablespoon baking powder
1/2 teaspoon salt
1/3 cup oil
3 tablespoons melted butter
2 tablespoons honey
2 eggs
1 1/4 cups milk
Gingered peaches
1 cup mascarpone (or goat cheese)
1/4 cup chopped scallions (optional)
Flaky sea salt (garnish)
Directions
Preheat oven to 300 degrees.
In a bowl, whisk together cornmeal, flour, cinnamon, sugar, baking powder, and salt. Pour batter into a greased 8 inch square pan. Bake for 35 minutes.
After the cake has cooled, ladle a generous helping of gingered peach preserves over a slice of cake and top with a spoonful or so of cheese. Garnish with scallions and flaky salt.
Gingered Peaches
Ingredients
3 lbs. fresh peaches, peeled & sliced
3 tablespoons finely chopped crystalized ginger
1 teaspoon ground ginger
1 teaspoon cinnamon
5 cups sugar
Directions
Combine all ingredients in a sauce pot and cook over medium heat, stirring regularly until the liquids have been expressed from the peaches and have cooked down to a thick jam-like consistency, about 10-20 minutes.
Rosemary's Baby
This drink feels to me like fall in a glass. In fact, "Fall in a Glass" was the name proposed by
Justin Weinberg, a good friend of mine who helped me develop this cocktail for competition at
the first Great American Whiskey Fair, held every year in Columbia by Kristien Neimi and
the good folks at Bourbon restaurant (my go to cocktail bar in Columbia).
In the end my love of kitsch & punnery won out & Rosemary's Baby was thusly named. I think it works pretty well, as that movie often conjures up images of rainy, gloomy afternoons, and too many of them might lead you to feel like you've given birth to the devil the next morning. Try a little "Tannis root"* to get that devil feeling out.
Ingredients
1 oz bourbon
1/2 oz AppleJack
1 scant bar spoon Grand Marnier
1/2 oz maple syrup
1/4 oz lemon juice
2 short sprigs of rosemary
1 dash black walnut bitters
1 scant pinch of sea salt
Directions
Strip the leaves of one of the rosemary sprigs and muddle with the lemon juice in the bottom of a cocktail shaker.
Fill with ice and add all other ingredients.
Shake and strain into a coupe or cocktail glass.
Light the remaining rosemary sprig until it is smoking and slightly charred, then extinguish the rosemary in the cocktail just before serving.
* Tannis root is the fictional, mysterious herb used by the devil worshipping neighbors of Rosemary in Roman Polanski's classic Rosemary's Baby, and in the novel of the same name by Ira Levin.