Firefly Distillery debuts new location
By Barry Waldman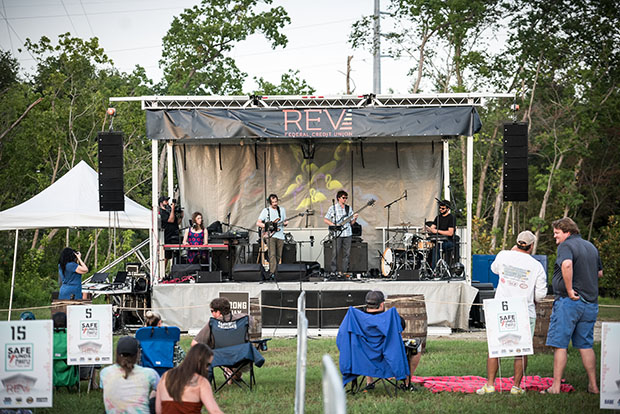 In days of yore, buying liquor in South Carolina required an enhanced level of commitment from both the seller and consumer—not on Sunday and only in small amounts.
Those ancient times of near-Prohibition harken all the way to 2005. At the time, micro-distilleries – producers of fewer than 100,000 gallons of distilled spirits – numbered a mere handful nationally.
Then along came Jim Irvin and Scott Newitt, a pair of wine guys in the Lowcountry. The duo had a vision for selling vodka with a Lowcountry twist. They started their operation from land Jim owned in Wadmalaw Island, but first, they needed to bring South Carolina's liquor laws into the 21st century. At the time, the Palmetto State had stood alone in limiting liquor to two-ounce servings.
While they cooked up the first batches of their now-iconic Sweet Tea Vodka under the Firefly Distillery brand from Florida, where such activities were legal, they joined a whole industry that successfully lobbied the South Carolina legislature to slash the annual licensing fee from $50,000 to $5,000, ditch the antiquated mini-bottle rule and allow producers to conduct tastings.
They set up their distillery next door to the Charleston Tea Plantation in 2008 and within nine months, were selling Sweet Tea Vodka to all 50 states.
It was like inviting all corners of the country onto a Charleston piazza to sip, relax and watch the sun set. At the time, the list of distilleries in South Carolina looked like this: Firefly.
Today there are more than 30.
Since then, Firefly has introduced an array of new flavors and offerings: Refreshing lemonade vodka with the perfect sweet-tart balance; smooth seven-year bourbon that resonates with the vanilla and smoke of its oak barrels; a whole series of moonshines in mason jars with flavors like apple pie and blackberry.
Many of their 25 liquors are unique to Firefly; the world's only mint tea vodka is made here.
And this year, they are somewhere new. In February, having outgrown its rural Wadmalaw space, Firefly Distillery moved lock, stock and barrels to sixteen pristine acres of live oaks draped in Spanish moss hard against the Noisette Creek, down a dirt road from civilization.
"The magic in Wadmalaw was going down a dirt road on a farm, and you have that when you turn off Spruill onto our dirt road now," says Newitt. "You have the feeling that you've escaped the day. And that's the feeling of our sweet tea vodka."
It feels as if you're back in Wadmalaw, but there are a few differences. The 25,000-foot distillery is larger, for one thing, plus they have opened up the sprawling grounds to events, with a concert series, complete with food trucks, that they now have the room to sponsor on their grounds.
There's an expanded tasting room where, for $10 bucks, you can sample a half dozen Firefly offerings, a banquet hall for unique events with a side of liquor and tours that include the original still, information about the process of distilling, and the history of the company and the bootlegging that once took place on the property.
Everything on the new site is larger, with the bonus of proximity to most of the Lowcountry.
"We like being near Park Circle; it's like the Brooklyn of the Lowcountry," Newitt said.
Business was guns-a-blazing for five great weeks after the move – until the world came to a halt in mid-March. Amid a pandemic, all six weddings scheduled for its banquet hall were called off. The tours are cancelled indefinitely. The Safe Sounds concert series was reimagined as ticket sales were limited to 500 people (despite a 5,000-person capacity on the expansive property) and seating was arranged in 10-squre-foot batches eight feet apart.
"I asked my friends in healthcare if they thought our concert idea was dangerous and they said it was restoring mental health," said Newitt. "It's a cool way to bring some normalcy to folks during this pandemic."
Diverse regional acts and a variety of food truck fare are expected to highlight the bill when the series resumes in September. Ironically, South Carolina law prohibits sale of spirits after 7 p.m., so no Caramel Moonshine or Chocolate Pecan Pie Southern Accents liqueur during the concert. Beer and wine will be available.
And now, while the company continues to lift spirits literally and figuratively, the biggest difference between life on Wadmalaw and closer to the center of the region is a unique contribution best made by an alcohol producer: Hand sanitizer.
As supplies of hand sanitizer lagged the exploding demand in early Spring, Firefly moved quickly to win FDA approval for their formula and roll out supplies. Re-deploying the alcohol they were already producing, making it undrinkable and adding hydrogen peroxide and filling half-gallon liquor bottles produced a unique concoction with an incongruous label.
Firefly Distillery gave away some of the 900 gallons to medical facilities and sold the remainder for $25 bucks each. Newitt says some folks bought it as a keepsake because of their affinity to the brand. They've produced a second round but say that will be the end unless events warrant it. They don't want to get sidetracked from what they do best.
While America enjoys a taste of the Lowcountry in liquor bottles from the 48,000 gallons of sprits Firefly produces annually, those of us fortunate enough to call this place home get so much more.
Take a ride to Firefly's new digs for a stroll onto the grounds, a tour of the distillery, an educational tasting, an event like no other you've attended, or an opportunity to catch some live music on the shores of the creek.
It's nice to know that the magic in the bottle is still reproduced on-site – just at one that's more spacious and convenient.
Firefly Distillery is located at 4201 Spruill Avenue. For more information including a schedule of upcoming events, visit FireflyDistillery.com.
Want to go?
The new Firefly Distillery location in North Charleston sits on four pristine acres with live oaks draped in Spanish moss and an expansive lawn and is open every day but Sunday from 12-6 p.m. Bring a blanket and your favorite lawn game to socially distance out on the field. In the tasting room, you can sample half a dozen Firefly offerings like flavored vodkas and moonshine at the tasting room for $10. The distillery hosts food trucks every Friday from 12-4 p.m. and live music every Saturday from 1-4 p.m. 4201 Spruill Avenue. FireflyDistillery.com.