Small-Town Swagger
06 Mar 2018
South Carolina band NEEDTOBREATHE soars in popularity, but keeps their goals focused on family bonds and giving back to the community
By TERI ERRICO GRIFFIS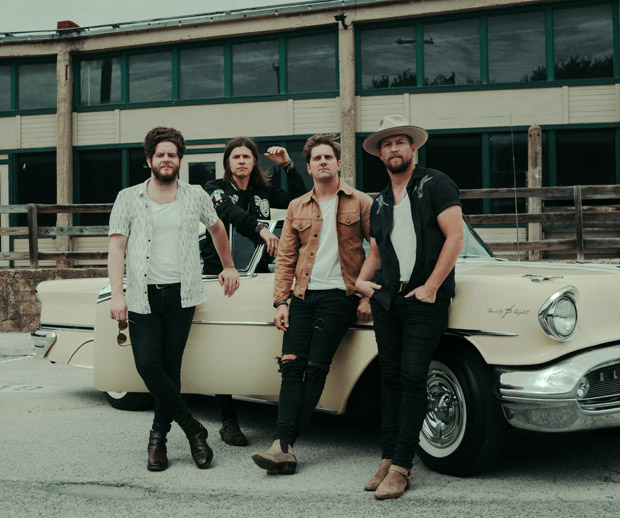 In today's music scene, it's a breath of fresh air to find a group who plays, just for the love of it. Not for the Grammy (though they were nominated), not for the screaming fans (though they have those, too), but for the joy of the art and the thrill of how far they can push the creation process. The biggest band you've never heard of—NEEDTOBREATHE is a band that values family, their South Carolina roots and that they have a platform to bring attention to life-changing charities, such as Charleston-based OneWorld Health.
"It's been an interesting ride," says Bear Rinehart, who grew up in Possum Kingdom, S.C., with brother and bandmate, Bo (guitar).
We met Bear, lead singer, guitarist and pianist, on a recent Tuesday morning in Mount Pleasant's Collective Café, sitting undisturbed at a sunlit table. "There's been a lot of times where it might have made sense to move to Nashville or New York. But we love it here in South Carolina," he says noting he and his brother, as well as bandmate Seth Bolt (bass) still live here. Fourth band member Josh Lovelace (keys) lives in Knoxville, Tenn. "It's cool to come here in the morning where there aren't so many other musicians here, or people may not know me and what I do."
To stay as close to home as possible, the band, who's been together nearly 15 years, even built a studio in Summerville. "It's in a neighborhood. It looks like a suburban home, so no one knows it's there, but we can play our music as loud as we want, and nobody can hear us," Rinehart laughs.
Rinehart and his brother grew up in a house full of music. Their mother was a piano teacher and their father traveled with southern gospel artists Roy Clark and Glen Campbell—he was also a pastor. As a result, the brothers were only allowed to listen to Christian music.
"My dad was aware what the road was like, and told us, you cannot [pursue music] until you finish school," says Rinehart, who graduated from Furman University with a political science degree—and was recently honored as a distinguished alumnus. "I think we got a little later start than we probably would have because of my dad. Which is probably a good thing!"
Making Something Beautiful
From their first album Daylight, released in late 2006, to their latest H A R D L O V E, the band's music continues to evolve with every release.
"Every time we make a record we want it to be completely different and shocking. We were big fans of Beck and Jack White and all the musicians who had fans that didn't care where they headed on each record," Rinehart says. "We always had a plan to be the band that would be around for 20 years, but we knew to be like that, things had to change constantly. That's why the records have shifted. And the next record may be totally different from what people are expecting it will be."
Their seventh record is already in the works, Rinehart notes, with the band currently writing music—and hoping to tease some new sounds out from it this year.
Back when they began more than a decade ago, Rinehart said the band "in our small-town minds" always believed they'd be the biggest band in the world—they just had no idea what that meant. Over the years, they have opened for Faith Hill and Tim McGraw, as well as Taylor Swift. Their song "More Time" was featured on the P.S. I Love You soundtrack, they were interviewed by Rolling Stone magazine and sold out Red Rocks Amphitheatre. But while they celebrated the milestones, they remain humble and unchanged, not giving in to the pressure to out-do each benchmark.
Rinehart continues, "Our goals aren't monetary or radio-based. It's a more artistic thing. We always talk about the swagger we have as musicians and it comes from changing our game constantly. Doing things we're not necessarily good at right away or at least taking the risks and experiencing them."
Bringing the People Together
Years ago, Rinehart met the founders of Charleston-based OneWorld Health, which provides quality, affordable healthcare to the communities around the world that need it most—primarily with self-sustaining medical clinics. The musician offered to edit a video for them and in doing so watched nearly 15 hours of footage. "I felt like I'd been on the trips with them," he says. Then he actually went on one to Africa and his eyes opened.
"They had a program to fix something that would work on a long-term solution and I thought, 'How can we help?'" Rinehart says. "So we started selling T-shirts and posters where the proceeds went to them. Then a golf tournament. Now it's a dollar on a ticket for anybody that ever comes to see us play. We're really proud of what we've been able to do, because we've stayed consistent with OneWorld Health."
In February, NEEDTOBREATHE headed to Nicaragua for the grand opening of their second NEEDTOBREATHE Medical Center in Jinotega. The first NEEDTOBREATHE Medical Center was opened one year ago in Tola. Both medical centers were funded in part by fan donations and ticket sales. "The clinic in Tola is now seeing almost 500 patients a week. It's really crazy to think that these buildings are going to be there in that community for a long time—probably after I'm gone. It's a legacy that we all have," says Rinehart.
Supporting the bigger picture also grounds the band. "It gets tough on the road. And the reason to make music, for one is to inspire the people, and this is part of it," he explains. "There can be some lonely nights away from your family, and having something much bigger that you're working for alongside your own success and own job is critical," Rinehart notes, adding even his wife, a nurse, has gotten involved and joined him on OneWorld trips overseas.
In addition to ticket and merchandise sales, NEEDTOBREATHE works with the Commonwealth Cares Foundation on Daniel Island to organize an annual celebrity golf tournament—held this year on April 23 at Daniel Island Golf Club. Just years ago, Rinehart and his bandmates were calling friends to come to Charleston for a weekend and scrambling for auction items the night before, asking fellow musicians if they'd donate meet-and-greets or tickets. Today, nearly 250 people participate in the two-day NEEDTOBREATHE Classic, with businesses eager to pay tens of thousands of dollars to sponsor. "It has grown tremendously, and people love the experience," Rinehart says.
The tournament includes master golfers, musicians and athletes. To date, NEEDTOBREATHE has raised more than $1 million for OneWorld Health through the Classic, fan donations, and ticket sales.
While it's serious business, the tournament is also fun—just what the band needs after coming off a 43-city, 53-show tour, including Red Rocks Amphitheater, a bucket list goal of the band's. (Playing Carnegie Hall is another dream they'd love to check.)
So what's next? A fall tour, for starters. "We're excited and have a lot of ideas and venues we're working on. It's going to be a big blow out tour," Rinehart says.
Tour, tournament, albums and fans—come what may, the heart of the band remains where it began: with family. "When you get to a certain level, you realize however big this band gets, it's not going to be your definition of success anymore. How close you are to your family is the true measure of success, at least for us."