Strand Feeding and Other Fascinating Facts
12 May 2021
Lowcountry Marine Mammal Network has a heart for dolphins
By Brian Sherman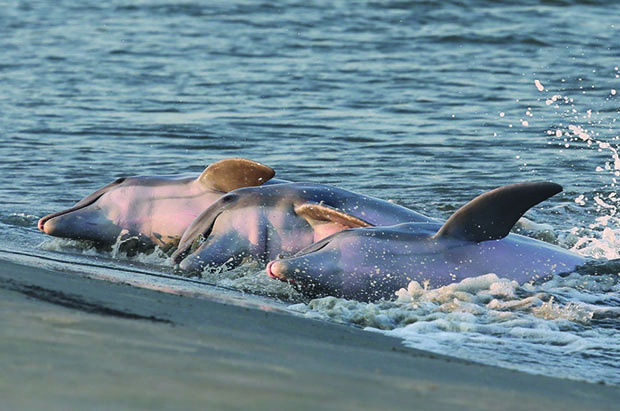 You might spot a large but graceful mammal pop out of the ocean for a few seconds during a day at the beach on one of the Charleston area's islands, but chances are, these highly intelligent beings are just passing through. The 350 or so Atlantic bottlenose dolphins who call the Lowcountry home spend the bulk of their time in one of five major rivers along the South Carolina coast.
That's just one of many fascinating facts about the dolphins who inhabit the Cooper, Ashley, Stono Wando and Edisto rivers and their smaller tributaries year-round who have perfected a method of feeding found in only a few other places in the entire world.
"They spend 90 percent of their time in the rivers, and, because our water is so brackish, they can deal with it just fine. They grew up here and they're used to the water," said Lauren Rust, founder and executive director of the Lowcountry Marine Mammal Network (LMMN). "Sometimes they go pretty far upriver."
Rust says that some of the dolphins spotted near shore at the beach might be local residents who venture into the Atlantic Ocean in search of a meal or, in some cases, to get from one river to another. She said in the summer, migratory dolphins usually show up in the Charleston area, so it can be difficult to tell which ones live here permanently and which are just in the Lowcountry for a short visit, unless they are among those that have been tagged and tracked by the National Oceanic and Atmospheric Administration (NOAA).
Rust said for more than 20 years, NOAA has been maintaining a database that includes many local Atlantic bottlenose dolphins, and she pointed out that the LMMN staff and volunteers recognize many of them based on scars, injuries, birth defects or other defining characteristics. They've even named some of the dolphins. For instance, a pair of calves born a few years ago are known by the monikers Koko and Kai.
Established in 2017, the nonprofit organization's main purposes are to educate the public and respond to sick and injured marine mammals, in collaboration with Coastal Carolina University and NOAA. There's a lot to learn about marine mammals found along the Carolina shoreline, including spotted dolphins, pygmy sperm whales, humpback whales and right whales.
An Eye on Dolphins
LMMN's main focus is Atlantic bottlenose dolphins, a species that in the Lowcountry secures nourishment through strand feeding, a method practiced almost nowhere else on the planet. They corral their dinner, usually mullet, against a dock or sand bar and push the fish ashore, grabbing them on land and pulling them back into the water.
"It's a unique feeding behavior only seen in a few places around the world. They typically do it in small creeks or inlets—anywhere they can trap the fish," said Rust, who pointed out that "they learned it from their mom."
Rust explained that though dolphins do not have what humans would define as families, the mom spends three to five years with her calves before they are required to face the world on their own. One of the things they learn is how to cooperate with other members of the pod during the strand-feeding process.
"This incredible behavior is a coordinated, synchronized foraging behavior only seen in South Carolina and Georgia on the East Coast and only in a handful of places worldwide," she added. "And because it's passed down through generations, not all dolphins in South Carolina strand feed."
Rust said that in addition to the feeding habits of the local dolphin population, it's also unusual for a group of the mammals to live in one place throughout the year. Because there's plenty of food, few predators and not much traveling involved, some of them reach the age of 40 or older, about 15 years longer than dolphins that inhabit the ocean, Rust said.
"We're lucky to have a unique, local population," she said, although between 55 and 70 marine mammals die each year in the Lowcountry, many of them Atlantic bottlenose dolphins.
Some fall victim to viral infections, malnutrition or simply old age, and a few newborns don't make it as well, but dolphins also are struck by boats, injured by fishing gear or entangled in crab traps. Through LMMN's education and outreach programs, Rust hopes to eliminate at least some of these unnecessary fatalities.
For the past three years, through a grant provided by the towns of Kiawah and Seabrook islands, the Lowcountry Marine Mammal Network has been running a program on the two islands aimed at educating the public and "encouraging onlookers to give the dolphins space to feed."
She noted that few areas on the East Coast can boast of having a year-round dolphin population, other than Charleston and Sarasota, Florida.
"We feel if the community knew more about the local dolphin population and how unique they are, they would not only stop engaging in these negative behaviors but become leaders in this conservation movement," she said.
The organization also works to educate residents and visitors about what they can and cannot do when it comes to interacting with the local dolphin population. Because they are a federally protected species, people are not allowed to feed, pet, swim with or chase them – or harass them in any way, a term that encompasses "anything that disrupts their natural behavior," Rust said.
"A lot of people don't realize what the long-term effects of feeding them could be," Rust noted. "The animals might start begging for food and get too close to boats. They might teach their young how to beg."
The LMMN is a member of the South Carolina Marine Mammal Stranding Network, which is authorized by NOAA to respond to marine mammal strandings. Rust pointed out most states along the coast have between five and 15 response teams, while in the Palmetto State, there is only one. LMMN partners with the SCMMSN, administered by Coastal Carolina University, to respond to strandings along the South Carolina coast.
"Because they are federally protected, you need authorization to touch any marine mammal, dead or alive," Rust explained. "We help collect valuable data related to genetics, diet, age, reproduction and stomach content."
Intent on initiating the education process at a young age, Rust started a summer camp program for 8- to 13-year-olds. Last year, they met at Demetre Park on James Island and discussed what needs to be done when a dolphin is stranded. Around 200 kids learned about possible injuries and illnesses and how they should respond to help the animal. She said the 45-minute program would be available again this year, hopefully with twice that number of participants.
Rust said she hopes to partner with Camp Sewee this year, providing the youth-oriented program to campers one day a week at Folly Beach.
Rust earned her bachelor's degree in marine biology at the College of Charleston and a master's in ecology at the University of Wales. When she returned to the Lowcountry after spending time at the Marine Mammal Center in San Francisco, she was surprised at the lack of education, outreach and volunteer opportunities for people interested in dolphins and other sea mammals.
"Starting a nonprofit was the best way to provide this education and outreach," she said. "We want to be a bridge between the scientific community and the general public."