Summer Bucket List
04 Jul 2020
Memories that last a lifetime
By Jenny Peterson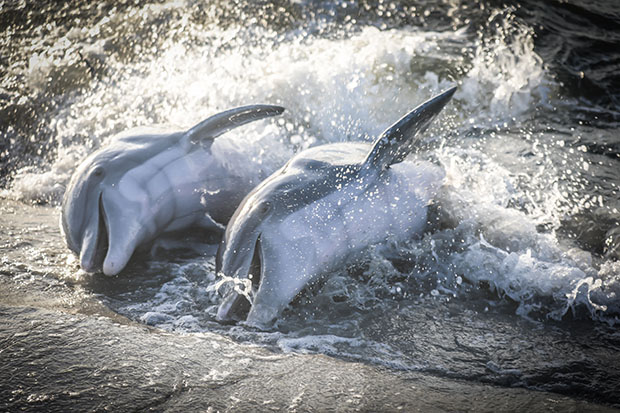 Charleston has long been hailed among the country—and world—as a World' Best City, Best Places in the U.S., Best Place to Visit, Best Place to Eat and more.
With a city full of rich history, landmark sites and flurry of activities and events, how do you narrow down activities that are uniquely Charleston?
Below is a summer "bucket list"—must-dos that are fun for all ages, best enjoyed in the warm summer months and which give you a uniquely Charleston experience, whether you've lived here for decades or just making the Lowcountry your home. Don't forget the sunscreen!
Dolphin strand feeding
An event that only occurs in the Lowcountry, dolphins have a unique behavior where they use the area's many sandbars in order to fish. When dolphins feed here, they herd a school of fish or shrimp up onto a sandbar at low tide and then launch their bodies out of the water to feed. It is a marvel to watch and typically seen from mid-July into September. Catch this one-of-a-kind event with a guided tour, like Flipper Finders (flipperfinders.com), out of Folly Beach which offers daily tours of Lowcountry waterways on its 18-passenger pontoon boat.
Walk, Run or Bike the Ravenel Bridge
An iconic addition to the Charleston landscape, the Arthur Ravenel Jr. Bridge opened in 2005 as the longest cable-stayed bridge of its time in North America and the tallest structure in South Carolina. The two-and-a-half-mile-long bridge that connects Charleston to Mt. Pleasant included a 12' wide paved bike/pedestrian path called Wonders' Way which offers panoramic views of the Charleston Harbor. It's a popular attraction for runners, walkers and bikers, many who stop at the top to snap a selfie during an epic sunset. The path is easy to access from Mt. Pleasant's Waterfront Park, 99 Harry M. Hallman Blvd.
Surf Lessons
In the summer months, residents and visitors flock to the area's local beaches for sun and surf. While Charleston's waves aren't ones for the record books, they are perfect for those new to the sport. Knowledgeable surf guides can help you get started in the sport with one-on-one and group lessons using foam boards and dry-land exercises. Check out Isla Surf School, out of Folly Beach, which offers a variety of 90-minute lesson packages to fit your experience, age and group size. islasurfschool-charleston.com
Harbor Cruises
The best sightseeing in Charleston is done from the water, and there are a variety of harbor tours that take passengers for a spin around the Charleston Harbor with views of The Battery, the many spires that give the Holy City its name and the aircraft carrier the Yorktown on the bank of Mt. Pleasant. From private charters, where you can BYOB with a group of friends from Harborview Charters (harborviewcharters.com), to a fully air-conditioned enclosed and guided tour experience from Spiritline Charters (spiritlinecruises.com) to sunset tours through Adventure Harbor Tours (adventureharbortours.com/sunset-boat-cruise) there's something for everyone.
Visit the Angel Oak
On Johns Island, you can find what is considered to be the largest Live Oak tree east of the Mississippi, estimated to be 300-400 years old. The "Angel Oak" Southern Live Oak tree is 65 feet high with a circumference of 25.5 feet, shading an area of 17,000 square feet. It is the focal point of one of the City of Charleston's most visited public parks. The public is allowed daily free access, and a picnic area lets you enjoy a day in the shade. Closed on major holidays. 3688 Angel Oak Road.
Standup Paddle Boarding
Standup paddle boarding is perfect for Charleston's calm creeks and intracoastal waterways. Many companies offer paddleboard rentals and guided tours. Charleston Paddleboard Co. (charlestonpaddleboardco.com) has a location out of Shem Creek in Mt. Pleasant, a creek with minimal tides and currents, which allows for an easier paddle boarding experience. Experts outfit you with everything you need.
Paint the Folly Boat
The Folly boat is a 36-foot-long vessel that settled along the side of Folly Road near Folly Beach following Hurricane Hugo in 1980 and turned into a canvas for individual expression of messages and art. With no one claiming it or moving it, the boat was painted almost weekly. In 2017, Tropical Storm Irma's winds and waters took the boat back into the marsh. After much coordination, the boat has returned to Folly Road next to The Barrel craft beer bar on James Island, again welcoming anyone to paint messages. Pick up a can of paint and spray paint to make your mark on this uniquely Charleston "pop-up" billboard.