Throw a Local Lū'au
24 May 2023
Your Foolproof Guide to Hosting a Heavenly Hawaiian Feast
By Fanny Slater
Photos by Carin Hall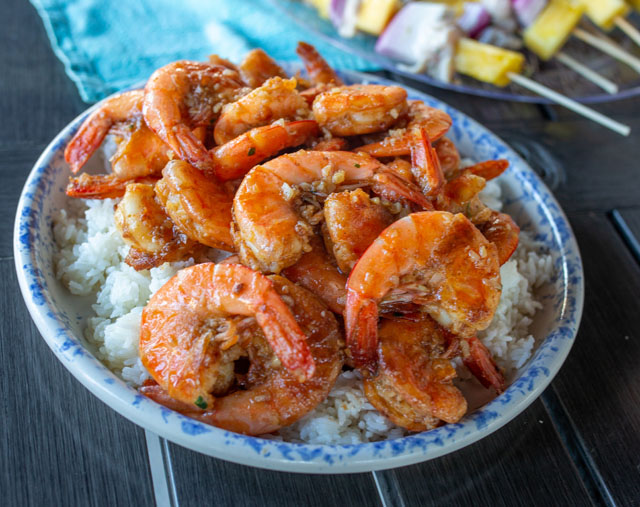 It was a puzzling text exchange differentiating potato chips and flower necklaces—the Lay's® vs. leis debate—which reminded me that not everyone is lucky enough to have a sibling who lives in Hawaii. In 2004, my big sister Sarah became enchanted by the island of Oahu (can you blame her?) and the tropical paradise has been her home ever since. With countless visits to her exotic abode under my belt, I knew my palate was perfectly qualified to recreate some of Hawaii's most classic cuisines. The recipes in this issue pay tribute to exactly that—and who doesn't love a lū'au?
Nothing screams early summertime in Charleston like an outdoor bash—and we all know a wicked heatwave is on the horizon—so I gathered my favorite humans for a good old-fashioned Hawaiian fiesta. I encourage you to do the same. The following recipes are written for approximately 10 hungry guests, so adjust the math as needed for your custom crowd.
As an homage to the famous shrimp trucks of the North Shore, I perfumed crispy prawns with garlic butter. To wash them down: frothy passionfruit painkillers over pebble ice—some spiked with boozy floaters and others stirred with zero-proof rum snagged from Sèchey (Wilmington's local mocktail mecca). The leasing office at my apartment complex wasn't too keen on me digging a traditional underground imu, so I turned to my Dutch oven for prepping fall-apart pork. I leaned on liquid smoke, Himalayan pink salt and banana leaves for tender meat with an earthy flavor. Also on deck: chicken and pineapple kabobs bathed in coconut milk and lime marinade, an unpredictable twist on the predictable macaroni salad present at every Hawaiian party, and bouncy brown butter mochi infused with sweet Meyer lemon. Coconut bras sold separately.
Passion Fruit Painkiller
Yield: 10 drinks
Ingredients
15 ounces dark rum
(or sub non-alcoholic rum like Ritual)
10 ounces passion fruit juice
5 ounces fresh pineapple juice
5 ounces fresh orange juice
5 ounces lime juice
1 15-ounce ounce can cream of coconut
(such as Coco Lopez)
Freshly grated nutmeg, for garnish
Directions:
1. In a cocktail shaker with ice, combine the rum,
passion fruit juice, pineapple juice, orange juice,
lime juice and coconut cream. If you're using an
NA rum, add 4 drops of orange bitters and splash
of apple cider vinegar for a little more burn.
2. Shake vigorously until chilled.
3. Tuck a few tall pineapple leaves in a highball
glass and then fill to the top with pebble ice.
Strain the drink into the glass and then garnish
with freshly grated nutmeg.
North Shore Garlic Shrimp
Serves 8-10
Ingredients
1 cup all-purpose flour
2 tablespoons paprika
1 teaspoon cayenne pepper
2 teaspoons salt
2 pounds shrimp (preferably large or extra-large),
deveined but still in their shells
2 sticks unsalted butter
2 heads garlic, chopped (about 8 tablespoons)
2 tablespoons olive oil
Chopped fresh cilantro, for garnish
Lemon wedges, for garnish
White rice, for serving
Directions:
1. In a large mixing bowl, combine the flour, paprika, cayenne and salt.
Pat the shrimp dry, add them to the bowl and then toss to coat. Set aside.
2. In a large skillet over medium-low heat, melt the butter. Add the
garlic and cook, stirring occasionally, until lightly browned and
toasted, about 3-5 minutes. Pour the garlic butter into a bowl
and return the pan to the stove.
3. Turn the heat to medium and add the oil. Working in batches to
avoid overcrowding, add the shrimp in a single layer and cook until
golden brown, about 1-2 minutes per side (depending on their
size). Pour the garlic butter back over the shrimp and cook, tossing
to thoroughly coat them in the butter, for an additional 30 seconds.
4. Pour the shrimp and sauce over a platter of white rice
and garnish with parsley and lemon wedges.
Coconut-Lime Chicken Skewers with charred red onion and pineapple
Serves 8-10
Ingredients
2 13.5-ounce cans unsweetened coconut milk
6 tablespoons vegetable oil, divided
4 tablespoons fish sauce
Zest and juice of 4 limes, plus lime wedges for garnish
1/4 cup Asian hot sauce (chili garlic sauce or sriracha)
2 tablespoons minced fresh garlic
1 tablespoon minced fresh ginger
1/2 cup chopped fresh cilantro, plus sprigs for garnish
1/4 cup dark brown sugar
1 1/2 teaspoons coarse salt, divided
1 teaspoon freshly ground black pepper, divided
4 pounds boneless skinless chicken thighs,
cut into 1-inch cubes
Bamboo skewers
2 medium red onions, cut into 1-inch pieces
4 cups chopped fresh pineapple, cut into 1-inch cubes
Directions:
1. In a large bowl, combine the coconut milk, 4 tablespoons of
the oil, fish sauce, lime zest and juice, hot sauce, garlic, ginger,
cilantro, brown sugar, 1 teaspoon salt and 1/2 teaspoon pepper.
Set aside and refrigerate about 2 cups of the marinade and add
the rest to a large bowl or resealable zip-top bag.
2. Add the chicken to the bowl or bag and marinate in the fridge for
up to 4 hours. While the chicken is marinating, soak the skewers in water.
3. Preheat a grill to medium and spray the grates with non-stick
cooking spray. Toss the onions and pineapple with the remaining
2 tablespoons oil, 1/2 teaspoon salt and 1/4 teaspoon pepper.
4. Evenly thread the chicken, onions, and pineapple onto the skewers.
5. Grill, rotating occasionally and brushing with the remaining
marinade until the red onions and pineapple are lightly charred
and the chicken has reached an internal temperature of 170°F,
about 10-15 minutes.
6. Transfer the skewers to a platter and garnish with lime wedges
and cilantro sprigs.
Kālua Pork Sliders with slow-cooked Lemongrass Slaw
Approximately 30 sliders (2-3 per person)
Ingredients
4-5 pound boneless skinless pork shoulder
1 tablespoon pink Himalayan sea salt
1 teaspoon garlic powder
1 teaspoon onion powder
1/4 cup packed dark brown sugar
2 tablespoons vegetable oil
1 package banana leaves, thawed if frozen
and rinsed
2 cups stock, dark beer, or water
2 tablespoons liquid smoke
1 1/4 cups Lemongrass Aioli (see recipe below)
1/4 cup pineapple juice, plus more to taste
8 cups shredded red cabbage (about 1 small head)
8 cups shredded green cabbage
(about 1 small head)
30 Hawaiian sweet rolls (slider size), sliced and
lightly toasted
Directions:
1. Preheat the oven to 300°F.
2. Pat the pork dry with paper towels and then season with the salt, garlic
powder, onion powder and brown sugar, pressing to make sure the spices adhere.
3. Add the oil to a large, heavy-bottomed oven-safe pot like a Dutch oven
over medium heat. Once the oil begins to shimmer, add the pork and sear
until browned all over, about 2-3 minutes per side. Transfer the pork to
a plate then deglaze the pot with the stock and liquid smoke, scraping
the bottom to pull up any brown bits. Remove the pot from heat.
4. Lay out several pieces of the banana leaf (enough to wrap the pork)
and place the pork fat side up in the center. Fold the corners of the
leaves over and around the pork to encase it. Carefully transfer the
banana leaf-wrapped pork seam-side down in the pot with the liquid.
5. Roast until the pork is fall-apart tender and reaches an internal temperature
of 190-195°F, about 3-4 hours. Rest the pork for 1 hour in the
banana leaf and then transfer to a cutting board and discard the leaves.
6. While the pork is roasting, make the slaw. Add the lemongrass aioli
to a large mixing bowl and whisk in the pineapple juice, adding
more to taste if you'd like it sweeter. Add the red and green shredded
cabbage, toss to combine, and season to taste with additional
salt. Refrigerate until you're ready to assemble the sliders.
7. Shred the pork, transfer to a mixing bowl, and toss with a few tablespoons
of the cooking liquid from the pot. Season to taste with additional salt.
8. Assemble the sliders by heaping even portions of the pulled pork onto
the bottom buns and then topping with a generous portion of the
slaw and the top buns.
Creamy Lemongrass Macaroni Salad
Serves 8-10
Lemongrass Aioli
4 large egg yolks
1/4 cup grated lemongrass
1 tablespoon grated fresh ginger
2 teaspoons minced garlic
Juice of 2 limes
2 tablespoons rice wine vinegar
2 tablespoons honey
1 teaspoon coarse salt
1/2 teaspoon freshly ground black pepper
2 cups neutral oil (such as avocado)
First, make the lemongrass aioli. In a food processor, add
the egg yolks, lemongrass, ginger, garlic, lime juice, honey,
salt and pepper. With the motor running, slowly drizzle in
the oil until the aioli is smooth and combined. Season to
taste with additional salt.
Reserve half of the aioli for the pork sliders slaw and transfer the
remaining portion to a large mixing bowl for this recipe.
Mac Salad
1 pound elbow macaroni
Lemongrass aioli (about 1 1/4 cups)
1/4 cup sour cream
1 small bunch green onions, chopped
1/2 cup diced celery (about 2 ribs)
1/2 cup grated carrots (about 1 carrot)
1 teaspoon coarse salt
1/2 teaspoon freshly ground black pepper
1/4 cup chopped fresh cilantro
Cook the macaroni according to package instructions. Drain the
noodles and then transfer to the bowl with the lemongrass aioli.
Add the sour cream, green onions, celery, carrots, salt, and pepper
and toss to combine. Season to taste with additional salt and pepper.
Cover, refrigerate and chill for at least 2 hours.
Just before serving, stir in the cilantro.