Terminal Redevelopment
27 Mar 2014
Paul Campbell finds balance in running and expanding the Charleston International Airport while serving as state senator
By HOLLY FISHER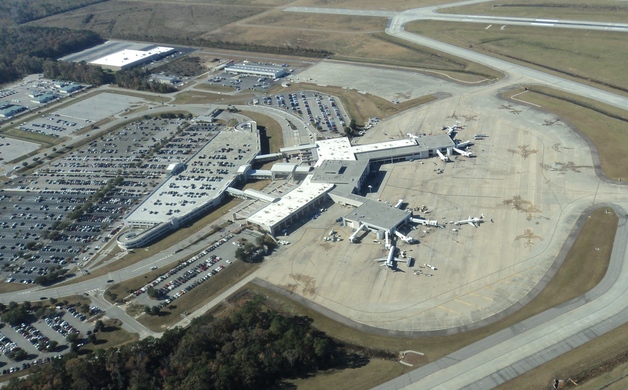 Positioned on either side of Senator Paul Campbell's desk at the Charleston International Airport are framed front pages from both The Seattle Times and The Post and Courier heralding one of Campbell's greatest accomplishments: the landing of the Boeing Dreamliner assembly plant in the Lowcountry.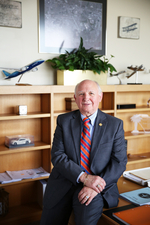 An Associated Press photo on the front of the Oct. 29, 2009 edition of the Seattle newspaper says it all: Campbell's fist is punching the air and he's grinning ear to ear. His quote below the photo reads: "If we have the opportunity, and Boeing has given us the opportunity, we will make them successful."
In April 2013, Boeing announced plans to expand, adding another 2,000 jobs to the Charleston workforce. That front page headline also hangs in Campbell's office.
"It's fun working with economic development," he said. "If we can get South Carolinians the opportunity to make their lives better, it makes families better and changes lives for generations."
As a retired regional president of Alcoa and then a state senator representing Berkeley, Charleston and Dorchester counties, Campbell has long had his hands in the region's economic development and business growth.
The Goose Creek resident's decision to run for Senate in 2007 came from a desire to further economic development in the state and his home region. He has previously served as chairman of the South Carolina Chamber of Commerce and the South Carolina Manufacturers Alliance with a pro-jobs and pro-business focus.
A New Era for Charleston's Airport
Now Campbell is tasked with another challenge that will impact Charleston's business and tourism economies – overseeing a $200 million renovation to the Charleston International Airport.
Campbell was tapped for the job of director of airports at the Charleston County Aviation Authority last summer, after the sudden resignation of then-director Sue Stevens. Campbell was hired in August just in time to usher the Terminal Redevelopment and Improvement Program to final approval, and to oversee the last details of the sale of land to Boeing for its expansion.
The renovation project – known as TRIP – is increasing the capacity at Charleston International Airport by 50 percent. Currently both the A and B concourses have five gates; Concourse B will be expanded to 10 gates. The renovation also includes adding a baggage carousel, a consolidated TSA checkpoint, expanded desks for airline check-in, a new rental car pavilion and upgrades to the airport exterior and entrance. The estimated completion date is August 2015.
In addition, more food and retail space will be available after guests go through security, which is when most people prefer to make their purchases, Campbell said.
The expansion comes at an opportune time as the airport authority announced a record number of passengers coming and going through the airport in 2013. Nearly 2.9 million passengers came through the gates at the airport last year, marking a 10 percent increase over 2012 with 2.6 million passengers and up from 2.5 million in 2011.
Thanks to efforts of both the Charleston Area Convention & Visitors Bureau and the Charleston Regional Development Alliance, the Holy City is a major attraction for both tourists and business travelers, Campbell said. He also notes that Boeing and other large manufacturers like Nucor and Alcoa generate airport traffic along with the region's growing software and tech community. Plus, Charleston is three years running as the No. 1 city in the United States.
"We are a destination of choice," Campbell said.
Campbell also points to JetBlue Airway's plans to increase the size of its equipment for greater capacity as evidence of a growing airport. And, since coming to Charleston two years ago, Southwest Airlines is already the third largest carrier with 20 percent of the local air traveler market.
Campbell anticipates easily surpassing 3 million passengers this year and that makes the airport renovations important for both the short term and the future.
"At the rate we're growing, we've got to plan for the next 20 years out," he said.
Thoughts of adding a second parking deck are already being discussed to prepare for long-term growth, Campbell said.
Hard Hat and Senate Hat
Campbell has a busy job overseeing the airport authority and construction projects, but that's only part of Campbell's responsibilities. He retained his senate seat when he took over the airport director job and when his term is up in 2016, he intends to run again.
Juggling the two positions isn't as tough as some people might think, he explained.
As a regional president at aluminum plant Alcoa, Campbell managed plants in South Carolina, North Carolina, Maryland, Tennessee and Indiana so he's accustomed to dealing with multiple areas, he said.
And thanks to today's technology, he's in touch via phone, email, text and iPad whether at the airport or on the Senate floor, Campbell said.
"If you can't manage from a hotel room, you shouldn't be managing," he joked.
It's simply a matter of staying organized and managing priorities, Campbell explained. And he gives ample credit to the airport authority staff members who keep the airport running on days he's in Columbia.
When Campbell accepted the airport job, there was some question as to whether he should resign his District 44 Senate seat, but Campbell counters that his political experience is an advantage.
"As a senator, I can open doors that couldn't be opened before," he said. "Maybe we can get a little more attention (as an airport)."
He admits a key disadvantage is juggling two busy schedules, but, he said, it gives the airport staff some opportunities to grow their skills as they take on more responsibilities.
Working two jobs doesn't leave Campbell much free time. Despite the fact his office overlooks the runway he doesn't have much time to travel these days. He and wife, Vicki, do make frequent fall trips to Clemson to watch Campbell's alma mater on the football field. In January, Campbell laced up his running shoes for the 2014 Charleston Half Marathon.
He also serves on the board of the Southeastern Wildlife Exposition, which Campbell credits for generating not only airport traffic but economic development in the Charleston region.
Focus on the Future
Serving the business traveler, tourists and the locals who fly in and out of Charleston International Airport on a daily basis is Campbell's immediate and long-term focus. He knows the region is growing and that means having an airport to accommodate that growth.
The population in Charleston is growing, pushing probably 1 million people in the region by 2020, Campbell said.
While the current renovation program is "huge for Charleston," Campbell said, it's also time to look ahead to the probably not-so-distant future when the airport authority has to add that second parking deck or even five more gates.
"We have to look at today, next year and what we need to be in 2020 and 2025," Campbell said.