The Gathering Cafe
08 Mar 2019
Growing the green movement in Charleston
BY WENDY SWAT SNYDER
PHOTOS BY JAMES STEFIUK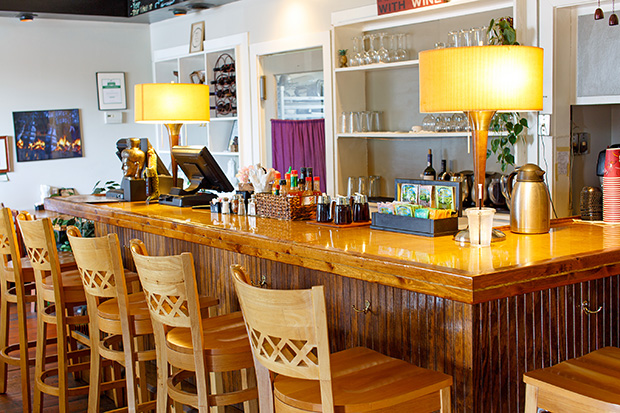 It's always a treat to discover a new restaurant to add to your go-to list, especially when it's in a part of town where the ripple effect of the Charleston culinary scene is being felt. Like all of the historic city's 'burbs—Mount Pleasant, James Island, Johns Island, to name a few—West Ashley is seeing steady growth in innovative dining concepts, a boon to locals seeking a bit more adventure on their plates. The Gathering Cafe is on that rising tide.
Tucked inconspicuously into a strip mall off Sam Rittenberg Boulevard, our latest find delivers upscale comfort food that packs a nutritional punch in a modest, casual setting. New to us, but not new to in-the-know foodies west of the Ashley River.
The Gathering Cafe Owner/Executive Chef Nathan Conkle opened the restaurant in 2012 with a vision: to offer diners healthier food options in an innovative menu of eclectic dishes. His approach accommodates the full range of dining preferences: from meat lovers to meatless, pescatarian to vegetarian, gluten-free to vegan, with preparations inspired by Mediterranean and southeast Asian flavors paired with Lowcountry bounty.
"A lot of restaurants around the country are doing that now," says Conkle, who began his career in hospitality working at Magnolias while earning a degree at the Culinary Institute of Charleston. He adds that the concept of catering to a greener diet has even been adopted by national chains, citing True Food Kitchen and Flower Child.
"Our build-your-own bowl is similar to Flower Child's concept, where you build a plate driven by vegetable dishes to which you can add a protein if you wish."
After graduation, Conkle traveled to New Orleans, Louisiana, where he grew his passion for healthful farm-to-table ingredients in the kitchen of renowned British chef Jonathan Wright, under whom he worked as poissonnier (in charge of fish) at the Windsor Court Hotel.
"He is very talented. His technique is French-driven, but his style is very eclectic—incorporating Mediterranean and southeast Asian influences," notes Conkle.
When Conkle returned to Charleston, he spent a short time at The Sanctuary at Kiawah working as a sous chef before a seven-year stint at Whole Foods Market where he ran the prepared foods department, and "gained a lot of good business experience."
At the helm of his own eatery, Conkle maintains an ambitious schedule: Doors open at 8 a.m., with the kitchen sending out breakfast until 3 p.m. Classics such as eggs Benedict, French toast and organic Anson Mills oatmeal share the spotlight with trend-setters such as a quinoa and market vegetable burrito loaded with broccoli, kale, butternut squash, pumpkin seeds and goat cheese.
"That's been the biggest growth area over the last year," notes Conkle, adding that the restaurant also features a Saturday and Sunday brunch menu with morning must-haves like bellinis, mimosas and a sake bloody Mary.
The Gathering Cafe is popular with the lunch crowd as well, keeping things light with options from "grains and greens," a top selling "build-your-own" part of the menu that features a dozen or so dishes showcasing seasonal, local fare that fill you up with your daily requirement of veggies. For extra protein, choices include shrimp, salmon, chicken and steak.
"We source our shrimp locally whenever possible," notes Conkle. "We go through Crosby's Seafood. The Icelandic salmon is a highly rated sustainable product and our tofu is GMO-free. Most of our produce comes through Limehouse Produce.
For the vegan crowd, Conkle sears chunks of tofu that have been marinated in tamari sauce and garlic and finishes them in the oven. Chicken and steak get a similar treatment. Hearty bowls, wraps, and craft pizzas round out the interesting menu, all of which are offered through closing time.
My guest and I visited the cozy cafe for dinner recently and found our server to be cheerful, attentive and very well-versed in the various dishes and their healthful benefits. We started with "guac-kale-mole"—a version of the avocado standard that pushes the health aspect with nutrient-rich kale. The earthy green lent a richness to the tasty appetizer and a sprinkle of pumpkin seeds added unexpected crunch.
We sampled several dishes from the "grains and greens" section and each dish stood on its own, delicious and satisfying without added protein. Tender and mild, the sweet golden beets were prepared simply with a honey and lemon glaze. The roasted butternut squash was a hit with perfectly charred bites of squash in a lemony maple citrus vinaigrette.
The organic soba noodle salad was a lovely and refined preparation of pristine baby lettuces and noodles tossed with shiitake mushrooms, bean sprouts, carrot ribbons, cabbage, pickled ginger, sesame seeds, and an Asian vinaigrette.
Panang curry was a warming bowl of the Thai classic with a just-right level of heat and served on a bed of brown rice instead of the typical jasmine.
Our craft pizza was an all-white mushroom and Brussels—and crave-worthy. The savory, smoky profile of the vegetables paired perfectly with the mozzarella, goat cheese and roasted garlic olive oil dressing. The light crust was packed with flavor which Conkle explains results from the high yeast content of his small-batch dough. For the topping he uses a blend of mushrooms sourced from Mepkin Abbey whenever possible.
"I'm working with the kitchen staff on a dairy-free mozzarella so diners have a vegan option," notes Conkle. "We're creating a recipe using cashews and nutritional yeast to substitute for the cheese."
The restaurant also features a unique take home service in which the kitchen will custom build your order to be picked up and enjoyed at home. Delicious, healthful dishes, great staff and location, The Gathering Cafe is a hidden gem, and very much on our radar now. See you for brunch!
The Gathering Cafe
1124 Sam Rittenberg Blvd., Charleston
843-297-8380, gatheringwestashley.com