Portugal by Land
07 Mar 2019
Douro Valley cruises are one of the most popular ways to visit Portugal, but to really get a sense of this remarkably diverse country, you should hit the road
By KATIE MCELVEEN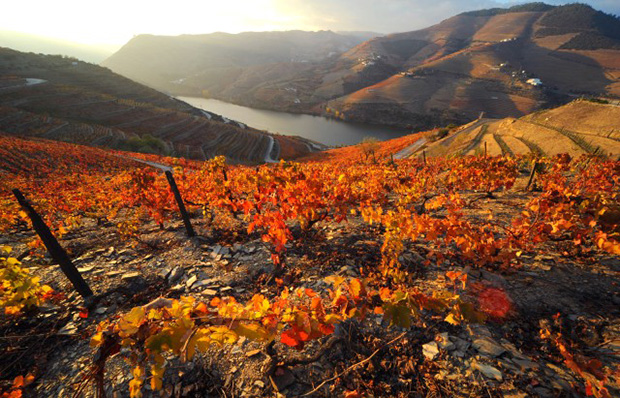 Mention that you're visiting Portugal and the first question most people will ask is if you like Port, the country's notably sweet – and often misunderstood – dessert wine (For the record, I do.). The second is whether you're taking a cruise of Portugal's Douro Valley, one of the world's oldest wine-producing regions (I was not). Then there's often silence.
It's easy to understand why. Beyond possessing a native language spoken by few Americans, Portugal tends to be overshadowed by Spain, which, by wrapping itself around the country's land border, makes Portugal difficult to reach by train from other major European cities. As a result, Americans often skip it entirely.
What I discovered on a recent visit, a private journey that had been organized by the tour company Cox & Kings, is that Portugal makes a perfectly wonderful destination on its own, offering everything I love about Europe – historic cities, fairy tale castles, sidewalk cafes and sweeping vineyards – set within in an easy-to-explore and remarkably wallet-friendly package.
I started my visit in Lisbon. Europe's westernmost capital is also one of its most beautiful. Buildings are adorned by colorful azulejo tiles, drip-castle churches sit along steep hillsides and the riverfront is lined with structures ranging from the Baroque Belem Tower to the imposing modernist swoop of the Museum of Art, Architecture and Technology. Even the sidewalks, called calcada and tiled in ornate patterns, are works of art.
One way to see the city is on the #28 tram, which clatters along its hilly route in vintage 1930s cars. Hop on at the bountiful Campo Ourique Market, then continue past the Baroque Basilica da Estrella to the hip Chiado neighborhood, then on to Alfama, Lisbon's most historic district.
You can also tour it as I did with my small group, aboard vintage sidecars with Joao Soares, who owns the Sidecar Touring Company. Our morning jaunt not only took us through nearly all of Lisbon, but allowed for stops at some of Soares' favorite haunts, including Brasileira, the coffee shop where we were instructed on how to drink espresso in the local fashion (quickly, while standing). Soares also regaled us with stories, including one about how Chiado, which is said to have been named for a beloved 16th-century priest, actually was named for a bar owner of the same era. The myth was apparently created by Portugal's fascist regime, who, unhappy with the truth, created a more noble foundation myth for the capital's most colorful neighborhood. We also learned that we have the Catholic Church to thank for Portugal's obsession with rich, egg-yolk based pastries. Turns out that in the days before clothing starch, egg whites were used to stiffen the priests' vestments. Overrun with leftover yolks, the thrifty nuns found delicious ways to use them.
Quick stops at shops and museums helped us decide where to spend our down time; whizzing through residential neighborhoods and the city's huge Monsanto Forest Park, past an ancient aqueduct and through the jacaranda-shaded and boutique-lined Avenida da Liberdade, gave us a sense of the city's scale and the steepness of its seven hills.
Lisbon's food scene is equally diverse, offering a mix of sophisticated dining destinations (many of which are run by El Bulli alum Jose Avillez) and neighborhood wine bars that are popping up all over the city. Don't miss percebes, salty barnacles that are a local delicacy or any of the local pastries, particularly pastis de nata, a custard tart that pairs remarkably well with a chilled glass of port. We stayed at the Ritz Four Seasons, an elegant city hotel that's been owned by the same family since 1959. Beyond its brutalist exterior, the hotel is filled with artwork and tapestries commissioned by Portuguese artists; its fine-dining restaurant, Varanda is known for its updated, and upgraded, versions of classic Portuguese dishes.
Our next stop was Sintra, a castle-strewn village where the former estates of Portuguese royalty and Lisbon's wealthy elite have been combined to create a massive park strewn with hiking trails and bridle paths. Perhaps the most famous estate is Pena Palace, a storybook structure constructed in the 1850s by King Ferdinand II. Set on the site of a 16th-century monastery, it mashes together the old and the new atop a peak visible from anywhere in the region. But each palace is worthy of exploration, from the Quinta da Regaleira, which hides a fairyland teeming with grottos, waterfalls, hidden pathways and magical spaces within its garden, to Monserrate's elaborate frescoed domes, collection of friezes, ornate marble fountains and gallery connected by dozens of peaked Moorish archways. Though filled with visitors, hilly Sintra is worth a walk-through, if only to taste its famous pastries, the puffy almond-scented travesseiros and creamy queijadas de Sintra.
One of the benefits of traveling with Cox & Kings was transport: no matter where we wanted to go or how long we wished to stay, our driver was on hand. Could we have rented our own cars and driven ourselves? Absolutely. But having both a driver and a guide enriched our experience and gave us the freedom to enjoy wine with lunch. Even better, since this was a private journey, we were on no one's timetable but our own. This was particularly useful in the Douro Valley where, after a drowsy lunch on a hillside within the Sandeman estate, we opted for more wine rather than a visit to a nearby overlook. Our guides were also top-notch, well-versed in both history and geography and always willing to take a detour to visit a village, taste something interesting or simply spend more time doing what we wanted. Cox & Kings also likes to surprise their guests. In our case, during a wine tasting at Quinta da Pacheca, which has been in the same family for five generations, we donned shorts and were given the chance to press grapes in the traditional Portuguese fashion: with our feet. It was a unique experience…and made for a great photo op.
Where Lisbon impressed us with its history and grandeur, Porto charmed us with its warren of cobbled streets, sun-dappled squares and lively riverfront, which is lined with restaurants, cafes and shops. Though studded with Neoclassical, Baroque and Medieval structures, this cultured university town radiates youthful energy. It also, according to some, served as J.K. Rowling's inspiration for much of the Harry Potter series of books. Here are the facts: Rowling taught English as a second language in Porto from 1991 until 1993. According to her website, she returned to the U.K. with the first three chapters of Harry Potter and the Philosopher's Stone in her suitcase. But Potterheads on a stroll through Porto might recognize certain sites, including Livraria Lello, an ornate bookstore that could easily stand in for Flourish and Blotts; the winged lion statues that comprise the Fonte dos Leoes, which are dead ringers for Gryffindor's house symbol; and the name of villain Salazar Slytherin, which comes directly from Antonio de Oliveira Salazar, Portugal's equally evil dictator who was in power from 1932 until 1969.
Although port wine is actually produced in the Douro Valley, its spiritual home is in Porto; tasting rooms in Vila Nova de Gaia, which is located just across the river from Porto, will help you appreciate the sweet elixir. Afterwards, stroll back into town via the Pont Luis I, which was designed by a student of Gustav Eiffel, then head to the riverfront for a drink, perhaps a trendy white port and tonic, which is flavored with lime and mint and served over ice. Porto is also the place to try a Francesinha, the city's iconic, giant, gravy-covered sandwich that has been busting bellies for generations.
We stayed at A Brasileira, which occupies a historic building in Porto's city center and is within walking distance, via the atmospheric Rua das Flores, of the riverfront. The hotel's sister property, Palácio do Freixo, which occupies an 18th-century Baroque palace, sits a couple miles upriver and offers a glimpse into Portugal's gilded past. It's also a perfect place to grab a glass of port and toast the beginning, or end, of a trip to your new favorite country.
For more information, visit coxandkingsusa.com or visitportugal.com.